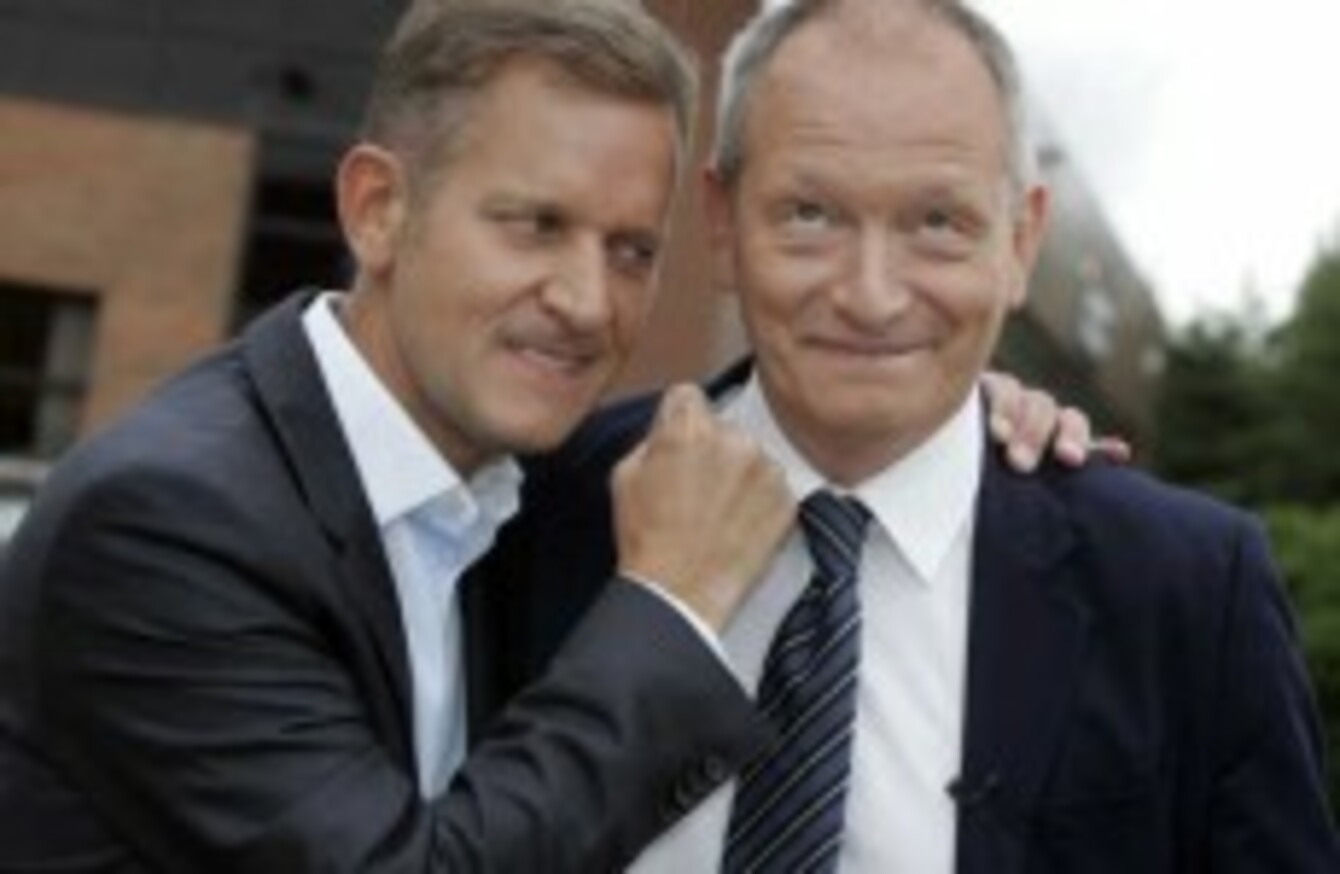 Jeff Ford (right) pictured at TV3's schedule launch
Image: Mark Stedman/Photocall Ireland
Jeff Ford (right) pictured at TV3's schedule launch
Image: Mark Stedman/Photocall Ireland
FORMER RTÉ TV and radio presenter Lucy Kennedy was announced as one of the star additions to Tv3′s schedule when the commercial broadcaster revealed its autumn line-up on Thursday.
But Head of Content at Ballymount Jeff Ford insists their recruitment policy is not focused solely on ex state broadcaster names who might be looking for a new gig, saying its all about who is right for the "brand" they're attempting to create:
"It's not about poaching from RTE. We're focused on who would be best for the programme – it may be a person who's already on TV3, it may be someone on RTÉ, on radio, or somewhere else." He adds:
We look at brand first of all and what the programme is trying to say. That to me is the key.
In terms of the 'brand' Kennedy will be helping to establish, TV3′s promotional material promises her daytime 'Late Lunch Live' show will "bring the afternoon to a whole new level".
Alongside co-host Martin King, she will be fronting a "fast-paced witty afternoon show brimming with tasty recipes, chat, previews and celebrity interviews".
Kennedy's own summation of her talents is a little more down-to-earth however, with the former Podge & Rodge sidekick telling TheJournal.ie that viewers will see her "just being myself" on screen and that they shouldn't tune in expecting to see a "new, polished afternoon presenter".
(Lucy Kennedy at Thursday's schedule launch. Photocall Ireland)
Another of the new additions to TV3′s daytime schedule this week was Today FM presenter and media advisor Anton Savage, who will helm the first hour of an extended 'Ireland AM' show – bringing more of a news focus to the 7am to 8am slot.
Ford says Savage's section won't be a 'hard news' format: "It's 'affairs of the nation'. It's trying to be more viewer focused than just saying 'these are the events of the day'".
Savage is already a regular contributor to the weekday morning show, and Ford says he has the "humour and warmth" needed to connect with viewers. He adds:
Sometimes you don't need to focus solely on the story – you can also go off on a tangent, so he's very good at that and then at bringing the focus back. He's also a consummate professional of course.
Asked whether the station would be hiring more production staff to cope with the expansion of Ireland AM, which will now run from 7am to 10.45, Ford says "of course there will be extra people". Not willing to name exact numbers, he offers that "there are more people now than there were two weeks ago".