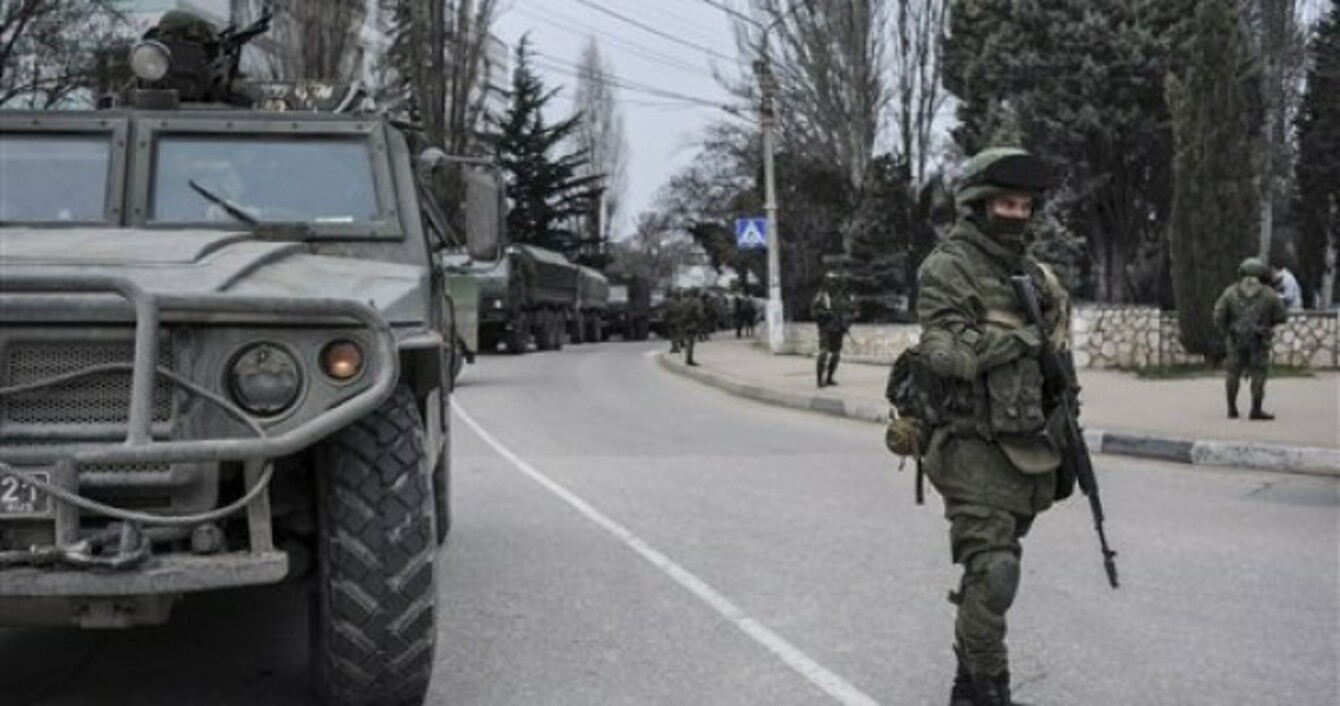 Troops in unmarked uniforms stand guard in Balaklava on the outskirts of Sevastopol, Ukraine today.
Image: (AP Photo/Andrew Lubimov)
Troops in unmarked uniforms stand guard in Balaklava on the outskirts of Sevastopol, Ukraine today.
Image: (AP Photo/Andrew Lubimov)
RUSSIA'S PARLIAMENT APPROVED a motion to use the country's military in Ukraine after a request from President Vladimir Putin as protests in Russian-speaking cities turned violent today, sparking fears of a wide-scale invasion.
The motion follows President Barack Obama's warning Friday "there will be costs" if Russia intervenes militarily, sharply raising the stakes in the conflict over Ukraine's future and evoking memories of Cold War brinkmanship.
"I'm submitting a request for using the armed forces of the Russian Federation on the territory of Ukraine pending the normalization of the socio-political situation in that country," Putin said in his request sent to parliament.
Russia's upper house also recommended that Moscow recalls its ambassador from Washington over Obama's comments.
Condemnation
Today, British Foreign Secretary William Hague condemned the decision by the Russian parliament to authorise military action in Ukraine, and said he had summoned the Russian ambassador to register his concerns.
"This action is a potentially grave threat to the sovereignty, independence and territorial integrity of Ukraine. We condemn any act of aggression against Ukraine," Hague said in a statement issued by his office.
Ukraine had already accused Russia on Friday of a "military invasion and occupation" in the strategic peninsula of Crimea where Russia's Black Sea fleet is based. Ukrainian Prime Minister Arseny Yatsenyuk called on Moscow "to recall their forces, and to return them to their stations," according to the Interfax news agency. "Russian partners, stop provoking civil and military resistance in Ukraine."
An unidentified man guards the entrance to a local government building in Simferopol today. (AP Photo)
The crisis was sparked when Ukraine's deposed president, Victor Yanukovych, ditched a deal for closer ties to the European Union and instead turned toward Moscow. Months of protests followed, culminating in security forces killing dozens of protesters and Yanukovych fleeing to Russia.
Ignoring Obama's warning, Putin said the "extraordinary situation in Ukraine" was putting at risk the lives of Russian citizens and military personnel stationed at a naval base that Moscow has maintained in the Black Sea peninsula since the Soviet collapse.
Demonstations
Putin's call came as pro-Russian demonstrations broke out in Ukraine's Russian-speaking east, where protesters raised Russian flags and beat up supporters of the new Ukrainian government.
Putin's motion loosely refers to the "territory of Ukraine" rather than specifically to Crimea, raising the possibility that Moscow could use military force in other Russian-speaking provinces in eastern and southern Ukraine, where many oppose the new authorities in Kiev. Pro-Russian protests were reported in the eastern cities of Kharkiv, Donetsk and Luhansk and the southern port of Odessa.
#Open journalism No news is bad news Support The Journal

Your contributions will help us continue to deliver the stories that are important to you

Support us now
Ukraine's population is divided in loyalties between Russia and Europe, with much of western Ukraine advocating closer ties with the European Union while eastern and southern regions look to Russia for support. Crimea, a semi-autonomous region of Ukraine, is mainly Russian-speaking.
In today's parliamentary session in Moscow, a deputy house speaker said Obama had insulted Russia and crossed a "red line," and the upper house recommended the Russian ambassador in Washington be recalled. It will be up to Putin to decide whether that happens.
In Crimea, the pro-Russian prime minister who took office after gunmen seized the regional Parliament claimed control of the military and police there and asked Putin for help in keeping peace, sharpening the discord between the two neighboring Slavic countries.
Ukraine's acting president, Oleksandr Turchynov, said the election of Sergei Aksyonov as prime minister of Crimea was invalid.
Ukrainian officials and some Western diplomats said that a Russian military intervention is already well underway after heavily armed gunmen in unmarked military uniforms seized control of local government buildings, airports and other strategic facilities in Crimea in recent days.