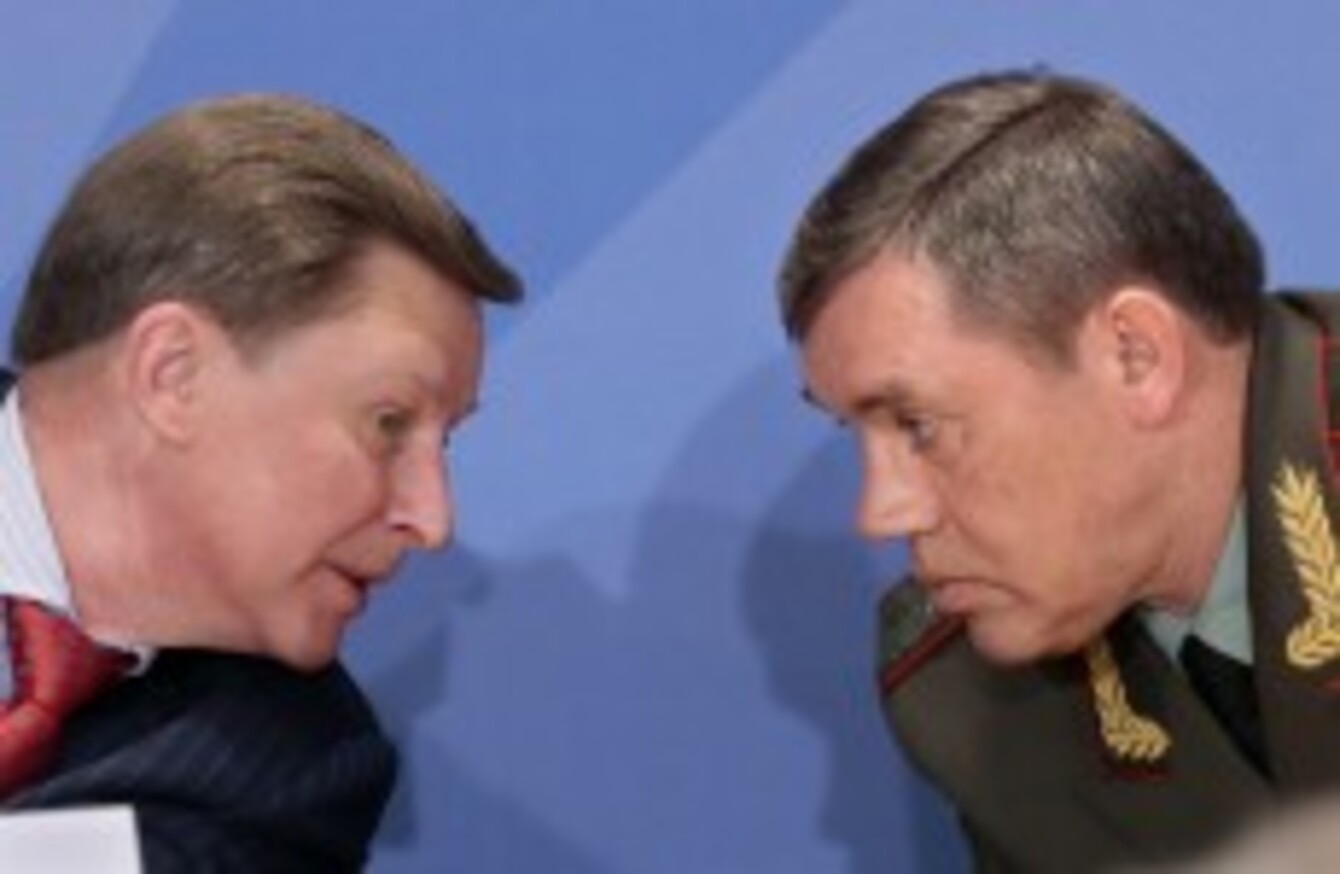 Valery Gerasimov, the chief of the Russian military's General Staff (r) pictured with the Kremlin's chief of staff Sergei Ivanov
Image: AP/Press Association Images
Valery Gerasimov, the chief of the Russian military's General Staff (r) pictured with the Kremlin's chief of staff Sergei Ivanov
Image: AP/Press Association Images
THE EU's NEW list of people targeted by sanctions over Ukraine includes Russia's army chief of staff and military intelligence boss as well as Ukraine separatists.
General Valery Gerasimov, chief of the general staff of Russia's armed forces and the country's deputy defence minister, was named in the EU's official journal as one of 15 Russians and Ukrainians targeted by an asset freeze and travel ban in union's latest blacklist.
The list also includes Russian Deputy Prime Minister Dmitry Kozak, who oversaw the integration of Crimea into the Russian Federation, as well as separatist leaders in eastern Ukraine.
It follows the announcement of new US sanctions yesterday, targeting seven Russian officials and 17 firms close to President Vladimir Putin.
Among those targeted by the new sanctions are close Putin ally Igor Sechin, president and chairman of the board at Rosneft, Russia's top petroleum company and one of the world's largest publicly traded oil companies.
Washington has also tightened licensing requirements for certain high-tech exports to Russia that could have a military use.
Phonecall
The Western sanctions are a response to Russia's perceived failure to implement an April 17 deal struck in Geneva to defuse the crisis.
Meanwhile, Kremlin defence minister Sergei Shoigu has raised concern over an "unprecedented" rise in US and Nato activity near Russia's borders.
Moscow said that, during the phone call with US Secretary of State Chuck Hagel, Shoigu called on the United States to tone down its rhetoric on the Ukraine crisis, and condemned "provocative" comments.
The Kremlin vowed there would be a "painful" response for Washington over the sanctions imposed.
The Pentagon, meanwhile, said that "Shoigu reiterated his assurance that Russian forces would not invade Ukraine".
Tensions
Tensions in eastern Ukraine are showing little sign of easing.
Pro-Moscow mayor Gennady Kernes, from the town of Kharkiv, was shot in the back yesterday and remains in critical condition following surgery.
The identity and motive of the gunman who targeted him while he was riding his bicycle were unknown.
Kalashnikov-toting militants seized the town hall of Kostyantynivka — the latest of more than a dozen towns held by pro-Russian insurgents who were supposed to have disarmed under this month's Geneva deal.
Several people were wounded in Donetsk when pro-Russian militants wielding baseball bats and iron bars attacked a rally supporting the Western-backed authorities in Kiev, an AFP reporter on the scene said.
Earlier in Donetsk, about 300 masked men also using bats attacked a bank owned by a billionaire oligarch and regional governor who has clashed with Putin.
Includes reporting by AFP.