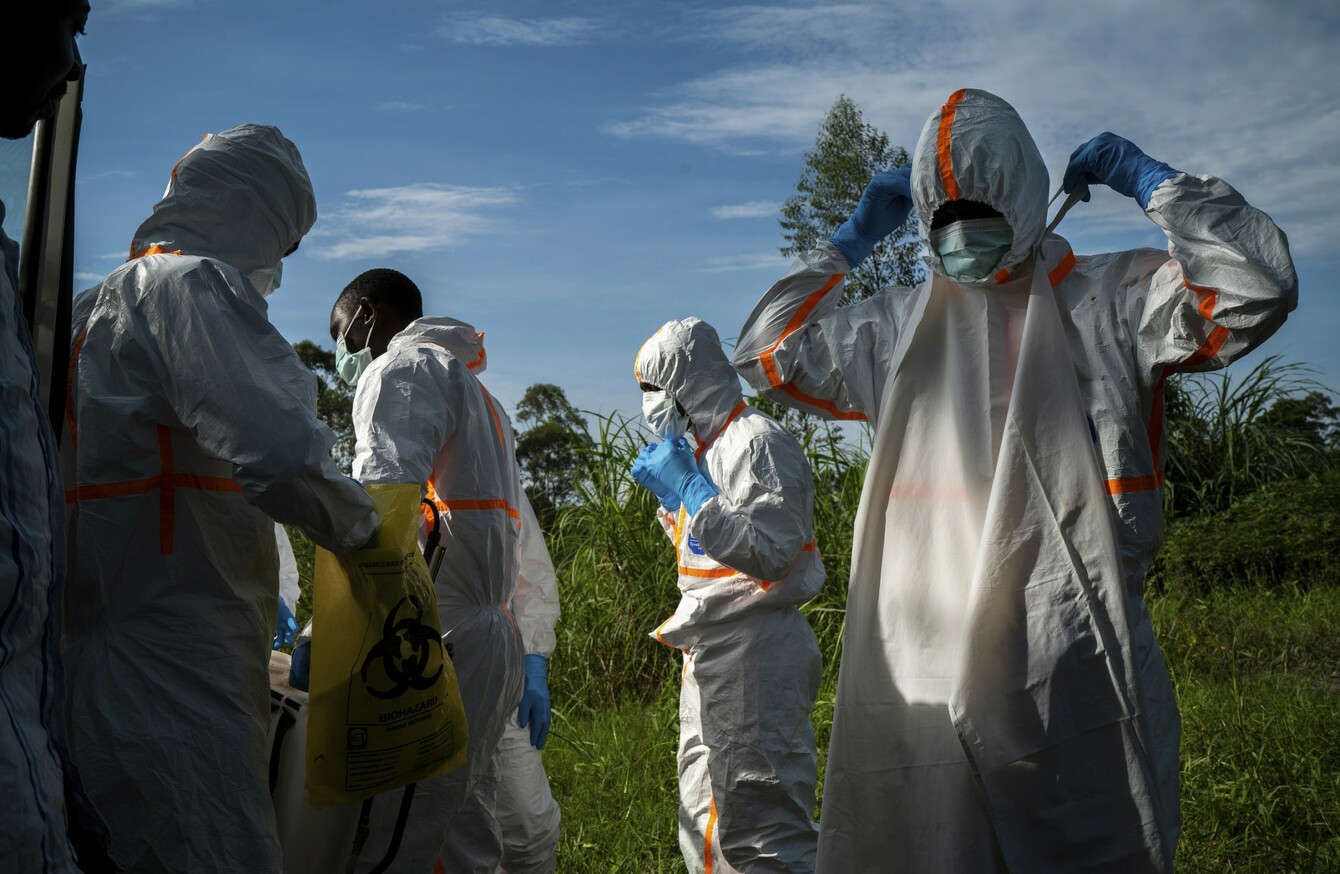 Burial workers put on protective gear before carrying the remains of a man who died from Ebola
Image: Jerome Delay/PA Images
Burial workers put on protective gear before carrying the remains of a man who died from Ebola
Image: Jerome Delay/PA Images
Updated Aug 1st 2019, 8:42 PM
RWANDA HAS REOPENED its frontier with DR Congo after closing it for eight hours following a new case of Ebola in the Congolese border city of Goma, the DRC has said.
"Traffic between Goma and (the neighbouring Rwandan city) of Gisenyi resumed on Thursday afternoon after being closed in the morning without explanation," a statement from the Congolese presidency said.
"The border has been reopened and people can move in both directions." 
The border shutdown coincided with the first anniversary of an epidemic that has claimed more than 1,800 lives, stoking dread that the disease may spread from eastern DRC to vulnerable neighbours.
In a statement earlier today, President Felix Tshisekedi's office condemned a "unilateral decision by the Rwandan authorities" that affected citizens from both countries who had to cross the border as part of their daily life.
Goma, a city of two million people and a major transport hub, shares the border with the Rwandan city of Gisenyi, which has a population of more than 85,000.
Many people have jobs on the other side of the border while others have homes or put their children in schools in the neighbouring city.
"On the basis of a unilateral decision by the Rwandan authorities, Rwandan citizens cannot go to Goma and Congolese cannot leave Gisenyi but are prevented from going home," the statement said.
"This decision harms a number of Congolese and expatriates who live in Gisenyi but work in Goma."
It added: "The Congolese authorities regret this kind of decision, which goes against the recommendation of the World Health Organization."
"Response teams are continuing to ensure that the city of Goma is out of danger," it promised.
In AFP reporter in Goma and a resident in Gisenyi each confirmed in mid-morning that the frontier had been closed, while a Rwandan government official, speaking on condition of anonymity, said "it is closed", without giving further details.
However, the Rwandan health ministry later said the border had never been closed.
There had only been a "traffic slowdown… as measures were put in place to reinforce screening procedures and public safety at entry points," it said in a statement.
Health Minister Diane Gashumba told journalists: "I talked with my counterpart the DRC minister of health and clarified that the border is open and should remain open." 
According to the latest advice from the Department of Foreign Affairs in Ireland, citizens are urged not to travel to the Democratic Republic of Congo at this time, with the risk of Ebola described as "very high". 
Widening scare
Just hours prior to the border closure, a third case of Ebola was recorded in Goma, adding to two fatalities. Its virus causes fever, vomiting and severe diarrhoea, often followed by kidney and liver failure, internal and external bleeding.
Health workers are racing to find people who have had contact with these patients.
In an urban setting, density of population, anonymity and high mobility make it far harder to isolate patients and trace contacts compared to the countryside.
Goma is capital of North Kivu province, which has borne the brunt of the year-old epidemic, followed by neighbouring Ituri province.
Bad news came yesterday from South Kivu province, which had previously skirted the epidemic.
Fifteen people were placed in quarantine in Birava, 30 kilometres south of the provincial capital Bukavu, the chief doctor at the local hospital, Ciza Nuru, said.
They included a mother and her six children who come from Goma, and whose family head "had fled an Ebola treatment centre," he said.
The first death in Goma, reported on 16 July, was of an evangelical preacher who had travelled from Goma to Butembo, one of the towns hardest hit by the outbreak.
During his stay there, he preached at seven churches and regularly touched worshippers, including the sick, and then returning to Goma by bus, investigators said.
The day after his death was announced, the WHO declared the epidemic a "public health emergency of international concern" – a move designed to step up the global response.
The step prompted a surge in funding pledges, including by the World Bank, which promised a further €269 million in addition to €90 million already provided.
With reporting from Sean Murray