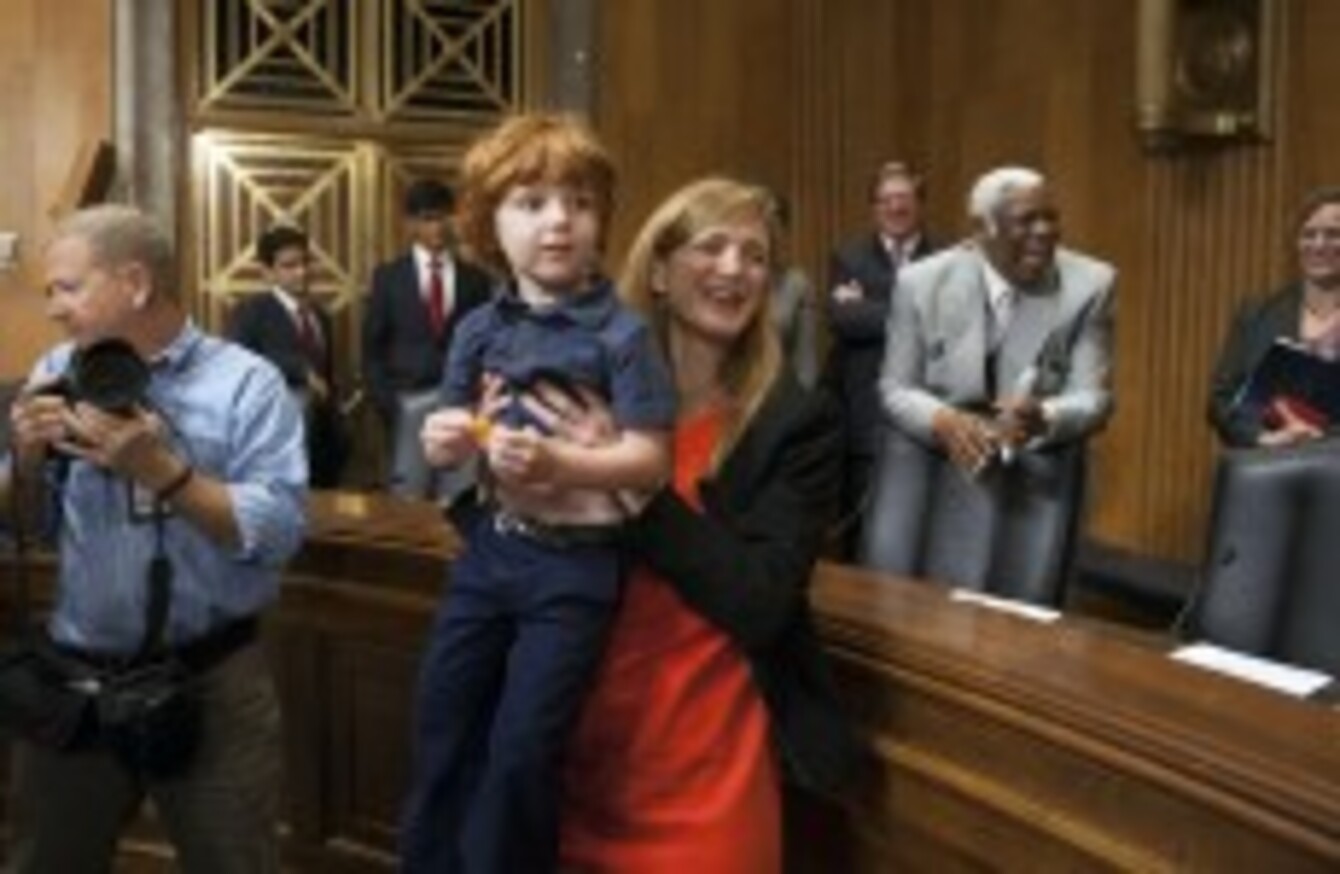 Samantha Power with her son Declan at her confirmation hearing in Washington
Image: AP Photo/Cliff Owen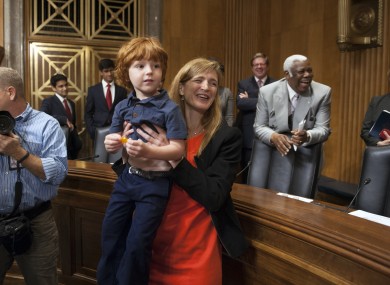 Samantha Power with her son Declan at her confirmation hearing in Washington
Image: AP Photo/Cliff Owen
THE US SENATE has confirmed Irish-born Samantha Power as ambassador to the United Nations, giving bipartisan approval to President Barack Obama's nominee.
The genocide expert and human rights champion sailed through on a 87-10 vote.
Power, 42, replaces Susan Rice, whom Obama named in June to be his national security advisor.
Rice became a lightning rod for criticism against the Obama administration last year.
She left under a cloud for her role in the administration's public explanation for the deadly attack on the US mission in Libya last September 11 that left four Americans dead including ambassador Chris Stevens.
Power, a Harvard Law School graduate and former special assistant to Obama, enjoyed widespread support during the confirmation process as someone who would be an effective and eloquent advocate for US interests.
Obama issued a statement thanking the Senate for its bipartisan support of "one of our country's leading foreign policy thinkers."
"As a long-time champion of human rights and dignity, she will be a fierce advocate for universal rights, fundamental freedoms and US national interests," the president said.
During her Senate hearing, Power berated the United Nations' "unacceptable bias" against Israel, and pledged to lobby hard to get America's closest Mideast ally a seat on the Security Council.
But in articulating the position of the Obama administration, Power, who was born in Ireland but raised in the United States, will likely seek to be more diplomatic than on certain occasions in earlier years when she made harsh comments about Israel and the United States.
Syria and Venezuela
She came under criticism for a number of remarks she made a decade ago, including speaking of "crimes committed" by the US government.
In her book "A Problem From Hell: America and the Age of Genocide," Power laid out the difficult choices faced by western democracies when they are confronted with internal genocides committed abroad.
"Why does the United States stand so idly by?" she wrote in her Pulitzer-Prize winning book.
At her confirmation hearing, she pointedly noted the failure of the international community to take tangible steps to end the crisis in Syria.
"We see the failure of the UN Security Council to respond to the slaughter in Syria – a disgrace that history will judge harshly," Power told the Senate panel.
Power also raised the ire of Caracas when she told the hearing she would stand up to "repressive regimes" like Venezuela's and challenge the "crackdown on civil society" in the oil-rich South American nation.
Washington and Caracas were often at odds during the 14-year rule of president Hugo Chavez.
A rapprochement had begun following Chavez's death, but Venezuela called it off due to the "interventionist agenda" put forward by Power.
Republican Senator John McCain, a staunch supporter of more muscular intervention in Syria, said Power would do well in her new role.
"I am confident that Samantha believes that America is an exceptional nation with an indispensable role to play in the world, and I trust that she can provide a strong voice on behalf of America's interests and democratic values," he said in a statement.