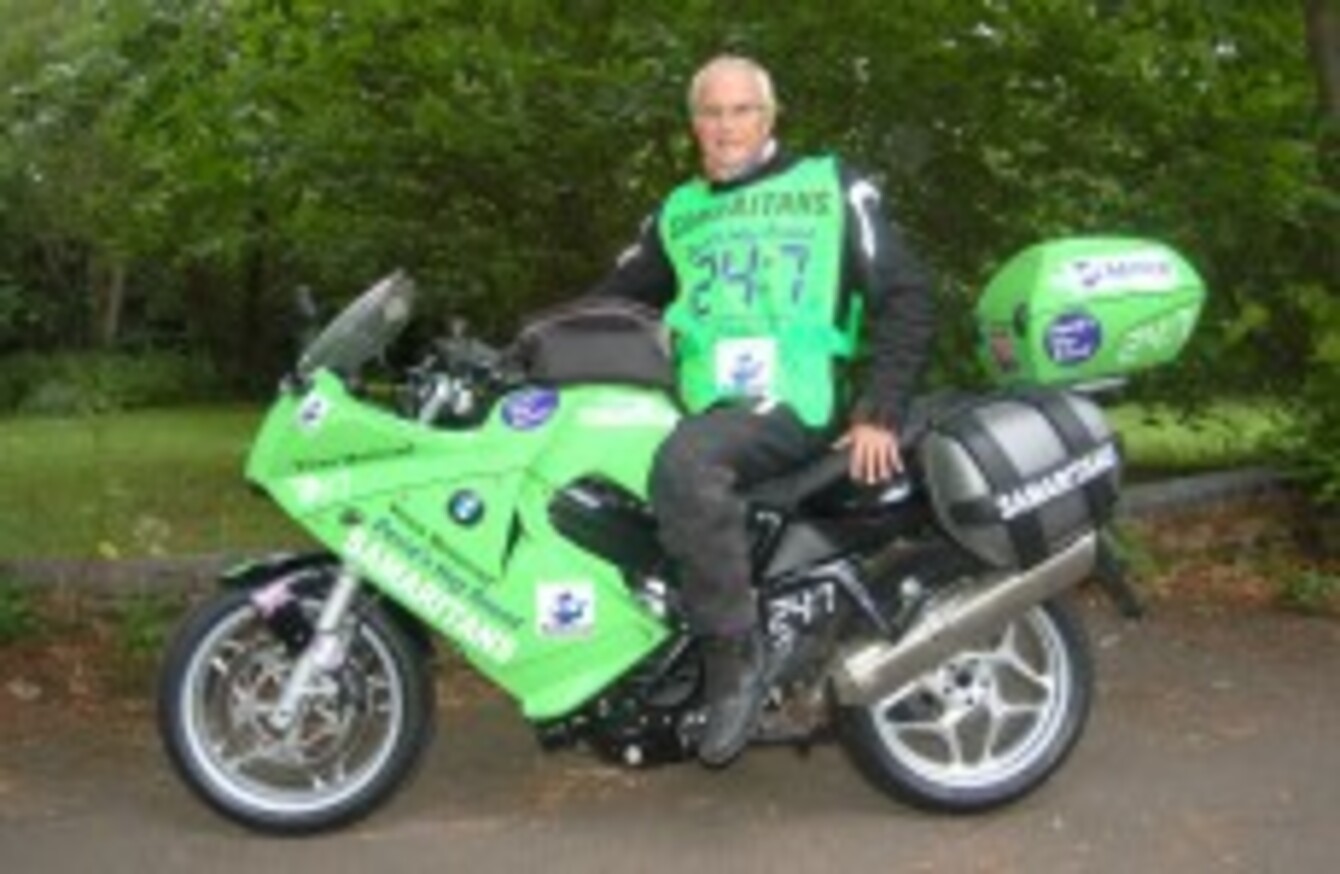 David Exley and his bike on the fundraising challenge.
Image: Samaritans
David Exley and his bike on the fundraising challenge.
Image: Samaritans
A 63-YEAR-OLD Samaritans volunteer is well on his way to completing his fundraising challenge of visiting each of the organisation's 201 branches across the UK and Ireland.
David Exley, who volunteers at the Worthing branch in England, says he undertook the journey for very personal reasons: 24 years ago his younger brother Tim took his own life aged 32, and four years ago David's son James, 34, took his own life.
"It feels as though lightning has struck the family twice," David wrote on his fundraising page. "I cannot help wondering that if either James or Tim had contacted Samaritans they may be alive today."
He decided to undertake a motorbike tour of all Samaritans branches in the UK and Ireland in memory of Tim and James, and to highlight the organisation's support services.
So far, David has visited over 180 branches – and raised several thousand pounds in the process. Since starting his journey at the Worthing branch on 2 July, he has travelled more than 8,800km.
His challenge is due to end on Monday after 40 days of travel, when he visits the Cardiff branch in Wales.
Speaking to TheJournal.ie after more than 35 days on the bike, David said that the response from everyone he's met along the way has been "marvellous":
To be honest, it's what's keeping me going. There have been Samaritans at every single branch, making me tea and feeding me and encouraging me. I met someone from Coronation Street too, and Ewan McGregor's father – I missed Ewan McGregor by one day! He left me a signed photograph though saying 'You're doing a great job, keep it up'.
"All I can do is endorse the phone number for people to call," he said of his tour. "There are 201 [Samaritans] outlets and over 20,000 people ready to help anyone in emotional distress."
Eileen Foley, director of the Dublin branch of Samaritans, was among the crowd gathered in Dublin city centre to greet David's arrival there on Thursday.
"He's been getting a wonderful response in all the branches that he's gone to," she told TheJournal.ie. "People have called in to the branches just to meet him and he says several lord mayors in those towns have welcomed him."
"He's tired at this stage, but he's very moved by the response. And he's very passionate about the Samaritans; he feels that they can be there for somebody at a crisis moment."
Foley says that the organisation is constantly trying to highlight its services to the public, and that volunteers are available 24:7 by phone (in Ireland on 1850 60 90 90). She says that people can call in to most of the branches in person, such as the Dublin branch, which has private rooms for people to sit and speak with volunteers between 10am and 9pm all week.
David Exley has visited 20 Samaritans branches across Northern Ireland and the Republic, including Belfast, Coleraine, Derry, Sligo, Galway, Athlone, Ennis, Limerick, Newbridge, Kilkenny and Dublin.
David Exley is accepting donations online here. The Samaritans support line can be reached on 1850 60 90 90, or by email on jo@samaritans.org, text on 087 2609090. The Dublin branch is located on 112 Marlborough Street and people can call in between 10am and 9pm, no appointment necessary.  The organisation's website lists all of its branches in Ireland here.
David Exley, Samaritans Dublin director Eileen Foley, and Dublin's Lord Mayor Naoise Ó Muirí earlier this week. (Photo courtesy of Dublin Samaritans)