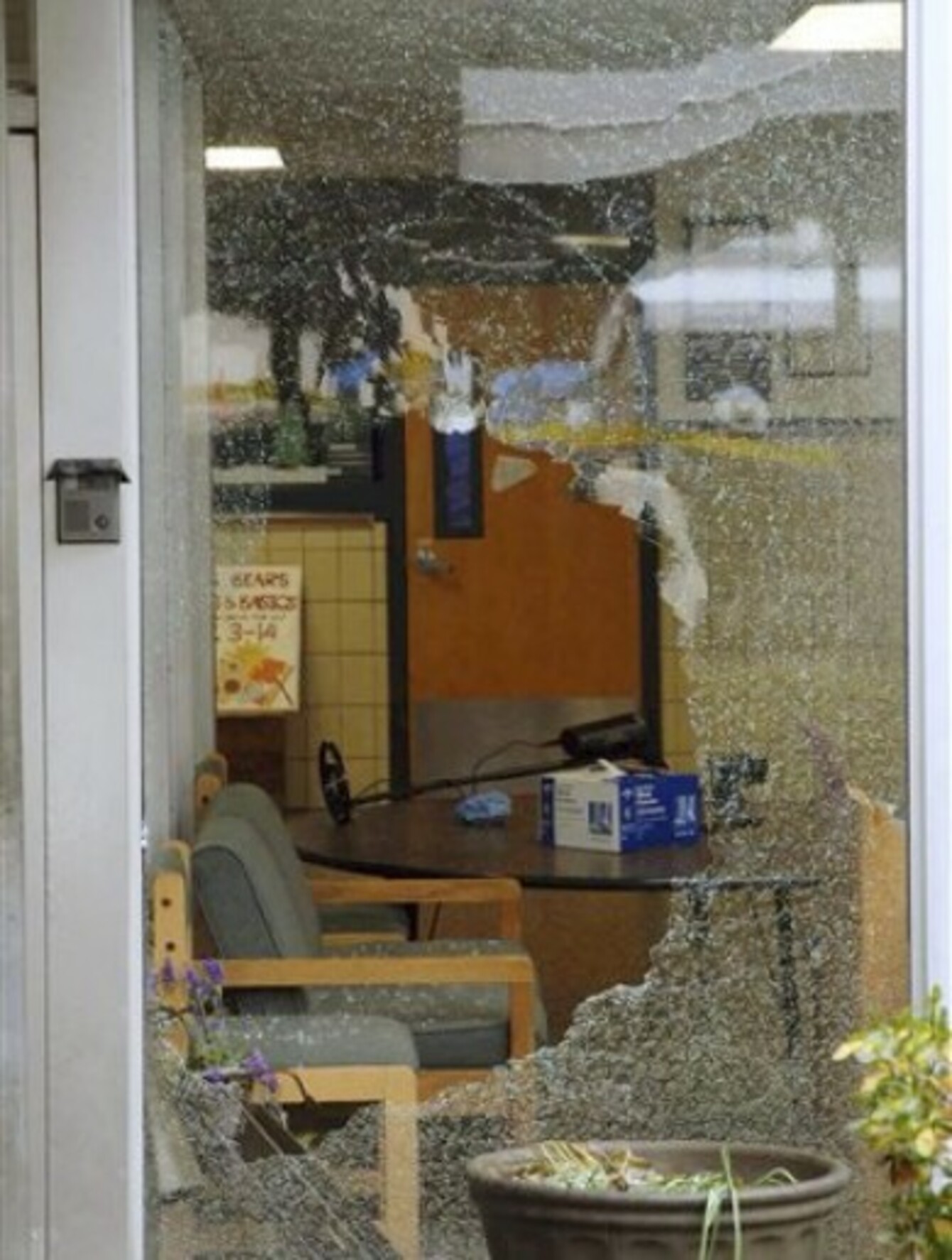 Scene of the massacre at Sandy Hook school
Image: AP Image
Scene of the massacre at Sandy Hook school
Image: AP Image
THOUSANDS OF PAGES of documents from the Newtown shooting investigation help fill out the picture of the gunman's mother as a dedicated and loving, if bewildered, parent who acknowledged her son appeared to be spiralling downward but was not aware to what extent.
Nancy Lanza told a lifelong friend about two weeks before the massacre that her 20-year-old son, who lived with her, was becoming increasingly despondent.
Adam Lanza hadn't left his room in three months and was communicating with her only via email. When Hurricane Sandy blew through Connecticut in late October and cut power to the Lanza home, the documents say, it "put Adam over the edge." She couldn't persuade him to stay at a hotel or in an RV.
Nancy Lanza
When Nancy Lanza asked her son whether he would feel bad if something happened to her, he replied no, she told her friend, who was not identified in the documents. Still, "Nancy never expressed any concern about fearing for her safety while alone with Adam," the report said.
Adam Lanza posing for a group photo of the technology club which appeared in the Newtown High School yearbook. (AP Image)
About two weeks later, Adam fatally shot his mother in the head while she was in bed, gunned down 20 first-graders and six educators at Sandy Hook Elementary School in one of the worst mass shootings in the nation's history and killed himself with a handgun as police closed in.
Evidence report describes as the "shooter's clothing" at Sandy Hook Elementary School in Newtown. (AP Image)
Massacre
Connecticut police released the documents Friday from their investigation into the 14 December 2012 massacre, providing the most detailed and disturbing picture yet of Nancy Lanza's relationship with her son; his fascination with violence; and school employees' brave and clear-headed attempts to protect the children.
"In the midst of the darkness of that day, we also saw remarkable heroism and glimpses of grace," wrote Reuben F. Bradford, commissioner of the state Department of Emergency Services and Public Protection, in a letter accompanying the files.
The documents supplemented a previously released summary based on the same findings, and their release marked the end of the more than yearlong investigation. Authorities have said a motive may never be known, and though the paperwork, photos and videos aren't conclusive and many are heavily redacted to protect the names of children and withhold some of the more grisly details, they nevertheless overflow with painful and visceral details.
Child bodies
Among them: Responders found more than a dozen bodies, mostly children, packed "like sardines" in a bathroom. And the horrors inside the school were so terrible that when police sent in paramedics, they tried to select ones capable of handling what they were about to witness.
"This will be the worst day of your life," police Sargent William Cario warned one.
Teachers heard janitor Rick Thorne try to get Lanza to leave the school. One teacher, who was hiding in a closet in the math lab, heard Thorne yell, "Put the gun down!" An aide said she heard gunfire and Thorne told her to close her door. Thorne survived.
One of the classrooms at Sandy Hook Elementary School. (AP Image)
Teacher Kaitlin Roig told police she heard "rapid-fire shooting" outside the school, near her classroom. She rushed her students into the classroom's bathroom, pulled a rolling storage unit in front of the bathroom door as a barricade, and then closed and locked the door.
She heard a voice say, "Oh, please, no. Please, no." Eventually, police officers slid their badges under the bathroom door. Roig refused to come out and told them that if they were truly police, they should be able to get the key to the door — which they did.
Gunned down
Police Lieutenant. Christopher Vanghele said he and another officer found what appeared to be about 15 bodies, mostly children, packed in a bathroom. So many people had tried to cram inside the bathroom that the door couldn't be closed, and Lanza gunned them all down, Vanghele surmised.
Vanghele also recalled another officer carrying a little girl in his arms and running for the exit. Vanghele ran with him through the parking lot as the officer repeated, "Come on, sweetie; come on, sweetie." The girl didn't survive.
Investigators were gentle in their questioning of children, interviewing youngsters only if they or their parents requested it. Some of the parents thought that talking openly about the shooting and getting accurate information out would help their children heal.
After the interviews, the children were given a copy of the children's book "A Terrible Thing Happened" to help them cope.
Bradford, the emergency commissioner, wrote that much of the report was disturbing but that it also showed teachers trying to protect the children, law enforcement officials putting themselves in harm's way, and dispatchers working calmly and efficiently.
Lanza remained silent as he aimed and fired in one of the classrooms, according to an officer who interviewed the mother of a surviving student. The woman said her son, who ran from the classroom, recalled the shooter kicking in the door and then firing.
Problems
A friend told police that Nancy Lanza reported her son had bumped his head "really bad" a few days before the shootings, drawing blood, according to the documents. And an ex-boyfriend told police Nancy Lanza had cancelled a trip to London the week of the shooting because of "a couple last-minute problems on the home front".
A day before the killings, Nancy Lanza had lunch with an acquaintance in New Hampshire who told police she described the trip there as an experiment to allow her son to stay home alone for a few days at their home in Connecticut. She had no intention of remarrying because she accepted the obligations of caring for her son, the acquaintance told investigators.
Adam Lanza was diagnosed in 2006 with "profound Autism Spectrum Disorder, with rigidity, isolation, and a lack of comprehension of ordinary social interaction and communications," while also displaying symptoms of obsessive-compulsive disorder, according to Dr. Robert A. King, a professor at the Yale School of Medicine Child Study Center.
What the evidence report describes as ammunition supplies and two loaded 12ga shotgun magazines taped together from top drawer of filing cabinet of the computer room in the house where Adam Lanza lived with his mother. (AP Image)
Social isolation
"My concern was that the shooter's social isolation and withdrawal was increasing," King is quoted as telling the investigators.
But he also told investigators that he observed nothing in Lanza's behavior that predicted he would become a mass killer. Contacted by The Associated Press, King did not comment.
Kathleen A. Koenig, an advanced practice registered nurse at the Yale Child Study Center, told investigators that Nancy Lanza said her son had several ritualistic behaviors, including frequently washing his hands and changing his socks 20 times a day, to the point his mother did three loads of laundry a day.
The nurse, who met with Lanza in 2006 and 2007, said Lanza's mother declined to give him prescribed antidepressant and antianxiety medication after she reported he had trouble raising his arm, something she attributed to the drug. Koenig unsuccessfully tried to convince Nancy Lanza that the medicine was not responsible, and the mother failed to schedule a follow-up visit after her son missed an appointment, police said.
Peter Lanza, who was estranged from his son, told police that his son had Asperger's syndrome — a type of autism that is not associated with violence.
A birthday card to Adam Lanza from his father, found at the home where Adam Lanza lived with his mother. (AP Image)
Included in the documents were photos of the home Lanza shared with his mother. They show rounds of ammunition, gun magazines, shot-up paper targets, gun cases, earplugs and a gun safe with a rifle in it.
Shootings targets found in a storage box in Adam's basement. (AP Image)
A former teacher of Lanza's was quoted as telling investigators that he exhibited antisocial behavior, rarely interacted with other students and obsessed in writings "about battles, destruction and war."
"In all my years of experience, I have known (redacted) grade boys to talk about things like this, but Adam's level of violence was disturbing," the teacher told investigators. The teacher added: "Adam's creative writing was so graphic that it could not be shared."
Nancy Lanza couldn't put up a Christmas tree because her son disliked the holiday, according to the lifelong friend who spoke to her two weeks before her death.
Guns
In a subsequent interview, the friend described Nancy Lanza as a gun advocate who said she kept a handgun in her bedroom nightstand because it made her feel safe. The friend also reiterated that Nancy Lanza hadn't mentioned ever feeling threatened by her son.
Prosecutors previously issued a summary of the investigation last month that portrayed Lanza as obsessed with mass murders. The documents released Friday also indicated Lanza was interested in mass killings, played violent video games and had books that dealt with death.
But the report concluded Lanza's motives for the Newtown massacre might never be known. It has been well documented that Nancy Lanza owned firearms and that she and her son would visit shooting ranges.
Lanza "was undoubtedly afflicted with mental health problems; yet despite a fascination with mass shootings and firearms, he displayed no aggressive or threatening tendencies," it said.