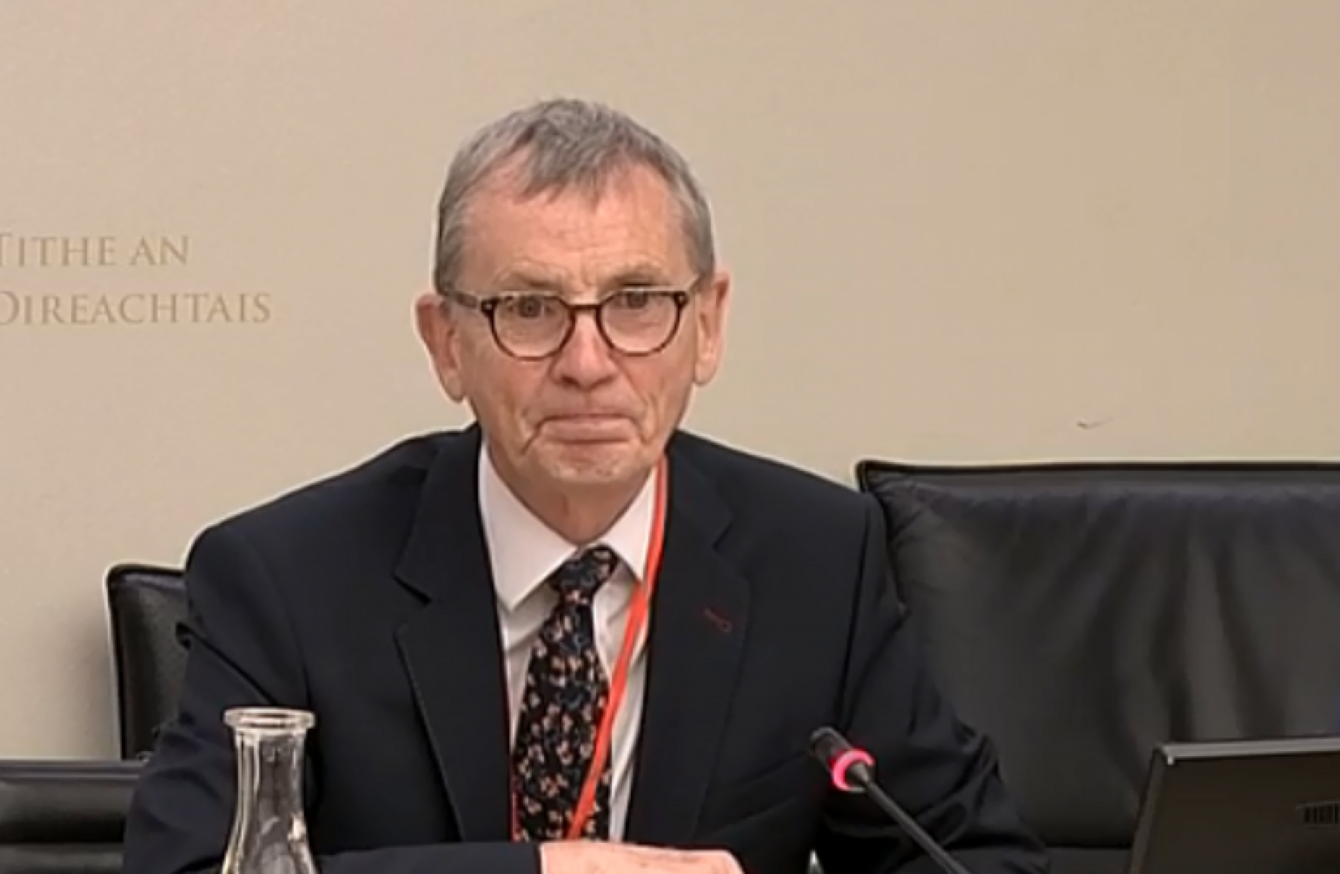 Dr. Gabriel Scally at today's Committee meeting.
Image: Oireachtas.ie
Dr. Gabriel Scally at today's Committee meeting.
Image: Oireachtas.ie
THE PERSON WHO led the report into the CervicalCheck scandal has said that it is "likely" that there are more women affected than the 221 originally identified by the HSE.
Dr Gabriel Scally was speaking to the Oireachtas Health Committee this morning and expressed concern that an initial review to identify women involved was flawed.
Scally's report published last month recommended an overhaul of the CervicalCheck screening programme.
Today, he opened his evidence by referencing the deaths of two women involved at the weekend, saying that it was a "timely reminder of the seriousness of cervical cancer.
In addressing his concerns, Scally said that the way the initial review was carried out must be looked at.
He said that the basis it was carried out "is not a good basis for a review".
"It does not give one the kind of population data that would allow one to say how many cases of slides being wrongly or differently interpreted post a diagnosis of cervical cancer there were over the entire cervical cancer programmes in the country," he said.
"There was a really big flaw at the beginning in terms of the design of the review."
The review identified that 221 women subsequently diagnosed with cervical cancer who were not told that slides from an earlier screening could have been interpreted differently.
Labour TD Alan Kelly said that an investigation is ongoing into these cases but that he believes that "slightly more" women could be affected.
Responding to Kelly, Scally said that it is indeed "likely" that more women are affected.
#Open journalism No news is bad news Support The Journal

Your contributions will help us continue to deliver the stories that are important to you

Support us now
Screening
In his evidence, Scally also explained that the screening process can sometimes fail to pick up pre-cancerous anomalies.
"Even though the woman has an abnormality, no cells may be present in the slide, so the finding will be that the cells are normal and there is no problem," Scally said.
Alternatively, cells may be present but the persons who are reading the slide, which are generally dealt with by more than one cyto-screener, may not spot an abnormality. That may be for one or two reasons. It may not be very distinct or it may be a matter of judgment and their judgment is that there is nothing significant.
"Alternatively, it could be a very plain error where there are sufficient signs of abnormality but the person misses it," he added.
Following the committee meeting, Health Minister Simon Harris met with Scally this afternoon and has asked Dr Scally to provide a review of the implementation of plan recommended in last month's report.
"I was pleased to meet Dr Scally today to thank him for the work he has done to date and to examine the next steps," Harris said.