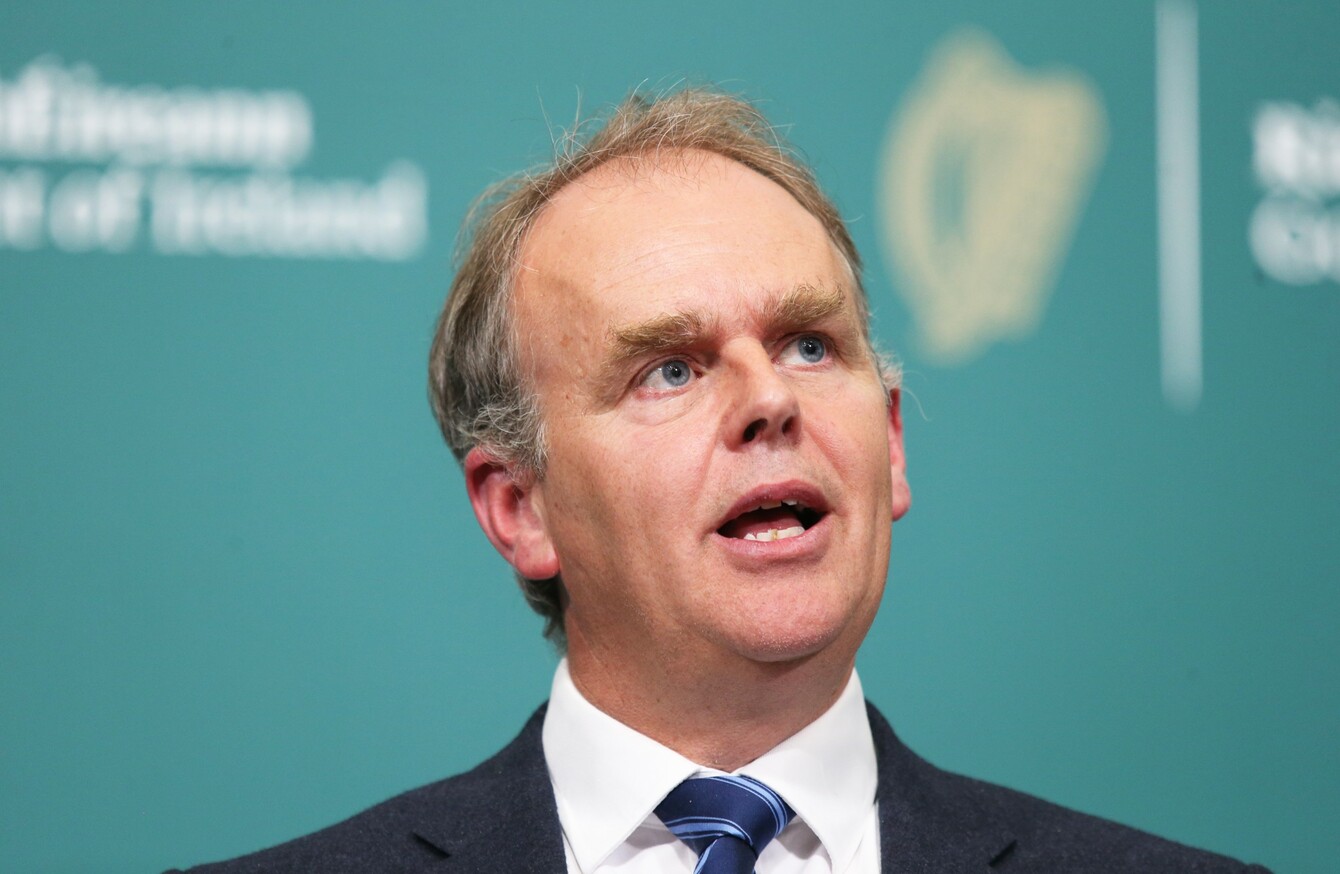 Minister for Education Joe McHugh
Image: Leon Farrell via RollingNews.ie
Minister for Education Joe McHugh
Image: Leon Farrell via RollingNews.ie
PRIMARY SCHOOL PUPILS will attend school for one day per week and secondary school pupils for two days per week if the two metres social distancing rule remains in place in September, Education Minister Joe McHugh has said.
McHugh said if the rule remains in place, students will engage in blended learning from home on the other days.
"I want a common sense approach to reopening schools in September," he said.
"Where possible, children and young people and staff should be far enough away from each other so they are not breathing on or touching each other and this will have to be accompanied by additional hygiene measures in schools," he added. 
I want to be very clear with everyone around the impact of one-metre and two-metre social distancing in schools.
At primary level the two-metre rule would mean almost all pupils attending school just one day per week. At post-primary level, this would mean most pupils attending schools two days during the week.
He said if it was reduced to one metre, primary school pupils would attend for two-and-a-half days per week and for secondary school pupils, they would attend on a half-time basis.
McHugh also said more funding will be provided to schools to help them pay for additional hygiene equipment and changes to classrooms. 
In late May, Taoiseach Leo Varadkar said the current government plan would see schools open at the end of August to begin the new school year. 
However, the reopening of primary and secondary schools as planned will be contingent on how Covid-19 is spreading within the community at that point. 
When asked if the two-metre social distancing rule will be reduced by the time children return to school in August, the Taoiseach said as of then, it was still too early to talk about whether schools would have to abide by two-metre social distancing guidelines. 
Speaking to reporters today at Dublin Castle, Varadkar said the level of risk "is changing" and is much lower than it was. This means that other factors such as the economy, jobs, healthcare now need to be considered. 
He said: "If we are going to go from two metres to one, that is a risk. It is not going to be as big a risk as it was two weeks ago because the number of cases are now so low. We are looking at the issue in the round and seeing what the health implications will be for employment and in schools and so on."
He said as low transmission continue, things will become possible that weren't until now.
"So much of this is going to depend on what happens over the next few weeks, or whether we continue to keep the virus under control," he said.
If the numbers stay low, "then things become possible that weren't possible, up until now".
#Open journalism No news is bad news Support The Journal

Your contributions will help us continue to deliver the stories that are important to you

Support us now
"We came up with alternative solutions to minimise risk for early years and can do so again for schools," he said, adding that he wanted to reassure parents that they are working on a plan to get all children back to school full-time in August and September.
Varadkar said he wanted to be honest with people, that reducing the social distance rule to one metre is not without risks.
"The evidence is becoming increasingly clear on this," he said, stating that it gives you 70% protection, while two metres will give you 95%+.
However, he said reducing the distance is not as risky as previously, due to the diminishing number of cases in the community.
On 12 March in a landmark speech from Washington DC, Varadkar announced that schools and colleges around the country had been ordered to close. 
Since their closure, the Leaving Certificate examinations for this year were cancelled and a system of predictive grades implemented. Students will have an option to resit the exams at a later date. 
With reporting by Press Association and Sean Murray