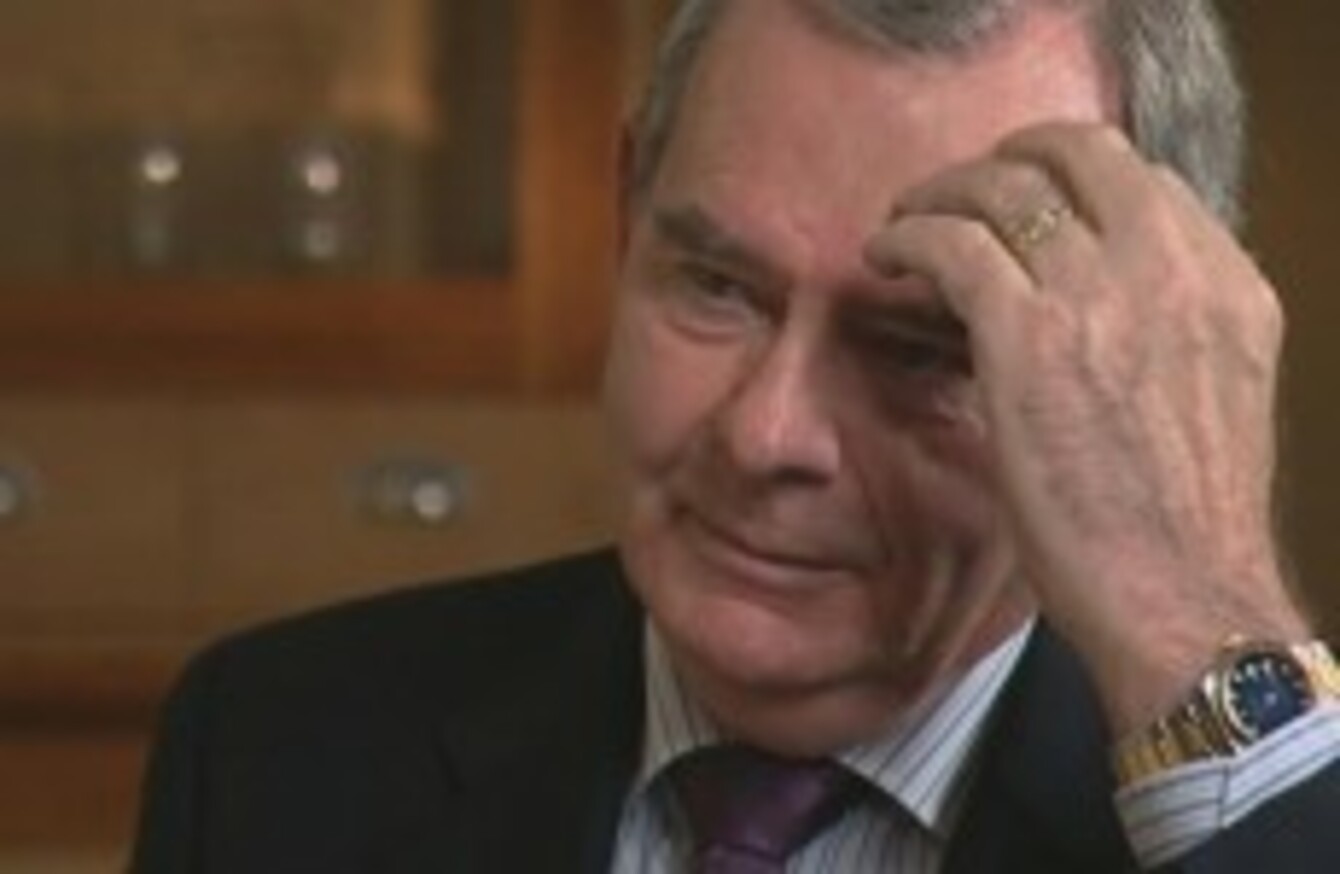 Image: Courtesy of TV3
Image: Courtesy of TV3
BANKRUPT FORMER BILLIONAIRE Seán Quinn has again insisted that his family does not owe the €2.8 billion to the nationalised Irish Banking Resolution Corporation – but rather the bank itself.
In an interview broadcast on TV3 this evening, Quinn acknowledged that IBRC – formerly Anglo Irish Bank – had lent that amount to himself and to the Quinn Group of companies.
He insisted, however, that he had not reneged on any promises to repay the full amount he was due to repay – but argued that some €2.3 billion of the amount owed to IBRC was owed by Quinn companies which that bank has since moved to repossess.
"Of the €2.8 billion, we believe there's €2.34 billion being contested," Quinn told TV3′s Vincent Browne. "There's €445 million of legal money owed.
"At all times we said we'd pay the full amount of money, even though we knew it was disputed," he said, because the Quinn companies were "extremely profitable".
"We didn't want to feel it could be said that we owed the Irish taxpayer any money," he said.
This could no longer be the case since IBRC had appointed receivers to many of the group's companies, Quinn said. Many of those companies have since been sold and are outside family control.
"We don't own any business. It's them that owes the €2.8 [billion]," Quinn insisted.
The €2.3 [billion] was borrowed by the Quinn Group companies. They own them. They should be well capable of paying them all back.

It's not my fault if they're going to take the company off me. [...] The company, the Quinn Group, they borrowed this money. They have one of the most profitable companies in the country.
The 65-year-old also insisted that he and his family were not in contempt of a High Court order to stop them moving their assets beyond the reach of IBRC.
We told Judge [Elizabeth] Dunne [of the High Court] that we planned it

[moving assets abroad]

in the days approaching the 14th of April [2011].

They were taking everything from us, putting our children on the dole. [...] We freely moved it. We freely agreed to it.
But he insisted that any assets moved abroad were moved in advance of the court order in June 2011, with no assets moved subsequent to then – and said any assets moved in the first place were not secured against loans Quinn held with IBRC.
Quinn later said he did not know the whereabouts of his nephew Peter Darragh Quinn, for whom an arrest warrant has been issued after he failed to appear in court on the morning he was found to be in contempt of court, and sentenced in absentia to 90 days in prison.
Quinn further argued that the Financial Regulator, Matthew Elderfield, had acted illegally in appointing administrators to Quinn Direct in 2010, when he claimed the company was at its most profitable.
It was an "absolute scandal" that a levy had to be added to non-life assurance policies in order to fund the winding down of that company, he said, implying the company's cash reserves would have been enough to meet any claims against it.