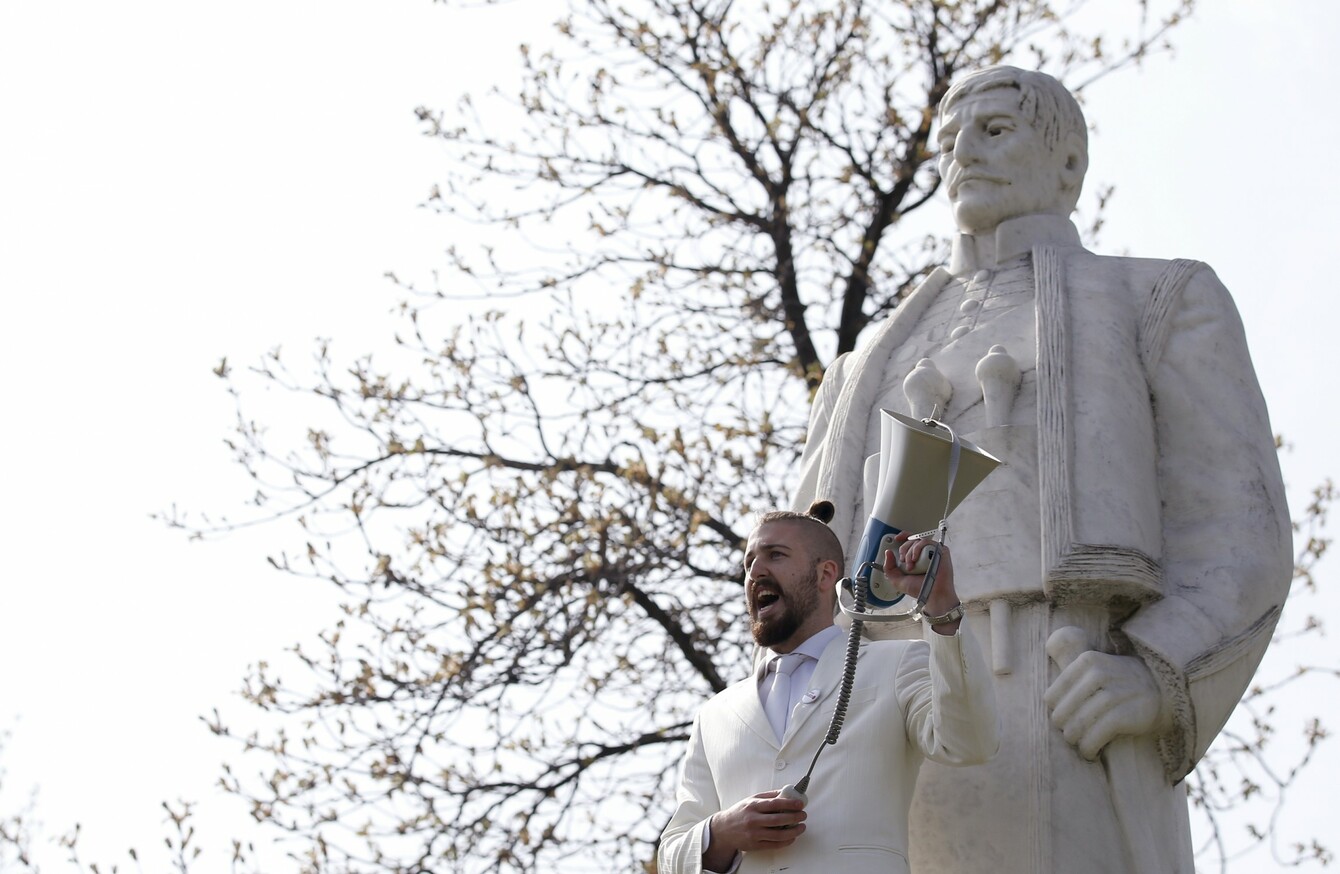 Image: Darko Vojinovic/PA Images
Image: Darko Vojinovic/PA Images
SERBIA'S YOUNG GENERATION are fed up.
They're tired of the scandal after scandal; election promises broken; politicians profiting while the overall wealth of the ordinary citizen goes down; and very slow progress in terms of human rights or state infrastructure.
All of that has a real, tangible effect – more than 40% of young Serbs are unemployed and many are leaving to find opportunities abroad.
It's not all about money either: part of that dream is an escape to freedom.
Discrimination is systemic in Serbia, gender equality isn't seen as a priority, and there's a societal intolerance of the LGBT community – issues that a younger generation see as basic human rights that they just can't access.
That sense of disillusionment is part of the reason one of the candidates Ljubisa 'Beli' Preletacevic is gaining so much support from young voters. The 25-year-old satirist Luka Maksimovic plays the part of Beli, who's the joker card of the candidates and has been dubbed the Serbian Borat.
Source: Sarmuprobonisi TV/YouTube
'Preletacevic' punningly means someone who effortlessly switches loyalty – a jab at the notorious fickleness of Serbian politi, while his nickname 'Beli' means white.
His key electoral pledge is naked self-interest: "To steal for ​myself, but also to give something to the people."
His campaign video (above) shows him dressed in white, riding a white horse and hailing fans while standing in an outdated open-top Mercedes. It's been viewed more than 750,000 times in its first week
"We will get 16 wages, we will build three-storey houses, there will be no war," sing tight-trousered performers.
On a recent campaign appearance in Mladenovac, Maksimovic's home town outside Belgrade, 'Beli' was mobbed.
"We came from Belgrade just to meet you," a middle-aged woman shouted from her car. Preletacevic went over to shake hands. "Hit it hard!" he declared, using his movement's slogan.
The other candidates
To the right is current Serbian Prime Minister and presidential candidate Aleksandar Vucic, a former ultranationalist now European Union supporter, who is a clear favorite to win against several fragmented opposition candidates.
#Open journalism No news is bad news Support The Journal

Your contributions will help us continue to deliver the stories that are important to you

Support us now
He's already won three general elections in four years – helped by the support of both Vladimir Putin and most Western leaders.
The two main opposition candidates are to the left: former ombudsman Sasa Jankovic, (top left) and ex-foreign minister Vuk Jeremic will try to beat the odds and public mudslinging as they face the vote that begins with the Serbian diaspora voting today.
Human rights champion Jankovic is supported by pro-Western liberal voters, as he aims to reform politics, education and bring through a lot of the changes young voters want.
You can view a Facebook Live of a peaceful protest here (the banner reads as 'For a Serbia without fear').
https://www.facebook.com/SasaJankovicZastitnik/videos/vb.507928092748485/619984998209460/?type=2&theater&notif_t=comment_mention&notif_id=1490819549784308
Jeremic, meanwhile, has the support of more conservative and nationalist groups. Both are running as independent candidates with no party affiliation. And both have had a hammering in the press controlled by Vucic.
But some opinion polls place Beli second, ahead of Vucic's two serious challengers.
"All the attention we are getting is a slap to the authorities and the opposition," Beli told international news agency AFP.
They should ask themselves what they have brought this country to when a fictitious character can run for presidency and people want to vote for him. That shows something is wrong.
So young Serbs looking for drastic change in the country are faced with a choice: vote for the least worst option, and continue with the same political process they mistrust; or vote for Beli in a vote of protest.
With reporting from - © AFP 2017