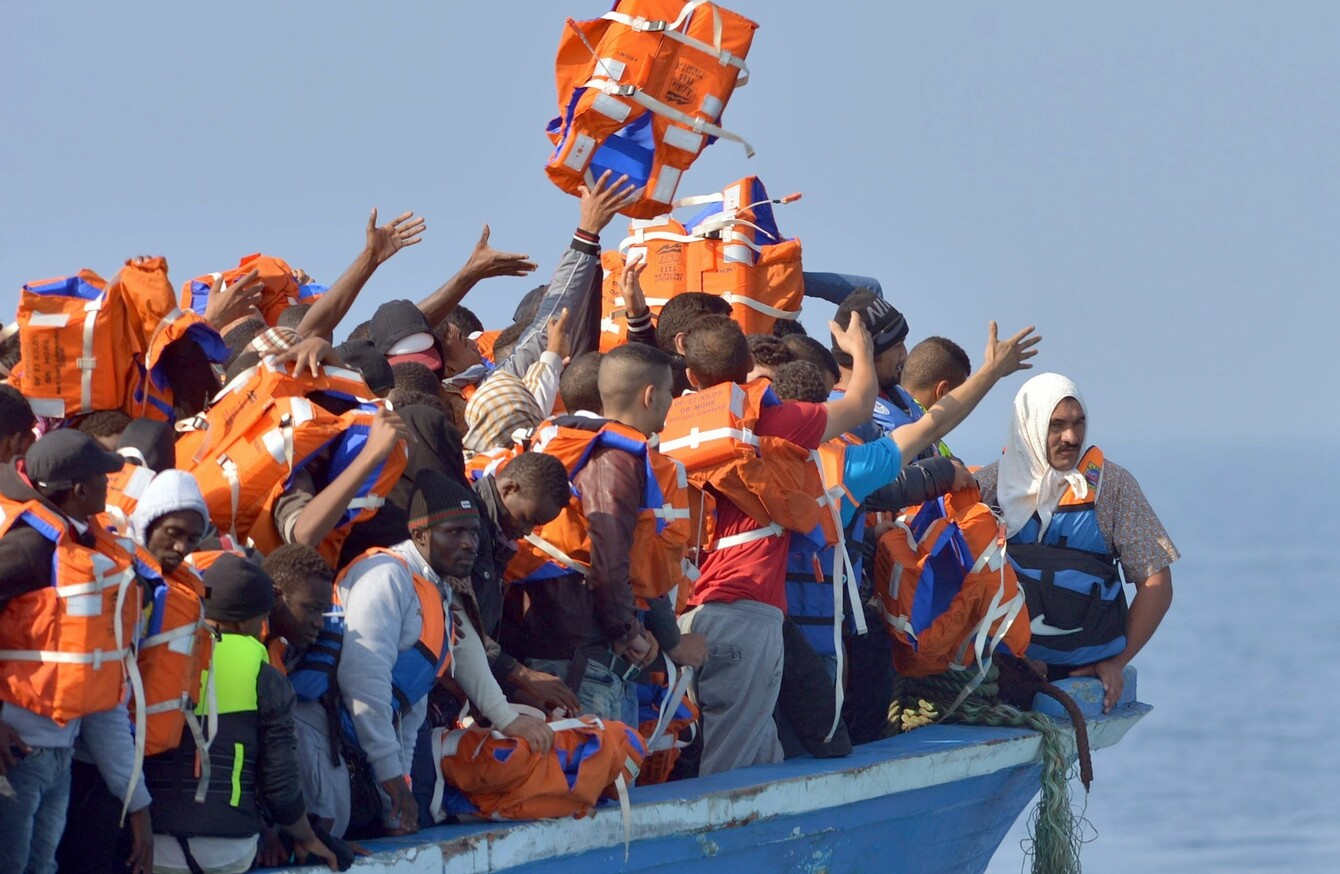 File image: Migrants stranded on a boat off the Libyan coast in 2015.
Image: PA Archive/PA Images
File image: Migrants stranded on a boat off the Libyan coast in 2015.
Image: PA Archive/PA Images
TWO WRECKS OF ships carrying refugees and migrants in the Mediterranean have claimed as many as 245 lives, including those of at least five children, according to survivor accounts given to UN agencies and authorities in Sicily, where dozens of rescued migrants were taken.
Survivors of one wreck, some of them hospitalised in Pozzallo, Sicily, where they were being treated for hypothermia and exhaustion, told authorities who interviewed them that their traffickers had crammed some 130-140 people, apparently all from central African countries, into a motorised rubber dinghy designed to hold at most 20 people.
The dinghy started deflating on one end, the passengers quickly shifted their positions in the boat, and the craft tipped over, authorities said, based on numerous survivors' descriptions.
The officials spoke on condition of anonymity since the shipwreck is being investigated.
The dinghy wasn't equipped with any distress signaling equipment.
The 52 survivors clung for hours to the wreckage of the dinghy until they were spotted by a patrol plane and rescued by a Danish cargo ship, which was dispatched to their aid by the Italian Coast Guard.
One survivor was a Nigerian woman, whose 5-month-old baby died.
The infant's body was one of the few bodies so far recovered, authorities said.
"I lost my baby, she drowned, but God didn't allow me to die," the woman, who asked to be identified only by her initials, S.J., told The Associated Press in an interview outside the migrant processing centre in Pozzallo.
The 22-year-old, from Benin City, in Nigeria, reflected on her journey that begin in March 2016 in her homeland and offered these words for other Nigerians.
I want to tell my fellow people…to not come, it's not easy to come here … the sea is not friendly, many things happen.
Even at the moment that the cargo ship was about to pluck the survivors to safety, the woman recalled, some just couldn't hold on any longer. "Even as they were rescued, one person died, a baby died."
In the end, she said, 82 people perished and 52 survived.
Police in Sicily said in a statement that many of the survivors recounted that among those who drowned was one of the smugglers who had been steering the boat.
"They couldn't even remember who saved them. They were completely shocked and traumatised," said Carlotta Sami, Rome-based spokeswoman for the UN refugee agency.
Meanwhile, at its Geneva headquarters, the refugee agency said that one of its partner agencies, the International Medical Corps, reported a shipwreck on Sunday off the Libyan coast in which 163 people are missing and feared dead. The UN agency said one woman and six men were rescued by the Libyan Coast Guard.
That boat was intercepted by the Libyan coast guard, said the UNHRC's Sami, who had no other details.
Many of those who brave the risky central Mediterranean route between Libya and Italy are migrants from Africa seeking to flee from conflicts, political persecution at home or to find better economic opportunities in Europe.
Overall, UNHCR said yesterday that more than 1,300 people have disappeared and are believed to have died this year while crossing the Mediterranean from North Africa to Italy.
The International Organisation for Migration, in separate remarks, gave a lower estimate of the total number of migrant lives lost — 190 — in the two shipwrecks.
It estimated about 80 people died from the sinking of the dinghy off Italy, and at least 113 following the shipwreck off the coast near Az Zawiyah, Libya.
Since Friday, some 6,612 people were saved in a dozen operations and brought to Italy.
After winter storms and cold sea temperatures, said IOM spokesman Joel Millman, "there is normally pent-up demand. The summer tends to be very, very busy because sea conditions are better".
In Spain yesterday, officials said about 300 migrants tried to scramble across the 6-metre border fence separating Spain's North African enclave of Melilla from Morocco, with many throwing stones and other objects at police.
#Open journalism No news is bad news Support The Journal

Your contributions will help us continue to deliver the stories that are important to you

Support us now
Melilla's Interior Ministry said most of the migrants were pushed back by Spanish and Moroccan police, but about 100 managed to enter the city. It said three officers and three migrants were treated for injuries.
Many of the thousands of economic migrants or refugees rescued at sea have told authorities they spent months in inhumane detention facilities in Libya, often suffering torture, sexual abuse or labour exploitation, before the smugglers sent them out to sea.
Voyage getting riskier
A Rome-based IOM spokesman, Flavio Di Giacomo, said in an interview in Tuesday's La Stampa newspaper that there have been recent indications that some migrants have decided to flee the harsh conditions in Libya to return to their homelands, renouncing their dream of reaching Europe and safety, although "the majority take the risk of the sea".
And that voyage is getting ever riskier. Sami told The Associated Press in an interview that the smugglers no longer provide satellite phones so the migrants can call for help, "nor engines or even fuel".
"They are completely adrift" and at the mercy of sea, Sami said.
The Nigerian survivor told the AP their smugglers gave them neither compass nor satellite phone.
In some cases, migrants have recounted that their smugglers removed the dinghy's motor and sped off in another dinghy after traveling a few miles out from Libya.
The IOM said 41,196 migrants have arrived in Italy this year, up from around 31,000 in the same period last year. Some 1,222 have died.
The figure for the Mediterranean as a whole, including Greece, Cyprus and Spain, was 49,310 as of Sunday. For the same period last year, the total number of sea arrivals was far higher — 187,569.
That was because some 155,000 arrived in Greece from Turkey, compared with only 5,555 this year.