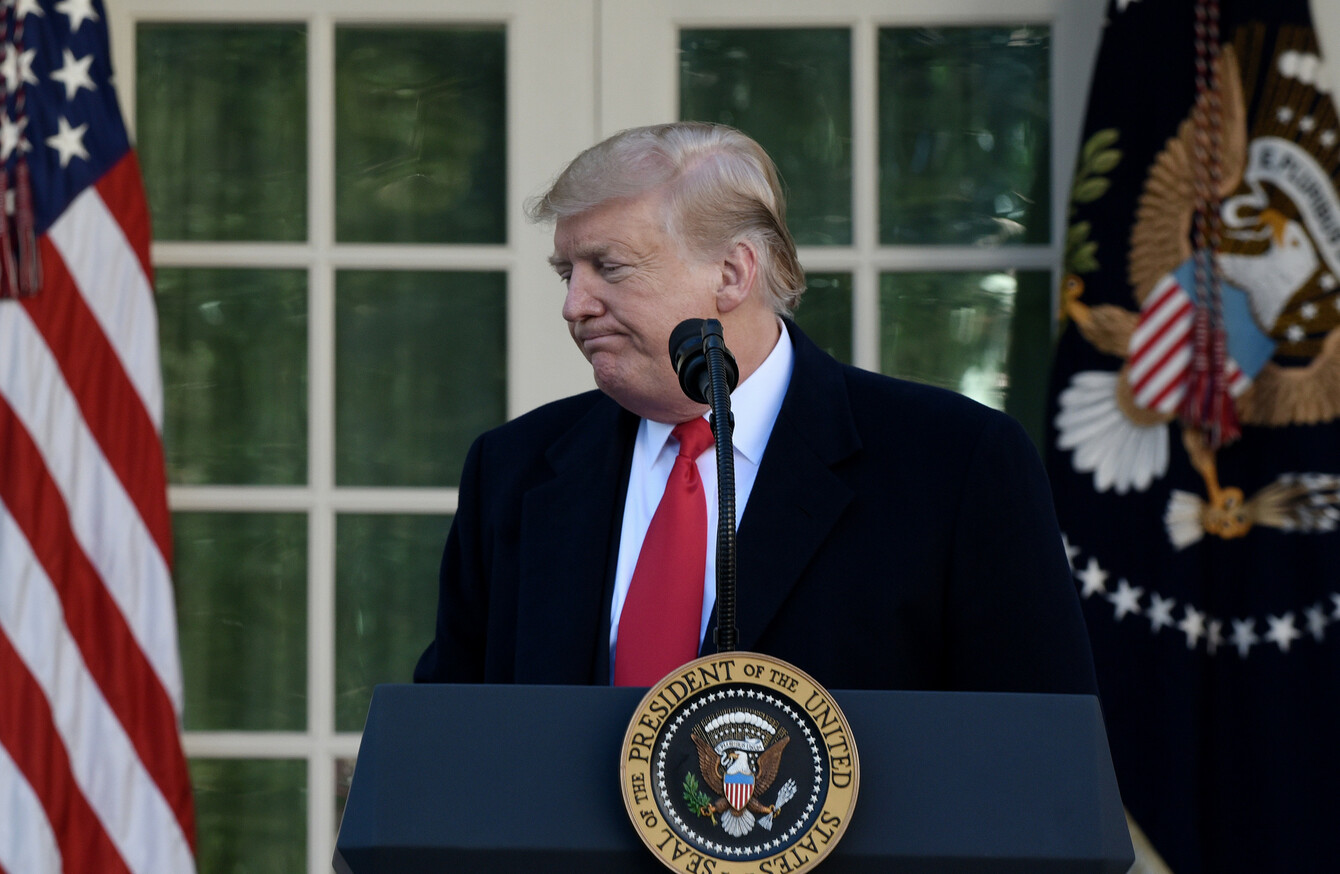 Trump makes a speech in the Rose Garden of the White House,
Image: PA Images
Trump makes a speech in the Rose Garden of the White House,
Image: PA Images
US LAWMAKERS HAVE announced an agreement in principle to avoid another government shutdown, with nearly $1.4 billion in money for construction of a wall on the border with Mexico.
That amount is far less than Trump has demanded. But if accepted, the deal would avert another chaotic standoff in which Trump has threatened to cut budgets from swaths of government this Friday.
Senator Richard Shelby, a key Republican negotiator, told reporters an agreement in principle had been reached between Republican and Democratic lawmakers.
Senior congressional aides told AFP the agreement included $1.36 billion in funding for a wall on the US-Mexico border — a key campaign promise of Trump, who had demanded $5.7 billion for his pet project.
The agreed figure would fund approximately 89 kilometers, all to be located in the Rio Grande Valley area of south Texas, the aides said.
The deal still faces White House approval.
The news dropped just as Trump was about to climb the stage in the El Paso arena and the president, addressing a raucous crowd, said he did not have enough details to respond.
"We probably have some good news but who knows," he said.
Addressing thousands of people, many wearing his red Make America Great Again campaign hats, Trump said: "We need the wall and it has to be built and we want to build it fast."
According to Trump, illegal immigrants pose a national security risk to the United States and can only be stopped by dramatic extensions of current barriers.
Congress nears deal?
Trump has certainly failed to persuade Congress to fund his wall project, with Democrats accusing the president of using the whole issue to boost his political base, rather than fix the complex border situation.
Trump, fearing a humiliating defeat on his signature issue, has fought back fiercely.
In December, he pushed back at Congress by refusing to fund large sections of the government, leading to a five-week shutdown of some 800,000 federal jobs. Next, he gave Congress until Friday to come up with the wall money or face another shutdown.
Alternatively, Trump could declare a national emergency, giving himself power to take the money from the military, although this would likely provoke lawsuits and even more political recriminations.