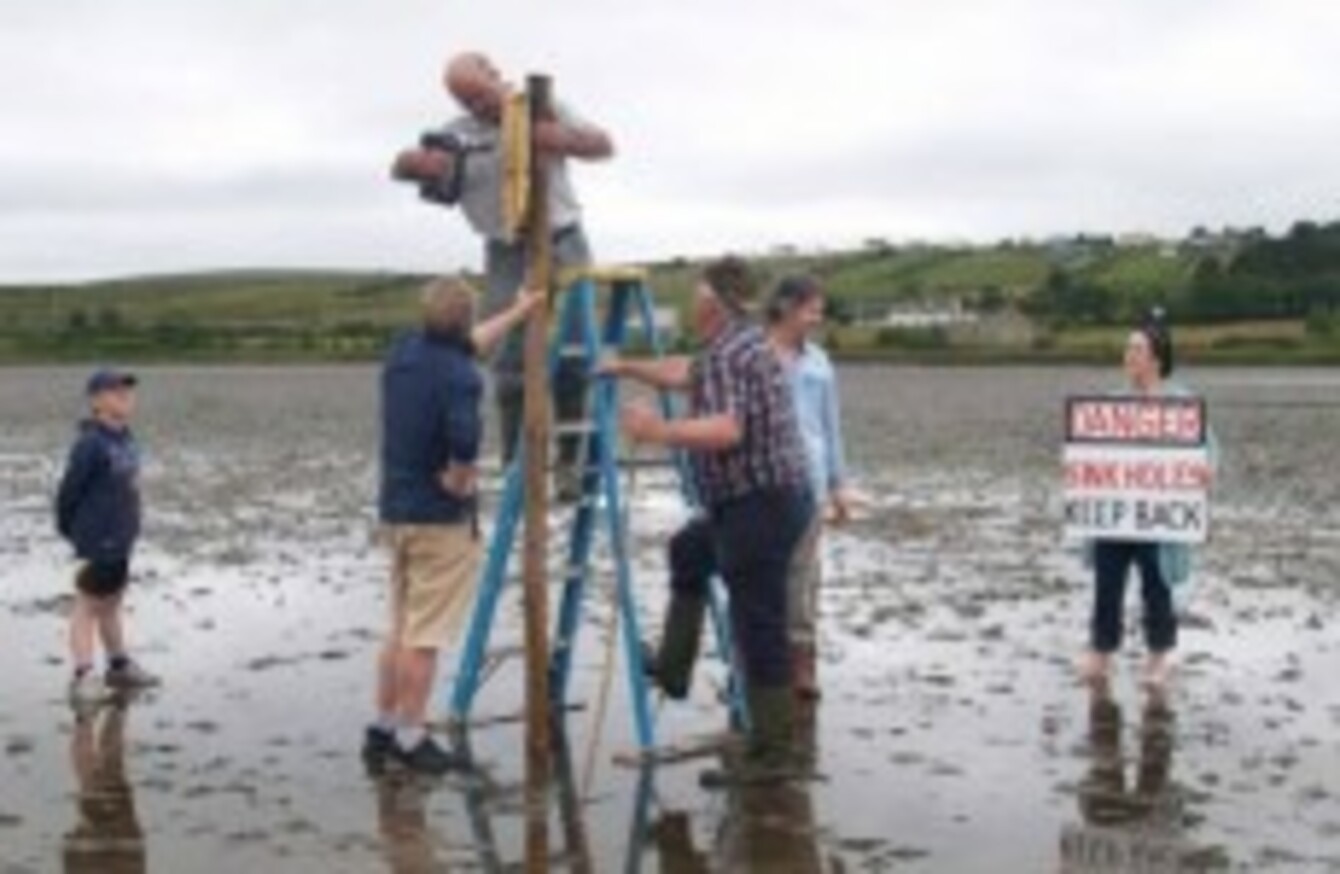 Image: Shell to Sea
Image: Shell to Sea
Updated at 11.16
LOCALS AND CAMPAIGNERS from the 'Shell to Sea' group have placed a series of large signs along the shore at a Co. Mayo estuary to warn of the danger posed by 'sinkholes'.
The depressions at Sruwaddacon Bay were first noticed in May of this year, and Shell to Sea claims the phenomenon is being caused by the construction of the final sections of the Corrib gas pipeline.
Spokesperson for the group Terence Conway told TheJournal.ie they felt compelled to act to warn people of the holes, as they could pose a danger to walkers out on the strand.
"We first noticed them around the 20th of May", Conway said. "I came across one by accident. There was a hole in the strand about four foot deep, but it was filled in later by the Shell people."
The holes start off very gradually with air bubbles coming out and they gradually get bigger and deeper, as the bubbles rise up from the drilling.
(Youtube: ErrisCamera)
Around 20 people turned out at the weekend to help erect the homemade warning signs around the affected area, which is around 300 metres from the nearest houses.
Conway claims the path of the Shell tunnel can currently be traced by the trail of sinkholes that have appeared along the strand. He says authorities have failed to take any action to address the problem in spite of being notified by residents.
The Department of Energy says it dispatched a tunnelling expert to examine the phenomenon, and that the most recent site visit was conducted this week. A spokesperson for the Department told TheJournal.ie:
The developer has notified the Department about depressions in Sruwaddacon Bay which are caused by air escaping during TBM (Tunnel Boring Machine) 'intervention' maintenance.

The depressions in the Bay are being considered in the context of the site review and a report will be submitted by Environ to the Department in due course. In keeping with its normal practice, the Department will publish this report  once available.
Shell E&P Ireland and Mayo County Council failed to immediately return calls on the issue.