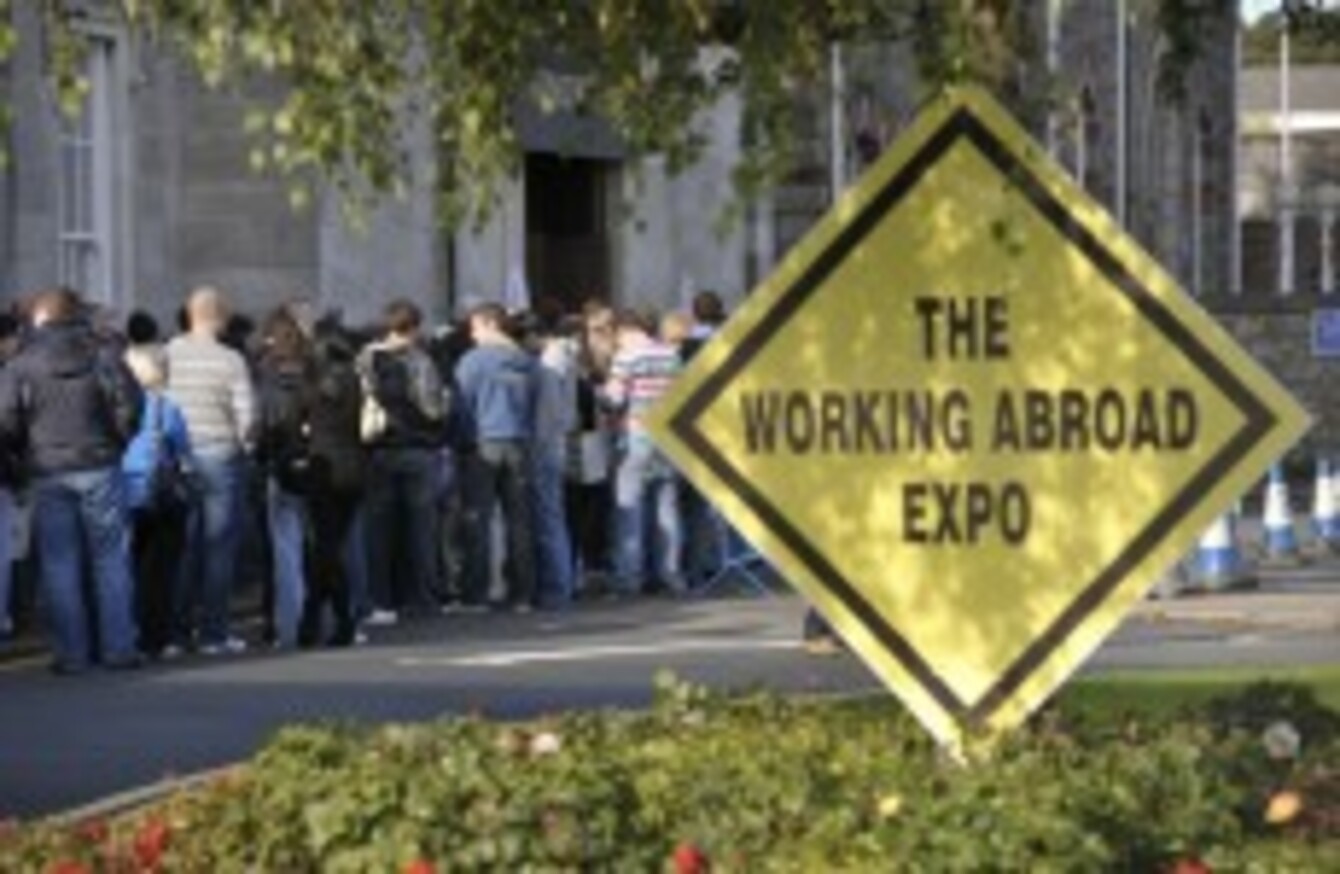 Queue at a recent Working Abroad Expo.
Image: Sasko Lazarov via Photocall Ireland
Queue at a recent Working Abroad Expo.
Image: Sasko Lazarov via Photocall Ireland
SINN FEIN HAS called for the introduction of a new junior minister to deal with issues affecting the Irish diaspora.
This proposal is one of a number outlined in their policy document released today, Moving Forward Together: A vision for the global Irish diaspora. The new role would be in addition to the current 15 junior ministries.
Speaking at the launch of the document, Sinn Féin leader Gerry Adams said that the new ministry would "draw upon the experience and wisdom of those in the diplomatic service" but would differ from the role of diplomats and ambassadors as it would have more scope to "get a global picture" of Irish people.
Some of the other proposals put forward in the document include extending the right to vote in presidential elections to Irish citizens living and working outside the State by means of a postal vote, the provision of diaspora representation in the Dáil and the Seanad and on the Council of State, and the establishment of a government taskforce on emigration.
'Unusual'
Sinn Féin also wants all adults of voting age who have been legally resident in the country for at least 5 years to be allowed to vote in Dáil and presidential elections. Adams said it was "unusual" for a state to not extend presidential election voting rights to its diaspora as it was "a denial of people's rights".
Adams said that his party "recognise the nation as not just the people who live on the island", but all those abroad who have a "patriotic connection" with Ireland.
Adams added that upcoming plans for Seanad reform should include the provision of representation for the diaspora. He noted that President Michael D Higgins was "far-sighted" in electing a member of the diaspora, Sally Mulready, to his Council of State, but said that this should be a statutory appointment to all future councils.
Seán Crowe, Sinn Féin's foreign affairs spokesperson, will present a related bill to the Dáil today. Crowe said he was "conscious of the huge amount of Irish that have left our shore"and that it was "time to adopt a new approach" to our country's emigrants.
He added that the bill would require constitutional change as it proposes lowering the voting age in presidential elections to 16 and making amendments to how the Council of State is formed.
Crowe said he thought "most parties" within the Dáil are in favour of some of the steps proposed in the bill, but that Sinn Féin were the party that has "taken the initiative" on the matter.