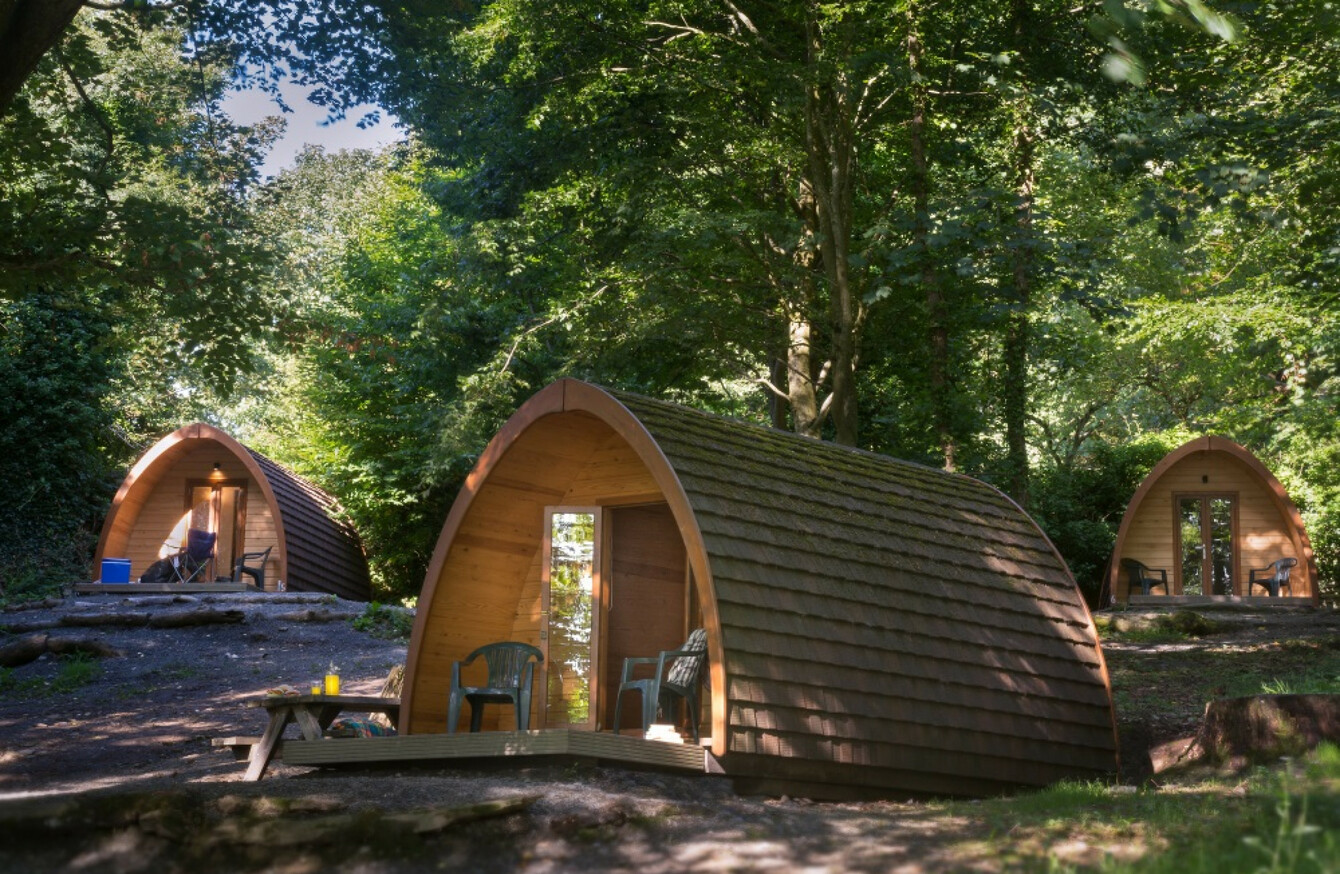 Image: Mike Henton/National Trust
Image: Mike Henton/National Trust
THE CAMPING PODS at Castle Ward in Co Down are not your classic tent-in-the-woods situation. First off, they're designed with a shape that cuts down on the sound of heavy rain — something only camping in Ireland could require!
And they're filled with sheep wool insulation, protecting campers the chill of a typical Irish night, in a natural way. Castle Ward is an 18th century estate with sprawling grounds – it's a tourist attraction by day, but by night, a select few can rest their heads in the on-site caravans and pods.
"The caravan park itself is quite secluded, so we get people who come back every year and bring their families. It's very safe, people spend a week on site and they don't even need to leave," says Sarah Burch, marketing and communications officer for National Trust.
The pods have been available on the site for eight years, but in the last year the National Trust added premier pods, which have a separate room and mattresses on a raised platform for sleeping, so you don't have to bring your own bedding.
Each pod also has a heater, electricity and lights, and French doors that allow for maximum views toward Strangford Lough. You'll still need to bring all the equipment you would for typical camping, but the pods offer a dry spot to sleep no matter the weather.
Don't expect manicured lawns outside your pod door though, says Burch:
Castle Ward isn't a manicured site, it's a bit wild, a bit rough and ready but I think that real, back to nature aspect of the site is part of why people love it. It's a perfect place to go exploring, and for families it's a bit of a haven not far from the city.
For some urban convenience, Castle Ward is walkable to Strangford, which offers a handful of pubs and restaurants that are well regarded in the area. You can also take a ferry from Strangford across to the nearest town, which offers a nice drive.
The site has 32 kilometres of trails for hiking and walking, and the rangers have set up a Secret Shore trail along Strangford Lough that's especially fun for children:
It's a lovely natural play area with lots of things to climb, and they've built little animal homes along the way, and some natural balance beams too.
And of course, for Game of Thrones fans, there are tours available showing sites on the grounds that were used for filming of the hit show, including the farm yard which was the site of Winterfell.
Book a pod using Castle Ward's online system here – or reserve your pitch if you'd prefer to bring your own tent.