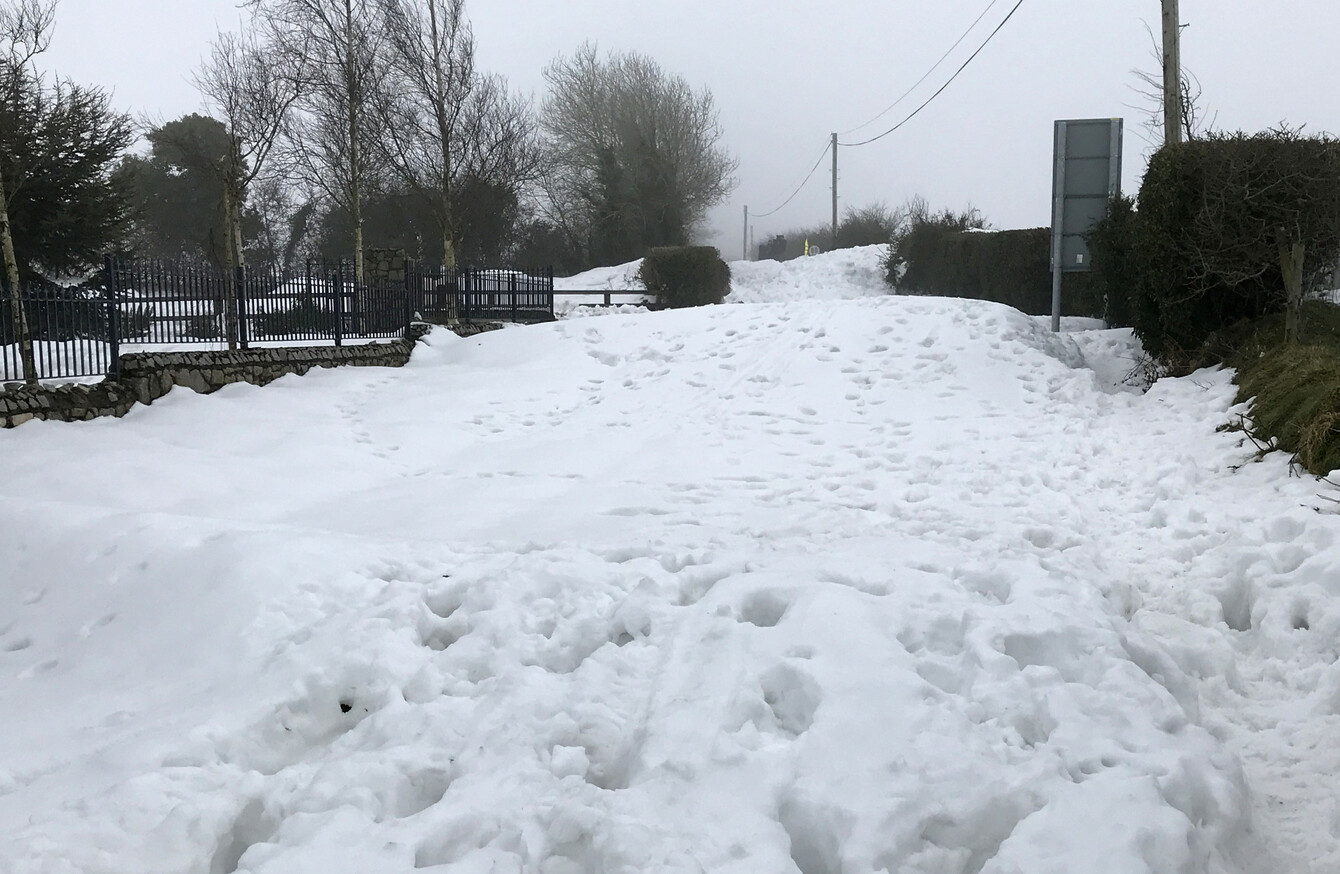 Snow on Cromwellstown Road in Kilteel, Kildare
Image: Eamonn Farrell/RollingNews.ie
Snow on Cromwellstown Road in Kilteel, Kildare
Image: Eamonn Farrell/RollingNews.ie
Updated at 4.40pm
WICKLOW COUNTY COUNCIL has said that "snow tourists" are "hampering the clear-up operation" after last week's storm.
The area was one of the worst hit in terms of snowfall during Storm Emma and the Beast from the East.
In a statement released today, the council urged people to "stay away from the worst affected areas and to avoid unnecessary journeys".
"While much progress has been made in clearing snow and ice from roads throughout the country, there are still a number of routes – particularly in the higher areas – that remain impassable.
"Motorists are urged to take great care as many routes have only single channel access."
Earlier today about 60 soldiers began clearing snow and ice from footpaths in the towns of Blessington and Roundwood.
The army has also deployed snow ploughs to support the work being carried out by the council and community in the worst affected areas.
The Defence Forces deployed 1814 personnel and 533 vehicles to support the civil authorities during Storm Emma.
Today, it deployed 27 vehicles and an additional 248 personnel, supported by its personnel in barracks around the country. The staff helped with clearing snow and ice in Wexford Town and county, Blessington, Clane and Naas.
The council has appealed to members of the public to assist in clearing snow from footpaths in front of their premises, particularly in urban areas, and thanked them for their "magnificent response to tackling the after-effects of this unprecedented weather event".
Local farmers, gardaí, the Defence Forces and plant hire contractors are among those assisting the clean-up operation in Wicklow and beyond.
Road conditions
AA Roadwatch said road conditions in some of the worst affected areas are "gradually improving, with most main and secondary routes passable".
However snow and ice remain an issue on secondary and local routes in Kildare, Wicklow and Wexford. Road users are advised to stick to main routes as secondary routes and hills are still impassable in places.
Continued care is advised on all secondary and local routes in county Kildare, particularly around the Maynooth, Straffan, Kill and Naas areas.
Banks of snow near the train station on the Clane Rd (R407) in Sallins are narrowing the road, AA Ireland said.
Main routes are passable around county Wicklow but continued care is needed on secondary routes due to snow drifts, especially around areas on high ground. Particular care is advised on local roads in the Arklow and Wicklow town areas. The Sally Gap remains closed.
Conditions remain slushy on secondary routes around Wexford county but otherwise main routes are passable. Snow drifts are causing slippery conditions on roads in the Enniscorthy and Wexford town areas.
Wexford County Council has said that a small number of minor roads in more inaccessible areas still require attention, and it is the council's intention to have all routes passable by close of business tomorrow.
"With more frost forecast, local roads are likely to be in a very dangerous condition, so extreme caution is advised. There is continued risk of large amounts of snow, currently stacked on the roadside, falling back onto the road surface and creating a hazard," the council said.
Our staff, assisted by almost 90 Defence Forces personnel are clearing footpaths in many of the towns. We are prioritising access to doctors surgeries, medical centres, chemists and also school locations, older persons estates etc. We thank the business community, private property owners and the wider community for their valued and continued assistance.
National Emergency Coordination Group
The National Emergency Coordination Group met again today to review the "evolving severe weather situation".
After the meeting, the NECG said: "The situation across the country continues to improve with a gradual thaw well advanced in most areas.
"However, issues persist in many areas principally Wexford, west Wicklow, north Kildare, upland areas in south Dublin and Waterford and across the country, through Tipperary and into south and east Galway.
Work by the local authorities and their contractors continue to provide access to those who have been isolated by huge drifts blocking access. Communities are clearing roads themselves, matching the work of the local authorities in many cases.
"Countrywide, the impact on water supply remains one of the big issues to be managed in the days and weeks ahead."
Water supply 
Irish Water has said that just over 20,500 premises are without water and an additional 47,000 have restricted supply due to low levels in reservoirs. These numbers are subject to change as more bursts and repairs occur.
Premises without water include almost 2,000 in Cork, 7,300 in Wexford and 12,250 in Tipperary.
Those on restricted supply include 500 in Cork, 16,500 in Galway, 300 in Kildare, 16,500 in Leitrim, 700 in Mayo and 12,500 in Meath.
Irish Water said it is working with local authorities in "attempting to minimise the impact of these restrictions by confining them to nighttime hours where possible".
Just over 14,000 people are on storm-related boil water notices. Of those affected, 1,900 are in Aughrim in county Wicklow, over 11,000 are in Enniscorthy in county Wexford and the remainder are on small schemes in Waterford.
Wexford County Council has said that, with the assistance of Irish Water, it has made very significant progress in the past 24 hours in restoring water supply across the county.
It said water tankers continue to be deployed in a small number of locations while bottled water has been supplied to vulnerable customers.
Irish Water has appealed to customers across the country "to conserve water at this time".
"Increasing demand coupled with weather related bursts and leaks has resulted in our water treatment plants running at capacity which could lead to even more outages and restrictions in the coming week," the company said in a statement.
With reporting by Hayley Halpin