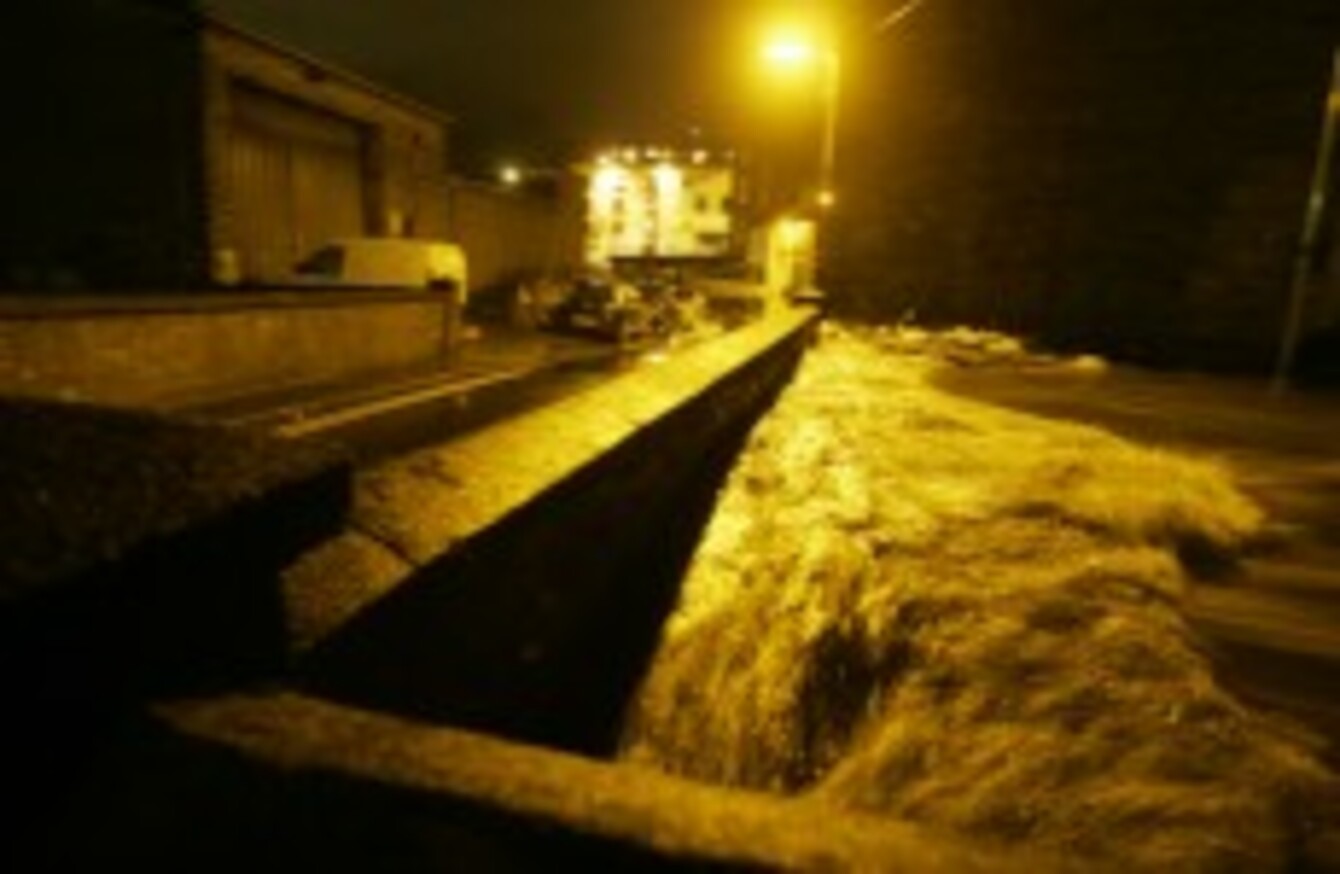 The Camac River reaches the top of a bridge on Tower Terrace on Monday night after hours of intense rain.
Image: Eamonn Farrell/Photocall Ireland
The Camac River reaches the top of a bridge on Tower Terrace on Monday night after hours of intense rain.
Image: Eamonn Farrell/Photocall Ireland
THE MASSIVE DAMAGE caused by Monday night's floods, especially in the east Leinster/Dublin area, is still being counted by residents, businesses and local authorities. A major emergency plan was enacted at the height of Monday evening as the equivalent of one month's rainwater fell, rivers breached their banks and property and roads flooded.
In the dawn of the following day, as the damage became clear, fingers began pointing at different quarters for the extent of the flooding. TheJournal.ie understands that Dublin City Council and South Dublin County Council is putting together a statement to outline the response to the flooding. Here are some areas that have been mooted by public representatives, meteorologists and others that need to be scrutinised:
Rainfall?
It sounds obvious – it was a horribly wet Monday evening – but it was the speed and volume of precipitation that made the difference. Met Éireann has measured on their station at Casement Aerodrome in Dublin that 65mm of rain fell within four hours from 3pm. At the Dublin Civic Offices, it actually reached 95mm. Overall, Met Éireann said, the equivalent of one month's rain fellin 24 hours. This only happens about once every 80 years according to meteorological records. The speed with which the water levels rose increased the risk of flash flooding, the likes of which claimed the life of Celia de Jesus, the nurse who died when her basement flat flooded in Parnell Road, Harold's Cross as the River Poddle burst its banks.
Climate change?
An Office of Public Works flood risk management report published in 2009 claimed that "the frequency, pattern and severity of flooding are expected to increase as a result of climate change". Ireland's National Climate Change Strategy 2007-2012 highlights (in chapter 11) climate change as a factor in "the likelihood of increased flooding in the West", although it reported that the pressure on the greater Dublin area would have to do with water shortages rather than flooding. It did, however, note that climate change – whatever your opinion of what is driving it – was resulting in higher precipitation in the autumn season and there would be an increased frequency of severe storms over the North Atlantic in the vicinity of Ireland in the future.
This particular storm had an unusual origin. It started in the Gulf of Mexico, a tropical weather system heavily laden with moisture which, as Met Éireann's Ger Fleming dramatically outlined the following day, had its release triggered on contact with the Dublin and Wicklow Mountains, therefore dumping heavily on the east Leinster area.
Flood relief works?
Flood alleviation has been and continues to be studied by local authorities – some works have been put in place and have proven successful. Take the Tolka River works: The River Tolka has traditionally flooded following heavy rainfall and flood alleviation works had been planned since 2001. When bad flooding happened again in November 2002, consultants on the Greater Dublin Strategic Drainage Study were asked to fast-track works that would "reduce the risk of flooding in the worst-affected areas, according to this OPW document. These were concluded by 2009 and have been considered a relative success. (You might remember our story from last month where wild Atlantic salmon were spotted in the Tolka for the first time in a century – this is considered a side effect of the Tolka River flood alleviation works because some man-made weirs were removed in the process.)
The River Dodder though was to also receive flood alleviation works. While work has been completed on the lower Dodder area, according to the last report update from Dublin City Council at the end of January last, others are still being completed upriver. Flood defence embankments are being built near the Lansdowne Road railway bridge to Donnybrook bridge upstream. In Dublin City's Flood Risk Assessment Management Study on the Dodder, the river is noted for being a "flashy" river with a "quick response to rainstorms. "This is due to its source being in the Dublin mountains which provides it with a steep gradient", it concludes. The final report on the progress of the FRAMS should be out before the end of this year.
One improvement that should have been working well were new floodgates at Sandymount – however, they were locked open and the council was not immediately able to close them. Dublin City Council told TheJournal.ie that the locks had been vandalised and that anyway, they were designed to combat tidal flooding rather than that resulting from heavy rainfall.
Delayed reaction?
Labour TD Kevin Humphreys told TheJournal.ie yesterday that he personally hacksawed locks off containers which held sandbags in Ringsend in order to limit damage to homes on Gordon, Hope and Howard Streets. He said he felt that the "whole response" between the Met Éireann alert of flooding in the afternoon and the deluge itself was too slow. Fine Gael TD Eoghan Murphy had similar concerns about the response to the emergency in the Dáil yesterday.
Debris?
Fallen leaves swirl in gutters this time of year but Dublin City Council has claimed they weren't a problem. Again, the swift rise in water levels gets the blame – the level at Poulaphuca reservoir rose 1 metre in 1 hour, tipping down to the lowlying Strawberry Beds.
Debris certainly counted for something on the Dodder though – this massive dam had to be removed by machines after it swept up against the bridge near Lansdowne and continued to strangle the flow of water through the bridge arches. (Image thanks to Frank Gallen):
Old structures…
The massive cracks in the walls and pavement on Wolfe Tone Quay closed traffic down to one lane there even after water levels had subsided. This wasn't the pressure of water from the river itself battering the wall, as one would expect. Instead, according to Tom Leahy of Dublin City Council when he spoke on Today with Pat Kenny on RTE Radio 1, it moved four inches over a 30-metre stretch as a result of the effect of such heavy rainfall on an old structure rather than a tidal problem. (Image: Photocall Ireland)
…New structures
The same Tom Leahy was quoted again this morning in an Olivia Kelly article in the Irish Times. He said that rainwater pooled in some older residential areas because the residents there had paved over their gardens to accommodate cars. This was particularly prevalent in older housing estates, he claimed, and it had reduced the amount of 'natural' drainage previously available through lawns and green areas.
This is bound to anger residents who ended up waist-deep – or higher – in water on Monday night but it seems Leahy is only repeating something already suggested in that that 2009 report marked 'The Planning System and Flood Risk Management'. See page 19: it suggests the paving of residential garden areas to provide off-street parking or hard landscaping should be only allowed where sustainable drainage systems are put in, "thus limiting the run-off which would otherwise contribute to overwhelming the drainage systems".
Development
This has been a factor in flooding across the country in recent years according to that report mentioned in the above paragraph. It found that development can "exacerbate the problems of flooding by accelerating and increasing surface water run-off, altering watercourses and removing floodplain storage". It advises developers not to build on floodplains and planners not to permit it.
Of course, past political decisions to rezone of land never meant for residential use paved the way for inappropriate development in the first place. Local Area Plans are now meant to prevent the likelihood of inappropriate development with areas prone to flooding clearly marked and available for consultation, as per the example below:
The new regulations don't help those living in current developments on floodplains or areas prone to flooding. One wonders, for example, who ended up living so close to a river bank that their garden decking managed to be swept away down the Liffey this week, with pot plants still intact: (Image thanks to Alan Wall)