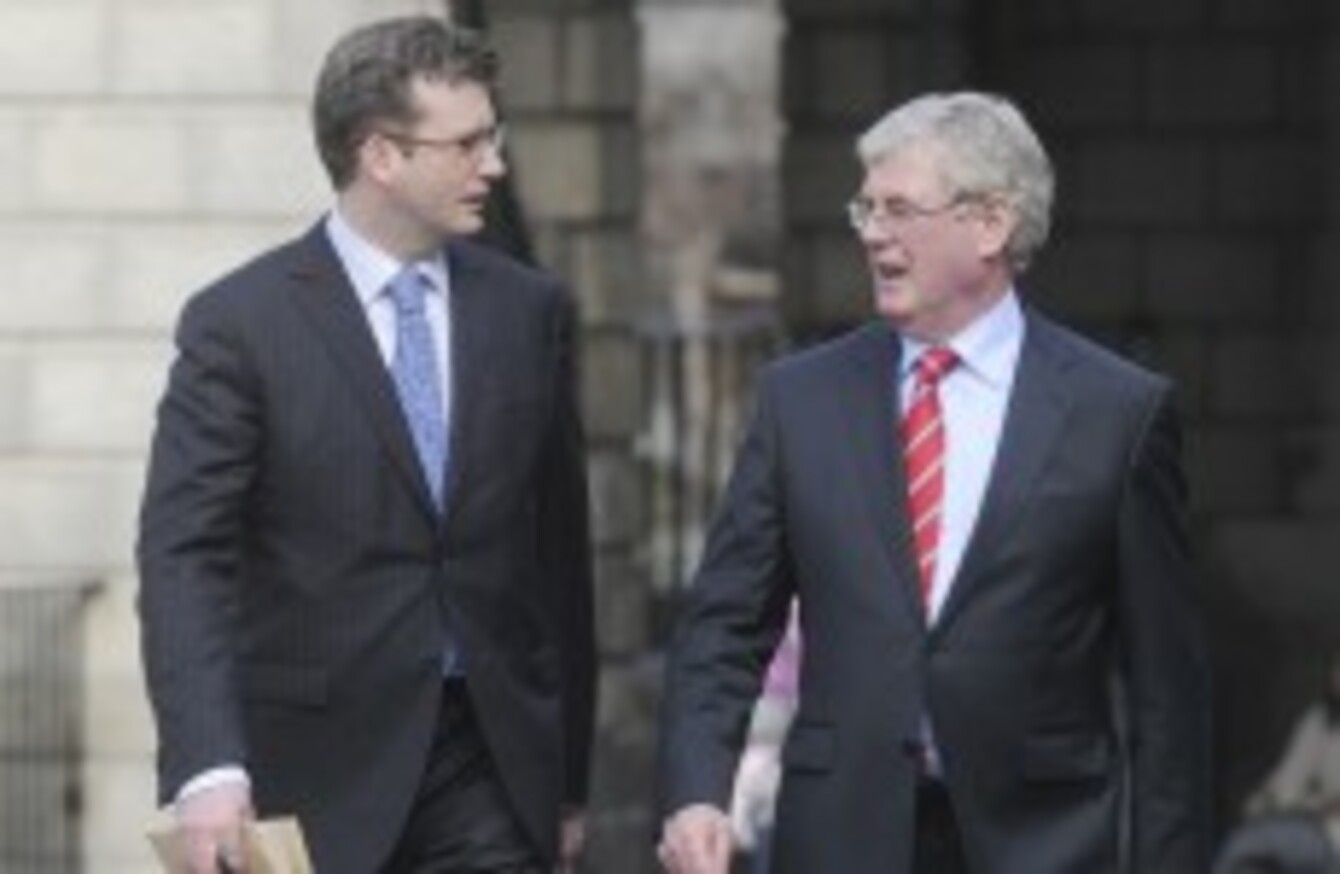 Image: Laura Hutton/Photocall Ireland
Image: Laura Hutton/Photocall Ireland
NINE GOVERNMENT MINISTER have special advisers who are being paid salaries higher than the relevant pay guidelines.
In a number of parliamentary questions, ministers released details of salaries for their top-ranking staff, with Tánaiste and Minister for Foreign Affairs Eamon Gilmore's special advisers having the highest salaries of those who answered.
Gilmore has four special advisers, with two, Mark Garrett and Colm O'Reardon, receiving salaries exceeding the relevant pay guidelines at €156,380 and €144,550 respectively. The other two special advisers have salaries of €81,676 and €78,670.
Guidelines
Guidelines on ministerial appointments issued in March 2011 state that special advisers be placed on the principal officer scale of €75,674-€92,550. The higher rate was amended by the Haddington Road Agreement and reduced to €87,250.
Appointments are supposed to be set at the first point of the pay scale, except where the Minister for Public Expenditure and Reform sanctions a higher salary rate, following a request from the relevant department.
Ruairí Quinn has two special advisers, John Walshe and Deirdre Grant, with both coming over the new higher rate on the scale at €87,258 and €81,676 respectively.
In Brendan Howlin's department, there is one special adviser who was appointed at a higher salary, currently at €106,880. The minister said this rate was agreed for Ronán O'Brien  "having regard to his previous earnins immediately before taking up the position".
Richard Bruton's special adviser Ciaran Conlon is in receipt of a salary of €118,840, which the minister was allocated because of his previous experience "and in light of the wide range of issues dealt with by my department and the key role played" by Conlon.
Bruton did not give a specific salary rate for his press adviser Conor Quinn, providing only the pay scale before the amendment in the Haddington Road Agreement.
Agriculture Minister Simon Coveney's special adviser Ross MacMathna earns a salary of €103,200, which the minister described as "marginally higher" than the pay guidelines. However he said this was based on the "substantially higher" salary he was earning in the private sector before his appointment.
Transport Minister Leo Varadkar's adviser Brian Murphy is on a single point remuneration of €99,370, which had been reduced since July 2013 under the Haddington Road Agreement.
Private sector
Minister for Social Protection Joan Burton said her special adviser Ed Brophy was previously employed in the private sector on a salary package that was more than twice the highest point of the standard principal officer scale and so she sought sanction from Howlin to pay a higher rate.
"A single point salary of €127,796 was sanctioned by the Minister for Public Expenditure and Reform effective from 29 July 2011 which represented a reduction of over one third in my special adviser's previous salary in the private sector at that time," she Burton. She added that the salary has been reduced in line with the Haddington Road Agreement and now stands at €119,572.
Minister for Communications Pat Rabbitte's department had requested higher salary rates for two advisers at €83,337 and €97,200 but he said both were subsequently reduced in accordance with the Financial Emergency Measures in the Public Interest Act 2013 and the relevant provisions of the Haddington Road Agreement.
Michael Noonan, James Reilly, Phil Hogan, Frances Fitzgerald and Jimmy Deenihan said none of their special advisers have salaries that exceed the relevant pay guidelines.
Details for the Taoiseach's special advisers have previously been released.