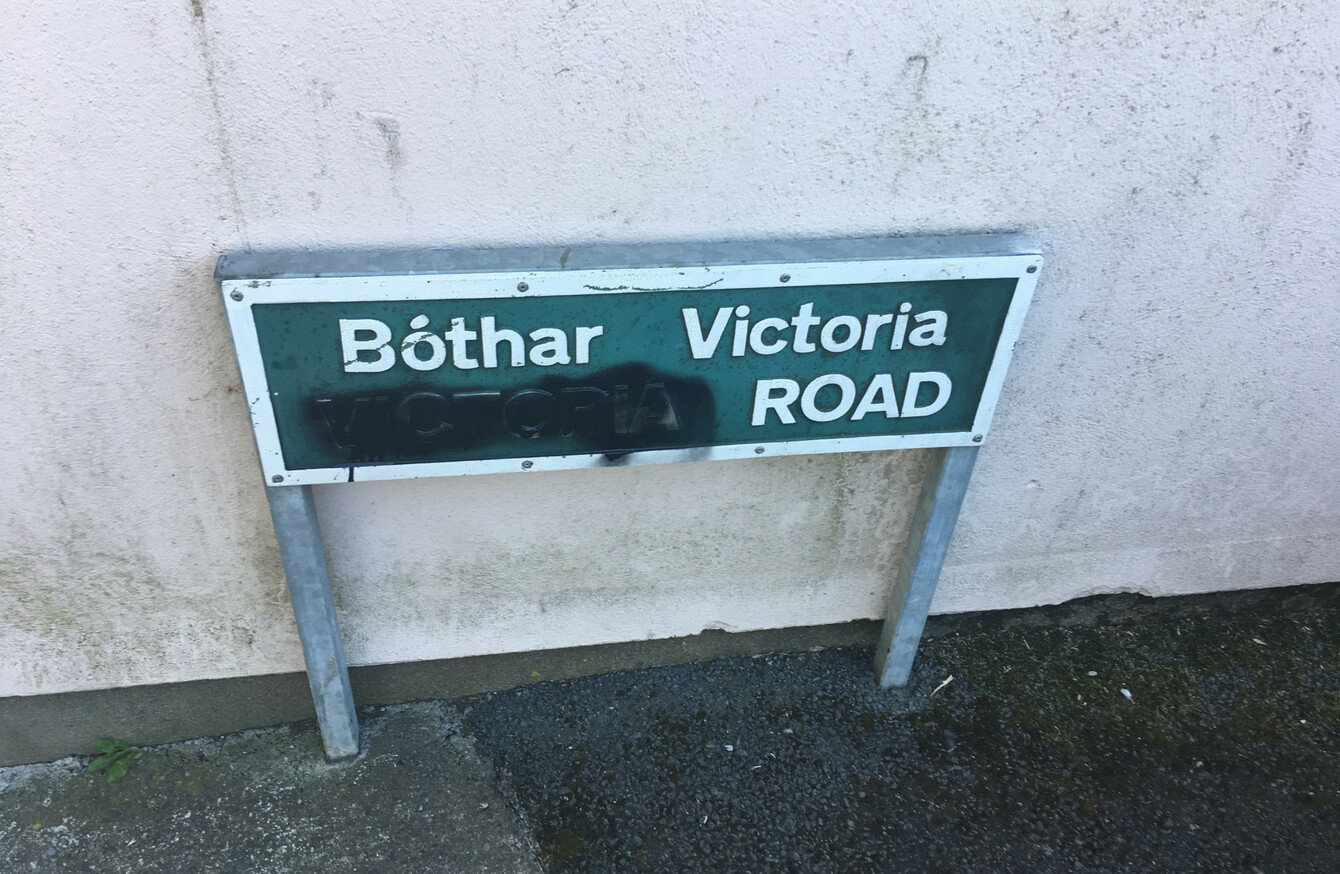 A photo of the vandalised sign.
A photo of the vandalised sign.
A GROUP DESCRIBING itself as Irish Socialist Republicans has staged what it calls a "direct action against colonialism" by spray painting over the word "Victoria" on street signs in Killiney.
The group – calling itself Anti Imperialist Action Ireland – said it was beginning a campaign to paint out the names of Dublin streets named after "British Imperialists".
It began this campaign by painting over at least three signs on Victoria Road in Killiney in south Dublin.
The group said that the sign was named after "England's infamous Genocide Queen".
In a statement sent by the group (along with images of the signs), a spokesperson said that English street names across the country were "glorifying the actions of British Imperialists in Ireland".
"Our campaign is about highlighting this and encouraging people to take similar action themselves.  Such actions are a small but symbolic way to contribute to the ongoing anti colonial resistance in Ireland," they said.
"By painting out these road signs we are stating that the ongoing British Occupation of our country is unacceptable and that the glorification of the crimes of British Imperialism in Ireland will not be tolerated.
In the coming weeks we will be building the campaign to reach every street in the country that is named after a British Imperialist.
In response to further questions from TheJournal.ie, a spokesperson for the group said that it was their intention to "build this campaign across the country".
"Anti Imperialist Action Ireland is a broad front opposed to British, EU, US and all other forms of Imperialism in Ireland. We are anti-racist, anti-fascist and anti-imperialist," they said.
Painting over street signs 
The action mirrors a similar approach taken by a group in Cork.
The Cork Street Names Campaign painted over a number of signs in the city using a similar rationale.
"We must remove the names of Criminals & Aristocrats from our street/place names, we must aspire to higher values, reflecting our traditions & successes," the group has as its mission statement.
It is not believed that both groups are connected.
TheJournal.ie contacted both the gardaí and Dun Laoghaire Rathdown County Council for comment on the vandalised signs.
Both said that the issue had not been reported to them. A spokesperson for the council said it would be investigating the incident.