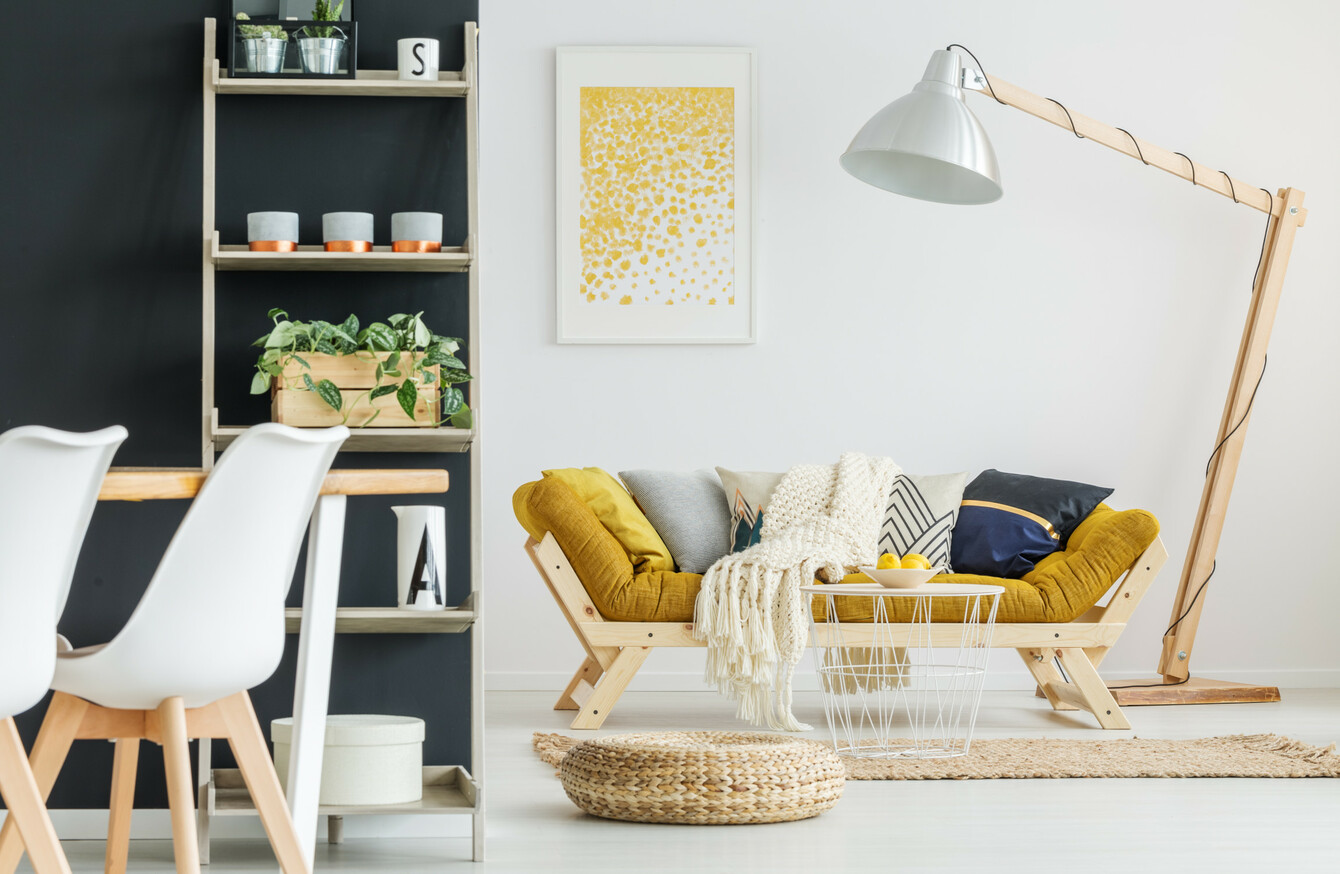 Image: Shutterstock/Photographee.eu
Image: Shutterstock/Photographee.eu
IT'LL COME AS no surprise that there's no 'one size fits all' when it comes to lighting. Just like layering fabrics and finishes, layering your lighting is essential when it comes to completing a room. This is most evident in the living room, where lots of activity takes place. While one central light will bask the whole space in brightness if you're entertaining, it can often be too harsh for cosy nights in.
This means that choosing the right lighting is just as important as choosing your sofa, coffee table or rug. And this is where statement lamps can take the floor. They provide pools of light when needed, and give the room a welcoming and cosy glow.
This week, we've found six statement floor lamps that will catch the eye as well as light up the room. 
Lean and green: For a living room that's short on space, grab some inspiration from @warmnordic who show off how this cone lamp doubles in function. The added side table and downlighter make this design ideal for reading and highlighting a certain area of the room.
Also, for fans of house plants, incorporating a floor lamp in a similar green shade will reinforce the leafy theme. Add style and even more function with this lamp at Warm Nordic.
Naturally striking: No longer confined to outdoor furniture, rattan and wicker are being used to create statement pieces that are allowed to come inside. Looking to materials that are less commonly used in lighting design is a surefire way to make a style statement. We love how @moremadam.pl shows this nature-inspired lamp contrasting wonderfully against the modern wallpaper. 
Find this exact rattan shaggy floor lamp at Bazar Bizar.
Design classic: Sometimes a very simple design that's instantly recognisable is all that's needed to make a statement. Modest, chic and undeniably iconic, this Arne Jacobsen floor lamp is a big nod to the designer that put Danish design on the map. 
Here, @amdolcevita makes the AJ Lamp really pop when teamed with the whiite panelled walls, cream sofa and natural light. Find the AJ Floor Lamp at Louis Poulsen.
Tassel hassle: It's safe to say that granny chic is alive and well seeing as this fringed lamp couldn't look more at home in this modern sitting room. The floral motif is matched with real foliage, dark walls and loud pops of colour in Carol Maxwell of @maxmademedoit's space. 
Find a whole range of lamp shades and stands at House of Hackney.
Shades of grey: Standing lamps have the ability to complete a room by filling an empty space where shelving or furniture just won't fit. Here, @scandinaviangrey's clever arrangement of differing textures and heights are tied together through a colour palette of greys, blacks, peaches and light browns. Adding a floor lamp to this room also creates a happy medium in height between the low furniture and higher shelves. 
Check out the HEKTAR floor lamp from IKEA if you have space to fill.
 
Arch tones: A huge benefit to overarching floor lamps is that they can mimic a hanging pendant light without the commitment to a stationary light fixture. Their thin stands don't block the space and ensure easy rearrangement if it need to be moved to another area. 
As well as creating the perfect reading nook, @isalsabilelawaisiinterior highlights a piece of furniture she loves with this modern floor lamp that hangs over the space and makes an elegant style statement. 
Find similar with this Du Bose lamp from Iconic Lights.