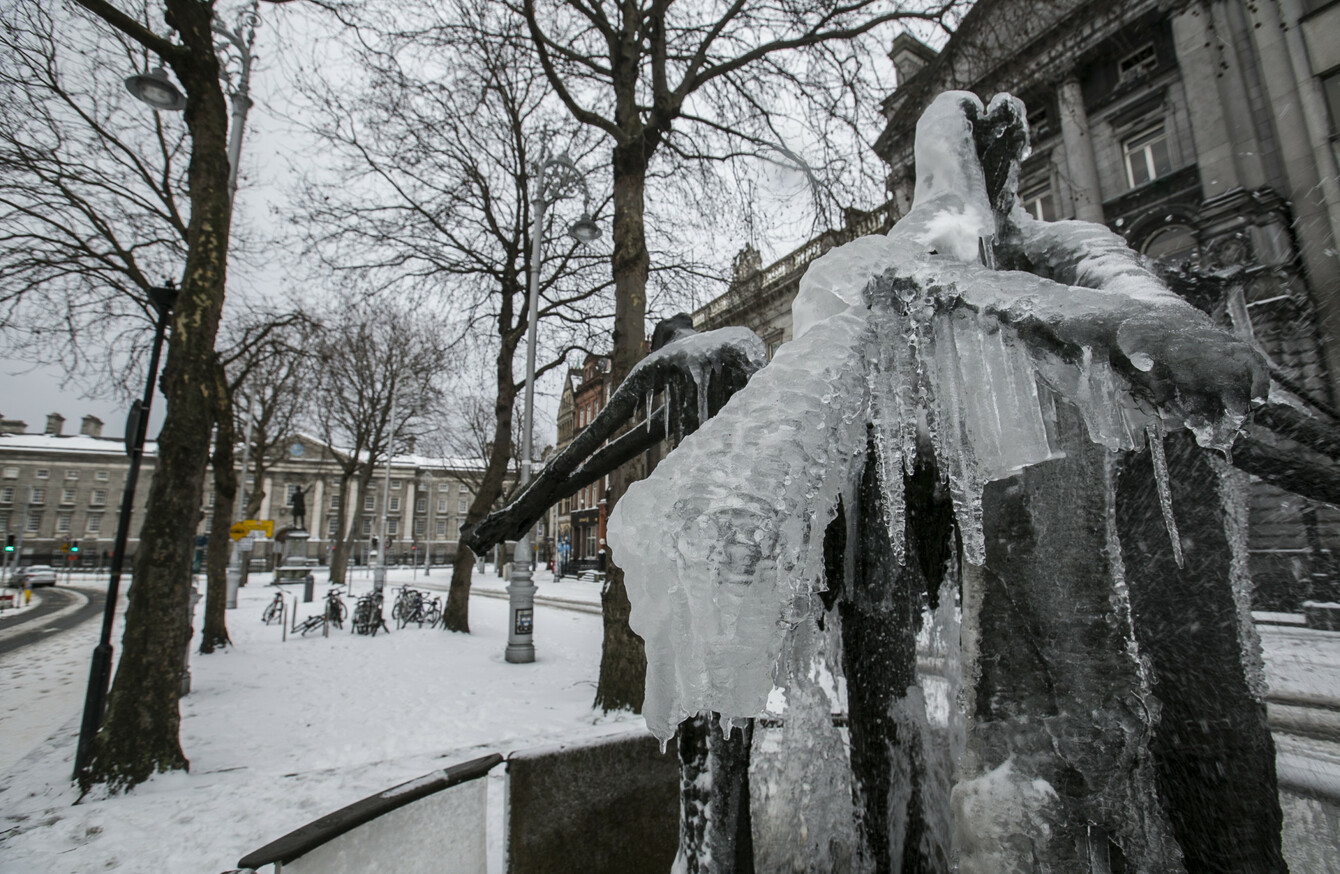 The country was on ice for a few days.
Image: Sam Boal/Rollingnews.ie
The country was on ice for a few days.
Image: Sam Boal/Rollingnews.ie
IT'S FIVE WEEKS since Storm Emma and the Beast from the East, a rare weather combination that led to mounds of snow and brought Ireland to a standstill.
The country was well-warned about the incoming snowpocalypse and people were even told to stay in their homes for the best part of two days.
And stay inside they did, leading to an upsurge in people finding ways to entertain themselves. So let's take a look at what they got up to.
Storm coverage dominated the schedules of Irish broadcasters for at least two days and viewership figures for RTÉ confirm that the public were hungry for updates.
The most-watched TV programme in Ireland during the week of Storm Emma was RTÉ's Six One News on Thursday 1 March, the first day people were told stay inside.
An average of 808,000 people watched the Six One News that evening, grabbing an audience share of 47.4% and making it the most-watched news programme of the year.
The Nine O'Clock News that same night was the second most-watched programme of the week, keeping 707,000 people informed about the heavy snows.
Two other news shows also made the top 10 most-watched TV programmes of the week, Prime Time on the Thursday and, interestingly, RTÉ's One O'Clock news on Friday.
Prime-time shows usually dominate ratings lists but people being at home rather than at work led to RTÉ's afternoon news show shooting into the top 10.
TV3′s news programmes were popular too, with the 5.30pm bulletin on Thursday pulling in an average of 333,000 viewers for a 24% audience share.
TV3′s most watched show of the week was Coronation Street on Wednesday night, just as everyone was bunkering down for 48 hours.
The Late Late Show put together a last-minute programme featuring a skeleton guest list and tiny audience, but loads of people tuned in to watch: an average of 545,000 to be exact.
Overall, RTÉ says 3.1 million people tuned into their stations between Wednesday and Sunday while TV3 says 1.9 million people watched their news shows alone during the same period.
Internet
While many may have tuned in to see Tubridy and his cobbled-together show, others have spoken about spending their snowed-in time watching shows online.
We asked both Netflix and Amazon Prime whether it was the case that Irish people stuck indoors during the storm were logging on in bigger and bigger numbers.
Unfortunately, neither streaming services were able to provide that information.
A spokesperson for Netflix did say that such stats may be available at the end of the year and pointed out that the busiest day for Netflix in Ireland last year was Monday, 16 October – the day Storm Ophelia struck.
While we might not be able to pinpoint how many Irish people were watching programmes online, we know that many were doing just that, based on stats from broadband provider Eir.
On the first day when Ireland was stuck indoors on 1 March, Eir set a new record for total data traffic across broadband, mobile data and phone.
Eir says that it carried 3,500 terabytes across over the 24-hour period, up from an average day of about 2,000 terabytes.
To put that in context, 3,500 terabytes is 3.5 million gigabytes and would translate to about 1.17 million hours of HD streaming on Netflix.
Eir says that total traffic to Netflix from retail customers on that day was 50% higher than the previous day.
Furthermore, Eir also says it broke its record for the peak usage of broadband services and that it happened just before and after the Nine O'Clock News that day.
Peak online traffic for Eir was at about 10pm, with the broadband provider saying it hit a new record of 1.3 terabits per second, beating the previous Storm Ophelia record by 25%.
Helping hand
But Irish people didn't just watch the news and Netflix during the storm. Adult website Pornhub reports that it saw a "major increase" in traffic from Ireland during the storm.
The website previously revealed that Irish people sought solace in porn during Storm Ophelia and we asked Pornhub was this the case again for Storm Emma.
The website confirmed that not only was traffic up but it was up massively at some unusual times of the day.
The website looked at data across 1-3 March (Thursday – Saturday) and found that visits to the website from Ireland increased by up to 62% throughout the afternoon and 68% at night.
The biggest increase was seen at 3am on Thursday morning when Irish visits to Pornhub were 68% higher than a usual working week.
Conversely, visits to the websites were down by 22% between the hours of 5am to 7.30am, suggesting that those who usually visit the website before work were sleeping in.
Overall, Pornhub's stats shows that Irish traffic to the site was up on all three days, even on the Saturday.
The grid
We're often told about how seemingly inconsequential things like half-time in a big football match can lead to a spike in demand for electricity as people stick on the kettle.
But did the unusual domestic activity brought about by Storm Emma have a similar noticeable effect on the national grid?
We asked Eirgrid whether Storm Emma had an effect on electricity usage. It turns out that it did, but perhaps not in the way you'd expect.
"Looking at the electricity pattern for the period Thursday 1 March to Saturday 3 March versus Thursday to Saturday the previous week, it appears that on Friday 2 March, when everybody was at home, the pattern of electricity demand was very similar to a typical weekend pattern with lower peak demand," an Eirgrid spokesperson said.
This was around 4,300 MW on Friday 2 March compared to a peak of 4,500 MW the previous Friday. The lower peak can be attributed to the fact that not everyone was coming home at the same time (around 6pm) to start cooking, put the washing on etc, because they were home already.
"Also, it took a lot longer for electricity demand to rise during the morning of Friday 2 March than it did on the previous Friday. This is because not everyone was getting up for work at the same time, turning on lights, boiling kettles etc."
"For example, at 7am on Friday 2 March, demand was 2,800 MW versus 3,400 MW at 7am on the previous Friday, 23 February. People were probably having a bit of a lie-in."
Eirgrid also points out that while the peaks changed during the storm, the overall usage was down because industry accounts for a large percentage of electricity demand and the country was in virtual shutdown.
But even though demand was down overall, the cold weather did lead to a new record being set.
With temperatures dropping in the early hours of Thursday morning and heating systems working hard to keep houses warm, a record for night-time electricity usage was set at 04.45 am on 1 March.
Eirgrid explains that this has happened before.
"The new record for demand at night was 2,978 MW. The previous record was set in 2010, the last time we had a lot of snow. It happened at midnight on 22 December 2010 and usage was 2,928MW."