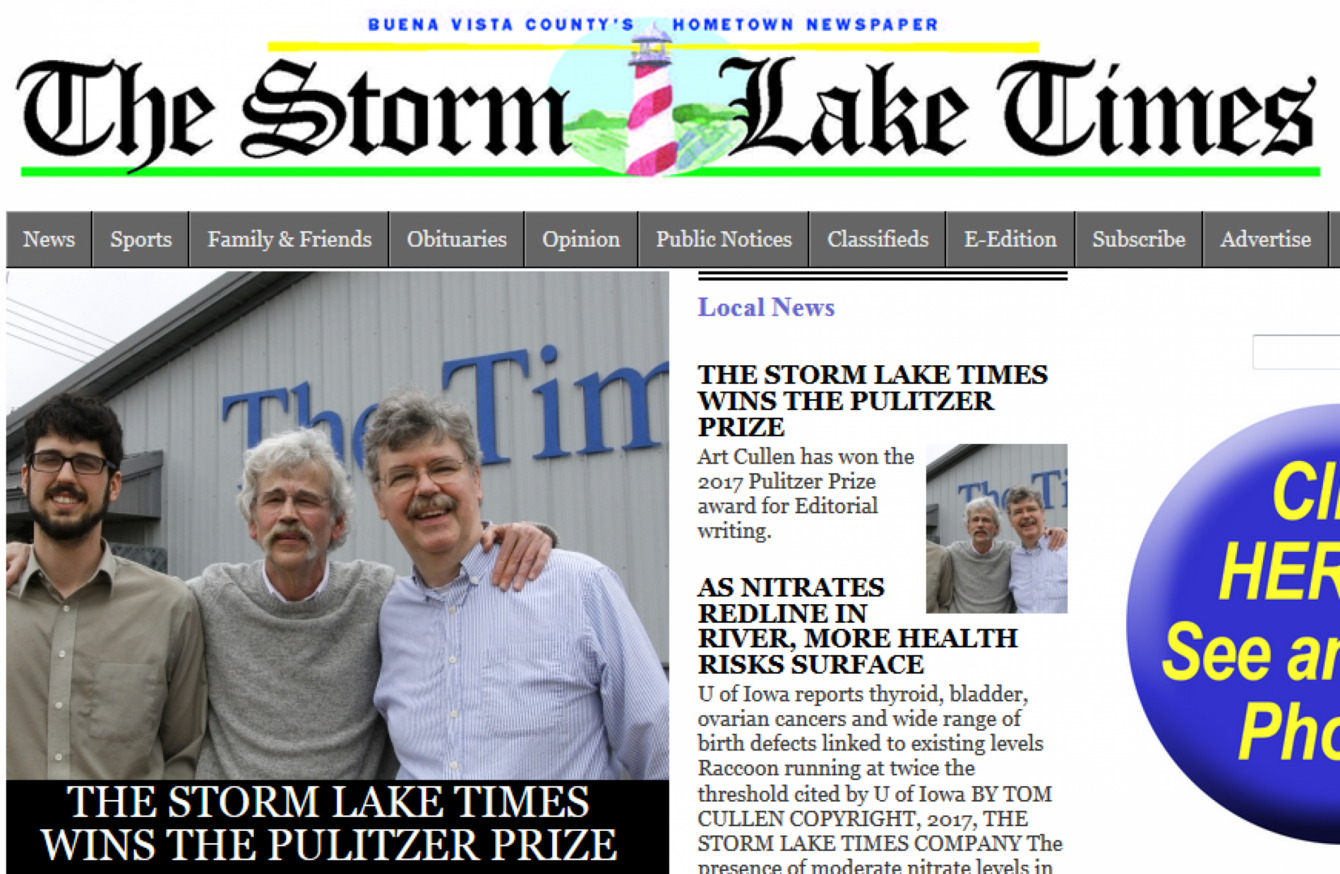 A NEWSPAPER WITH a circulation of just three thousand that publishes twice a week has won the Pulitzer Prize for taking on powerful agricultural organisations after a water utility sued the paper's home county and two others over farm pollution.
The Storm Lake Times of Iowa and writer Art Cullen won for a series of editorials that challenged powerful agricultural interests in the state.
Judges said Cullen's editorials were fueled by "tenacious reporting, impressive expertise and engaging writing".
Cullen owns the newspaper with his brother and says his editorials were about government transparency.
The counties sued by the Des Moines Water Works secretly received money from agriculture groups to fight the lawsuit, and the newspaper pushed in its reporting to lift the veil of secrecy on who was paying to fight the lawsuit.
Cullen said he felt vindicated that the information was released.
Cullen received the award for a series of ten editorials dating back to November of last year.
"We're here to challenge people's assumptions and I think that's what every good newspaper should do," he told the Associated Press.
This is Art Cullen's biography from the Pulitzer website:
Art Cullen, 59, is co-owner with his older brother John of The Storm Lake Times, a 3,000-circulation twice-weekly newspaper in Storm Lake, Iowa, pop. 10,000, in rural Northwest Iowa. Art is editor and John is publisher.
They publish staff editorials every edition. Art is a Storm Lake native who earned his bachelor's degree in journalism from the University of St. Thomas in St. Paul, Minn. He has worked as a reporter and editor at newspapers in Storm Lake, Algona, Ames and Mason City, Iowa.
Art works with his wife, Dolores, who is a photographer, and reporter son Tom.
A message from Art and John in the paper's About Us section says they take a "good old-fashioned pride in our work".
No corporate doublespeak here — just two brothers and a dozen employees working hard to support their families. Thank you for your support.
The paper's small staff haven't let the honour go to their heads.
The award merits only a photo and a note on the paper's home page. They retweeted a few mentions of the win last night too, and posted a link to the Pulitzer announcement on their Facebook page, without further comment.
David Fahrenthold of The Washington Post won the national reporting award for what the board called "a model for transparent journalism" that cast doubt on President Donald Trump's assertions of charitable generosity.
The coveted Public Service medal went to tabloid the New York Daily News and investigative news site ProPublica for uncovering official abuse of eviction rules that ousted hundreds of mostly poor minorities from their homes.
There were a total of 21 categories in journalism, arts and letters.
With reporting from Associated Press and © – AFP 2017