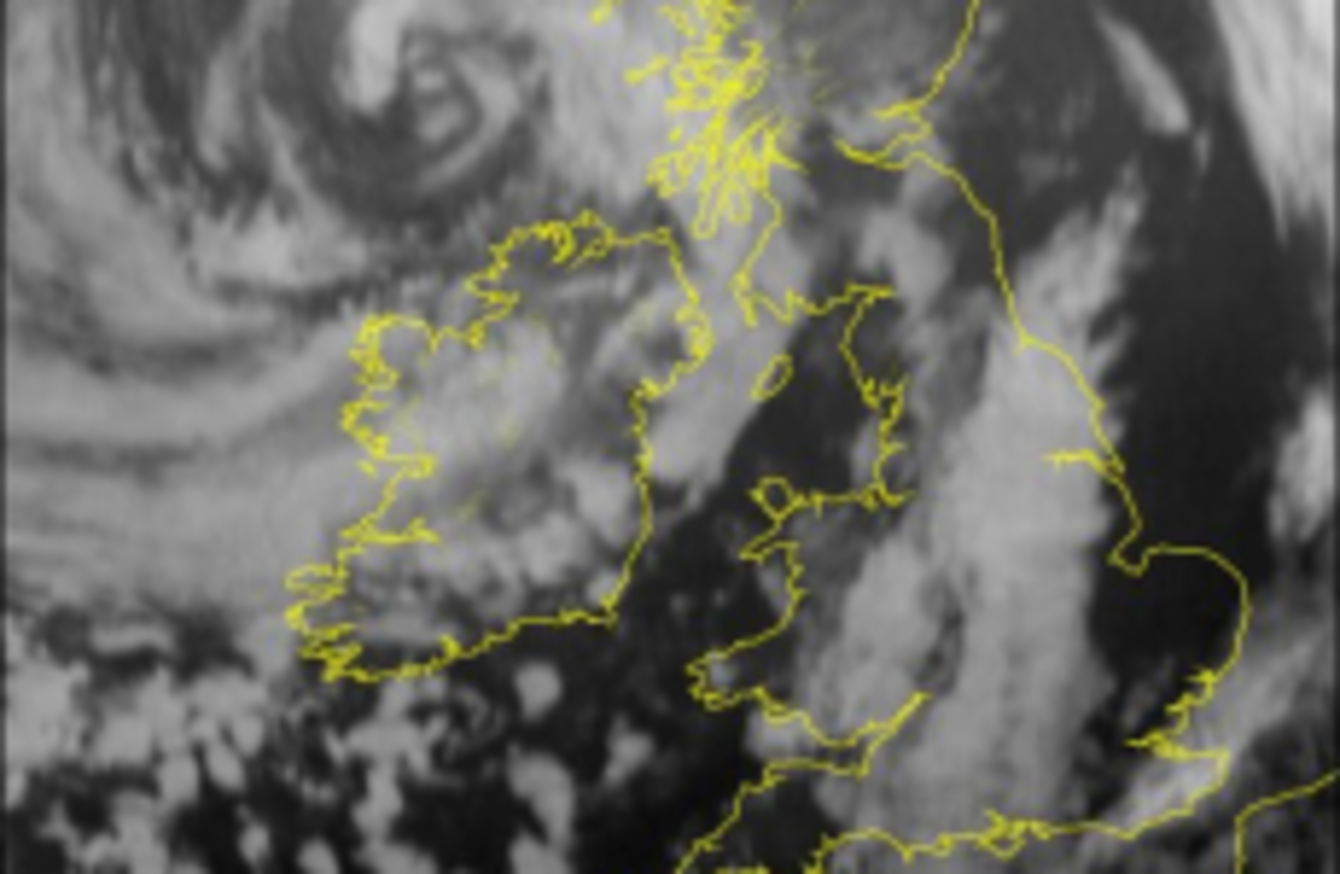 A satellite image of Ireland at 6am shows the stormy conditions at play over the country.
A satellite image of Ireland at 6am shows the stormy conditions at play over the country.
OVER 7,000 ELECTRICITY customers are without power and a number of roads have been closed after  a night of gale force winds and heavy rain throughout the country.
The heavy rains have been exacerbated by particularly high tides that had been predicted this week – and Met Éireann is not lifting its orange alert as it expects further winds of 100 to over 130 km per hour today.
ESB Networks have reported faults in a  number of areas, especially along coastal area on the west coast in Kerry, Clare, Mayo and Donegal.
Significant disruption is also being  monitored in the south east according to the ESB.
Southeast blackouts
Almost 1,500 people are without power in Bealistown in Waterford while over 2,500 customers are experiencing blackouts in Crane in Co Wexford.
Galway flooding
Flooding is most heavily concentrated in Galway with motorists advised to avoid all coastal routes.
The Saltill area towards the city has been particularly hard hit with the Promenade in Salthill, Spanish Arch, Flood St and the Dock Road all closed due to flooding.
Traffic is also being diverted at the Lough Atalia Road in Galway and AA Roadwatch has advised all commuters to avoid any area by the coast and to watch out for debris.
Cork still at risk
Surface water remains on parts of Cork city's streets which were hit by high tides from the River Lee last night. A few households even had to be evacuated, although the flooding abated late at night.
Richard Jacob, owner of Idaho Café, in Cork city, took the photos above of last night's floods.
Mayo and Clare floods
Spot floods have been reported in different parts of Mayo with routes in Lahinch in Co Clare also impassable due to flooding.
Fallen trees in Kildare, Wicklow, Meath
Fallen trees are also causing travel disruptions with a trees down in Maynooth and Leixlip in Co Kildare.
Similar probable are causing problems in Enniskerry in Wicklow and on the the Navan to Dunshaughlin Road in Meath.
Northern Ireland
A flood warning has also been put in place  by the Northern Ireland wit the PSNI saying that there is a strong possibility of flooding in a number of areas including Belfast, Newry and Newtownards, and to a lesser extent in Larne, Newcastle, Strabane and Derry.
Sandbags have been deployed to protect some key facilities and the police are advising that high tide is expected at about 12.10pm today.
"We would ask residents to not remove these sandbags for personal use as this will place the homes in the area under an increased risk of flooding," said the PSNI's Stephen Martin.
Forecast
Met Éireann have said that gusts of up to 130km/h were recorded overnight with with these stormy conditions continue  throughout the morning.
Heavy, prolonged showers will also remain with the storm predicted to abate slowly through the day.