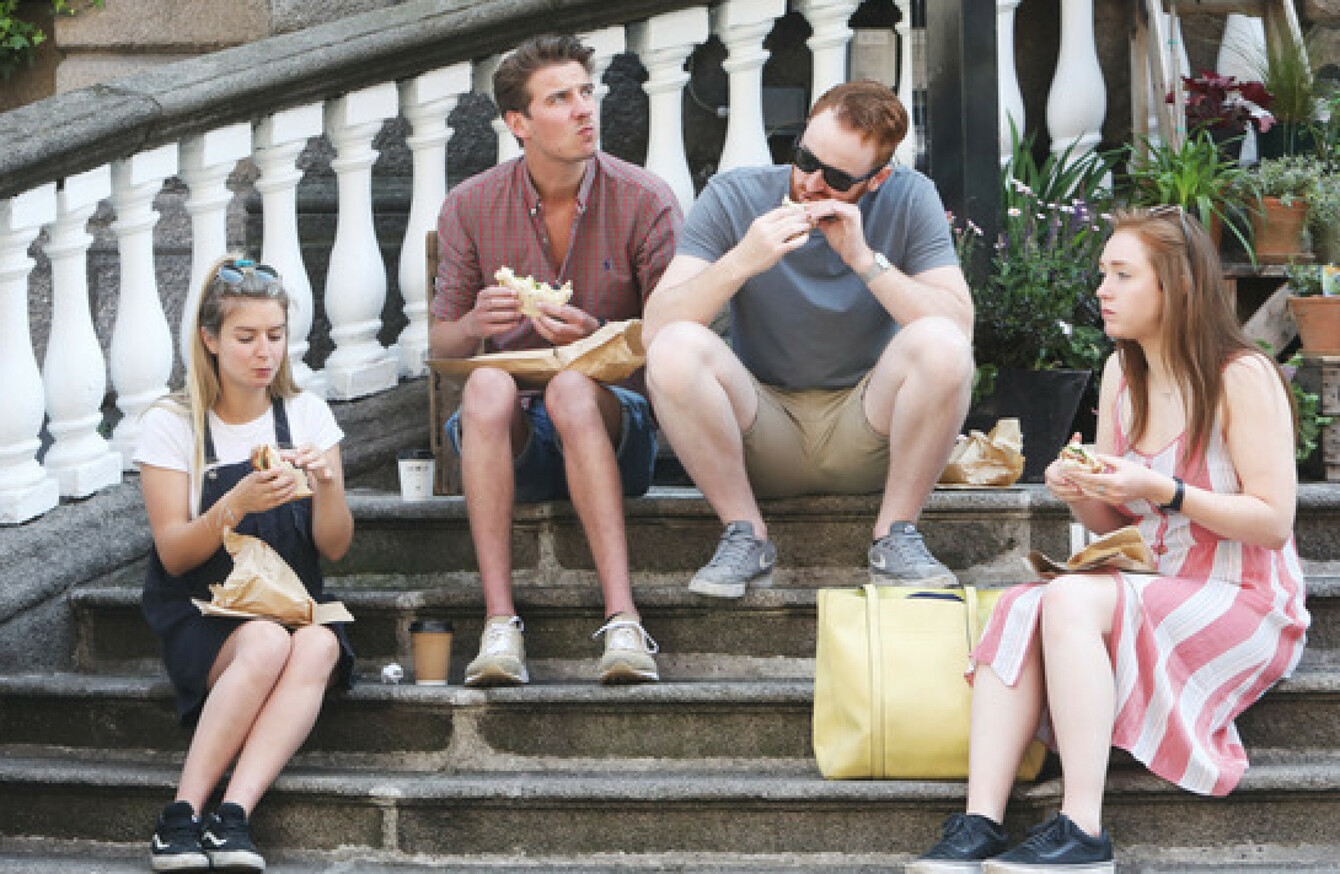 THE IRISH CANCER SOCIETY is warning people who work indoors to protect themselves against sun damage as Ireland prepares to embrace another prolonged spell of sunshine.
Temperatures are set to top 20 degrees this weekend and Met Eireann is forecasting barbecue weather for most of next week, with thermometers predicted to reach the mid-20s and sometimes higher.
As the sunshine approaches the Irish Cancer Society is warning people who work indoors that they need to be prepared or they risk suffering long-term skin damage.
Kevin O'Hagan, a Cancer Prevention Manager with the society, says that people routinely underestimate the power of the Irish sun and don't realise that it can damage their skin even if they are only exposed to it in short bursts.
O'Hagan said that people who work indoors often go out unprepared for the times that they will be in the sun.
"People who are inside a lot often go out quickly and without planning. We're warning people to be careful in the sun. We're advising them to think ahead and bring a hat, bring sunscreen," he said.
Ireland has one of the highest rates of melanoma in Europe. The skin cancer is highly preventable but Irish people are particularly vulnerable because of the high rate of fair skin.
"We tend to burn. If you get repeat sunburn your risk goes up substantially," O'Hagan explained.
If you suffer a painful sunburn every two years that can triple your risk of melanoma cancer.
Office workers and people who live in cities are being told to take care because the National Cancer Registry map of skin cancer incidence rates reveals that skin cancers are particularly high in urban areas as well as on the south coast.
One of the contributors to skin cancer rates in Ireland is the unpredictability of the climate.
"Even on cloudy days there's often still enough UV (ultrviolet rays) to damage skin," O'Hagan says.
Between 30% and 40% of UV rays penetrate through cloud cover. So we still recommend people to be mindful of the sun from May until September, even on cloudy days.
When the cancer society carried out research which monitored the UV index in Ireland the study found that 90% of summer days had levels of UV rays which climbed above 3 on the UV index, meaning they were high enough to damage skin.
The highest levels were registered in the south and west of the country.
The Irish Cancer Society is reminding people to follow its 'SunSmart Code' to stay safe in the sun.
The code advises people to seek the shade between 11am and 3pm. It also says to wear appropriate clothing including hats and sunglasses and to wear sunscreen of at least SPF 30, which should be applied 20 minutes before going outdoors.
Parents are also being warned that it's particularly important that children are sun safe because most UV damage is caused during childhood and adolescence.