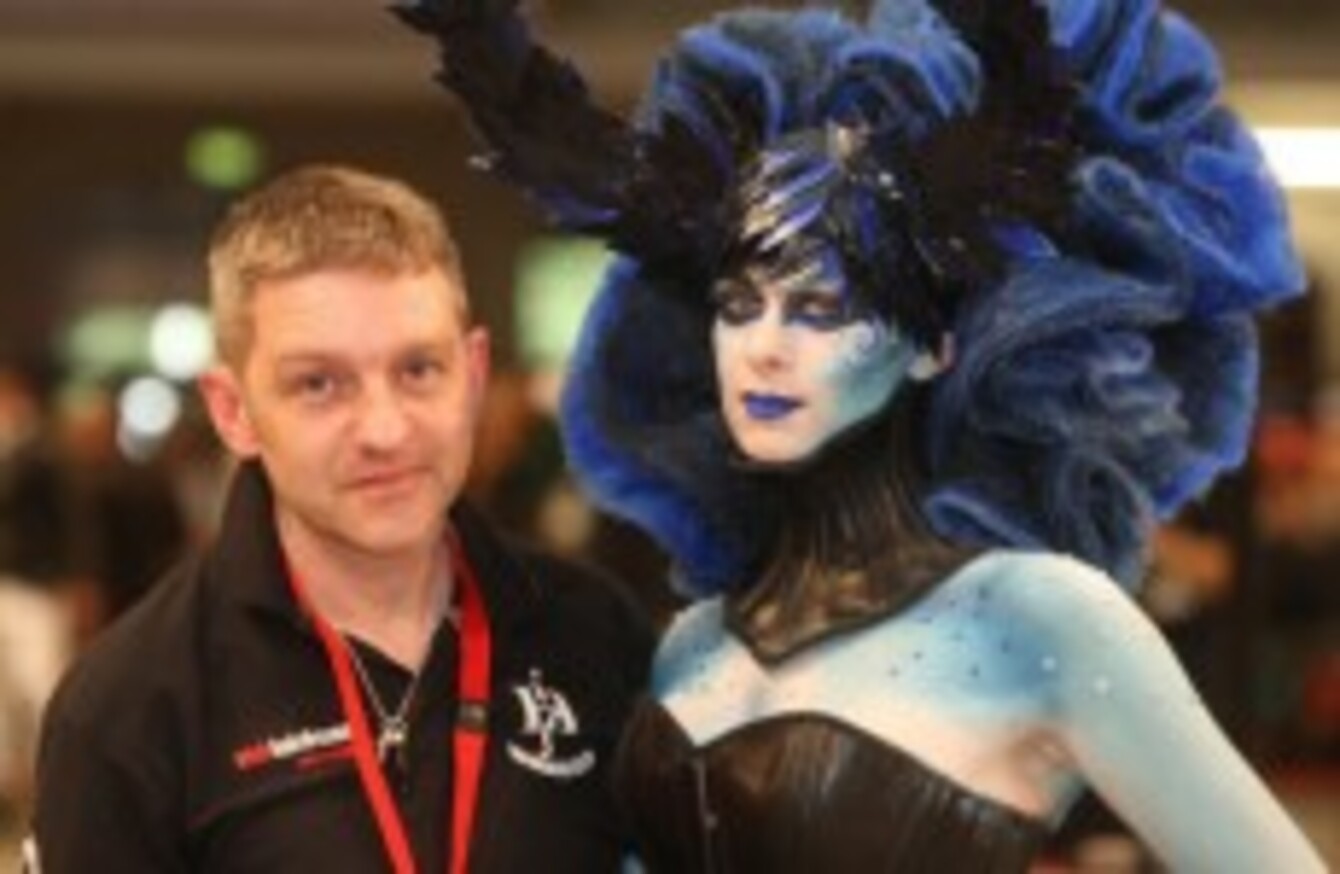 Wayne Partridge and model Danielle Howard from Cork compete in the OMC European Hairdressing Championships at the RDS in Dublin today.
Image: Niall Carson/PA Wire
Wayne Partridge and model Danielle Howard from Cork compete in the OMC European Hairdressing Championships at the RDS in Dublin today.
Image: Niall Carson/PA Wire
EVERY WEEKDAY afternoon, TheJournal.ie brings you a round-up of the day's main stories, as well as the bits and pieces you may have missed.
The Data Protection Commissioner's annual report for 2010 shows a threefold increase in the number of data security breaches last year than in 2009. The report also highlights a number of case studies including schools in Counties Mayo and Kildare which were forced to shut down their CCTV systems after introducing cameras inside the buildings. In the Kildare school, cameras had been installed in the bathrooms.
The Inspector of Prisons Judge Michael Reilly has strongly criticised the lack of consistency in investigating deaths at Irish prisons. In his annual report for 2010, Reilly called for the implementation of international best practice in the investigation of deaths.
Over 540 people were jailed last year for failing to pay fines relating to TV licences, parking and dog licences. One TheJournal.ie reader has spoken of what really happens when  you don't pay your TV licence and face a jail term. Spoiler alert: it involves a taxi-driven round-trip for one lucky garda.
And Greece is still hitting headlines for all the wrong reasons. The country is set to receive extra funding from the EU and IMF in exchange for severe conditions which would allow unprecedented international involvement in its economy, according to a report in the Financial Times.
Meanwhile in Ireland, the government has been downplaying comments made by Minister for Transport Leo Varadkar that Ireland may need a second bailout if it cannot return to the markets as early as planned. They were taken out of context, his spokesperson said.
One unemployed graduate has taken the initiative to advertise his own availability for work on a billboard. 'Jobless Paddy' has spent nine months fruitlessly jobsearching and says this is his last push to find a job in Ireland before having to emigrate for work.
A secondary school in Claremorris, Co Mayo, has decided its pupils should ditch their heavy schoolbags and books in favour of Apple's iPad 2 tablet. We've been asking if you think tablets should replace text books, and so far 79 per cent of you think it's a good move.
And continuing on the theme of education, Minister Ruairi Quinn said today that changes should be made to the CAO system which would reflect changes in the profile of school leavers.
"Football is not in a crisis", FIFA president Sepp Blatter said today, adding that the sporting body's difficulties would be "solved within our family". Blatter faced an ethics committee yesterday in the ongoing controversy over alleged corruption within the organisation. He still looks set to take a fourth term as president after Wednesday's election, given he is the only candidate.
South African President Jacob Zuma has arrived in Tripoli this evening for mediation talks with Libyan leader Muammar Gaddafi, in an effort to end the continuing conflict.
Lawyers for suspected war criminal Ratko Mladic said today that they were lodging an appeal in an effort to slow down the extradition process. Last week, a Serbian judge ruled that Mladic was fit to stand trial at The Hague in the Netherlands. The Guardian reports that he could be extradited within days.
A pharmaceutical company that produces a drug that can treat severe cases of the E.coli outbreak in Germany have waived their fee for the expensive medication – for the opportunity to test it out. Fouteen people have died as a result of the disease, which has been linked to cucumbers, and hundreds more have fallen ill. The Food Safety Authority says none of the contaminated food has reached Ireland.
The Iranian government is reportedly preparing to disconnect the country from the Internet and instead replace it with a national version.
Former IMF chief Dominique Strauss-Kahn is putting together a crisis team to help him tackle sexual assault charges brought against him by a hotel chambermaid in New York.
- Additional reporting by the AP
#Open journalism No news is bad news Support The Journal

Your contributions will help us continue to deliver the stories that are important to you

Support us now