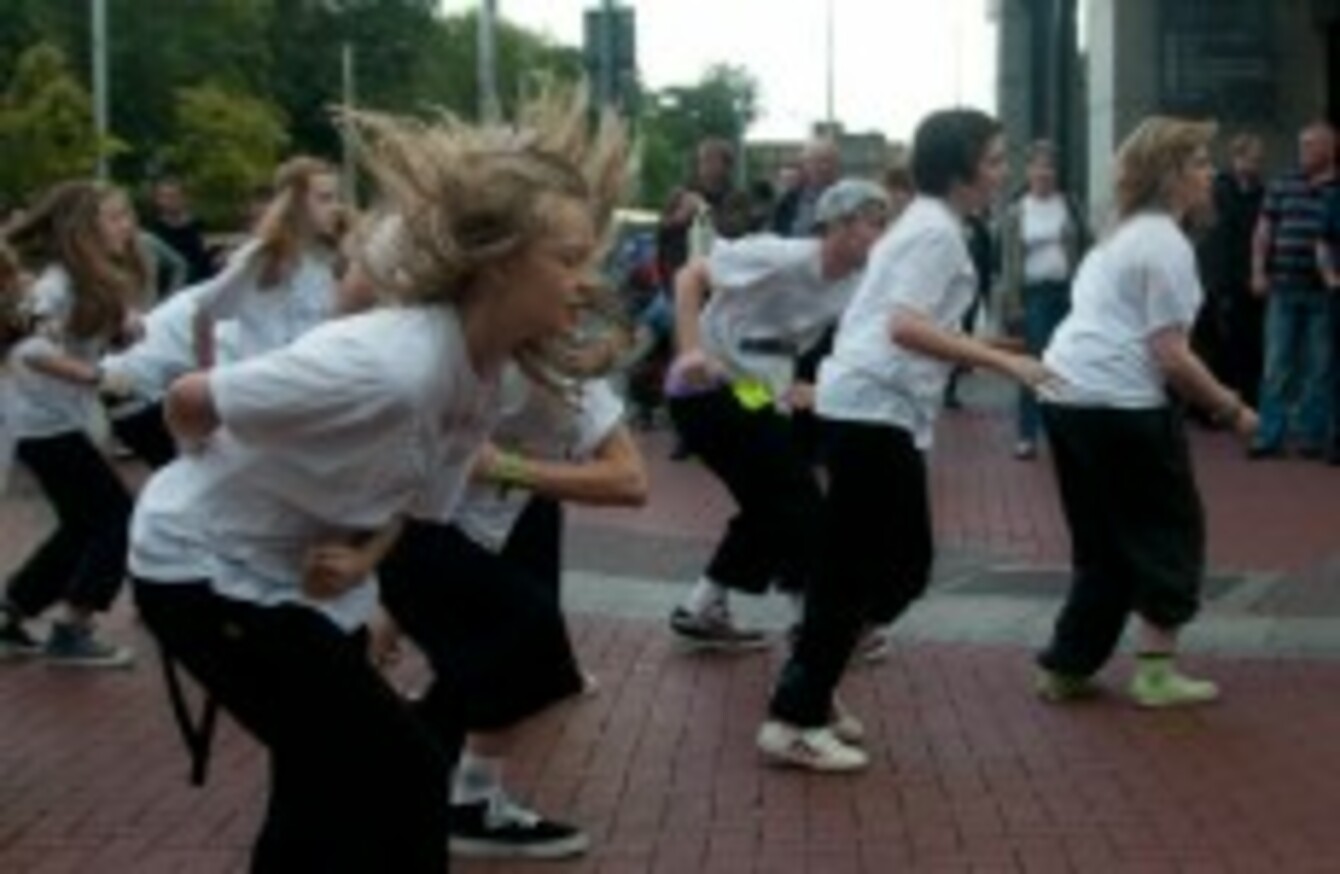 Volunteers from Pieta House - a centre for suicide prevention - hold a flashmob on Grafton Street to highlight World Suicide Awareness Day.
Volunteers from Pieta House - a centre for suicide prevention - hold a flashmob on Grafton Street to highlight World Suicide Awareness Day.
EVERY DAY, TheJournal.ie brings you a round-up of all the day's main news as well as the bits and pieces that you may have missed.
A man has been arrested this evening in connection with the 2006 murder of Denis Donaldson, the former Sinn Féin worker and IRA member who was outed as an MI5 informant in the months before his death.
In his last weekly address before tomorrow's anniversary of the September 11 terrorist attacks, Barack Obama has issued an appeal for national unity – while former NYC major Rudy Giuliani, issuing the Republican response, praised the spirit of the city.

Some of our other pieces looking back at September 11 today:
As it happened: A video timeline of how the September 11 attacks unfolded
9/11 in music: Seven tribute songs inspired by September 11
After the fall: How TV and film coped with the loss of the Twin Towers image
Conspiracy theories: The alternative accounts of what really happened

Some people had an unfortunate, and all-too-real, reminder of the WTC attacks last night – when the @NBCNews Twitter account was hacked by people proclaiming another attack on Ground Zero.
You may want to buy an umbrella. Hurricane Katia is coming to Ireland – and will be bringing winds of up to 100mph with her when she arrives here tomorrow night.
It's emerged that fifty (or more) senior civil servants could be in line for pensions like that being earned by Dermot McCarthy. We've had a look at how some civil servants manage to accrue payoffs worth as much as €700,000.
The 6-year-old Irish girl who went missing from her home in Cyprus earlier this week has been taken to Syria by her father.
Fancy a look at the accounts from the Dáil bar for 2009? Want to know just how many kegs of Guinness your elected representatives drank in that year? Go on, have a look.
Many of you have been more impressed with the lead of Senator Prof John Crown – who says he's donating his entire Seanad salary (of over €65,000 a year) to cancer research. His expenses are going towards the wages of a policy researcher.
The chief economist of the European Central Bank, Jurgen Stark, has quit – apparently because he doesn't like the plans to reduce the main interest rate.
The flagship Macnas show to kick off the ABSOLUT Dublin Fringe Fest tonight has been called off due to the high winds in the capital – but if you're sufficiently piqued, we've put together a list of ten shows which won't cost you more than €10 each.
The remains of Artur Kozlowski, the Polish diver who died in an underwater cave off Gort, have been recovered this afternoon.
Bono reckons the Era of U2 may be coming towards an end – admitting the band may be "on the verge of irrelevance" and saying they'll need to reinvent themselves if they're to survive.
This is a video of a Russian woman who was attacked by a polar bear while she had her trousers down.
How often does Britney Spears sing the words 'baby' or 'crazy'? Quite a bit, it would appear.
It was Bertie Ahern's 60th birthday last night, with some of the great and good stopping to pose for snappers on the way in. But there was no sign of the birthday boy himself…
It's been another busy day in the Premier League – and Miguel Delaney's been jotting down his thoughts about the day's action.
Speaking of sporting action, the Rugby World Cup really got going this morning with four games – including a narrow win for England over Argentina. Here's what you missed if you took a Saturday lie-in.
Ireland get their campaign underway against the USA at7am tomorrow morning – and Enda Kenny has sent his best wishes to Declan Kidney and his charges. Can you do better than his advice to 'Do your best'?
This guy is melting our brains. Is this doctored, or just really really awesome talent?
#Open journalism No news is bad news Support The Journal

Your contributions will help us continue to deliver the stories that are important to you

Support us now