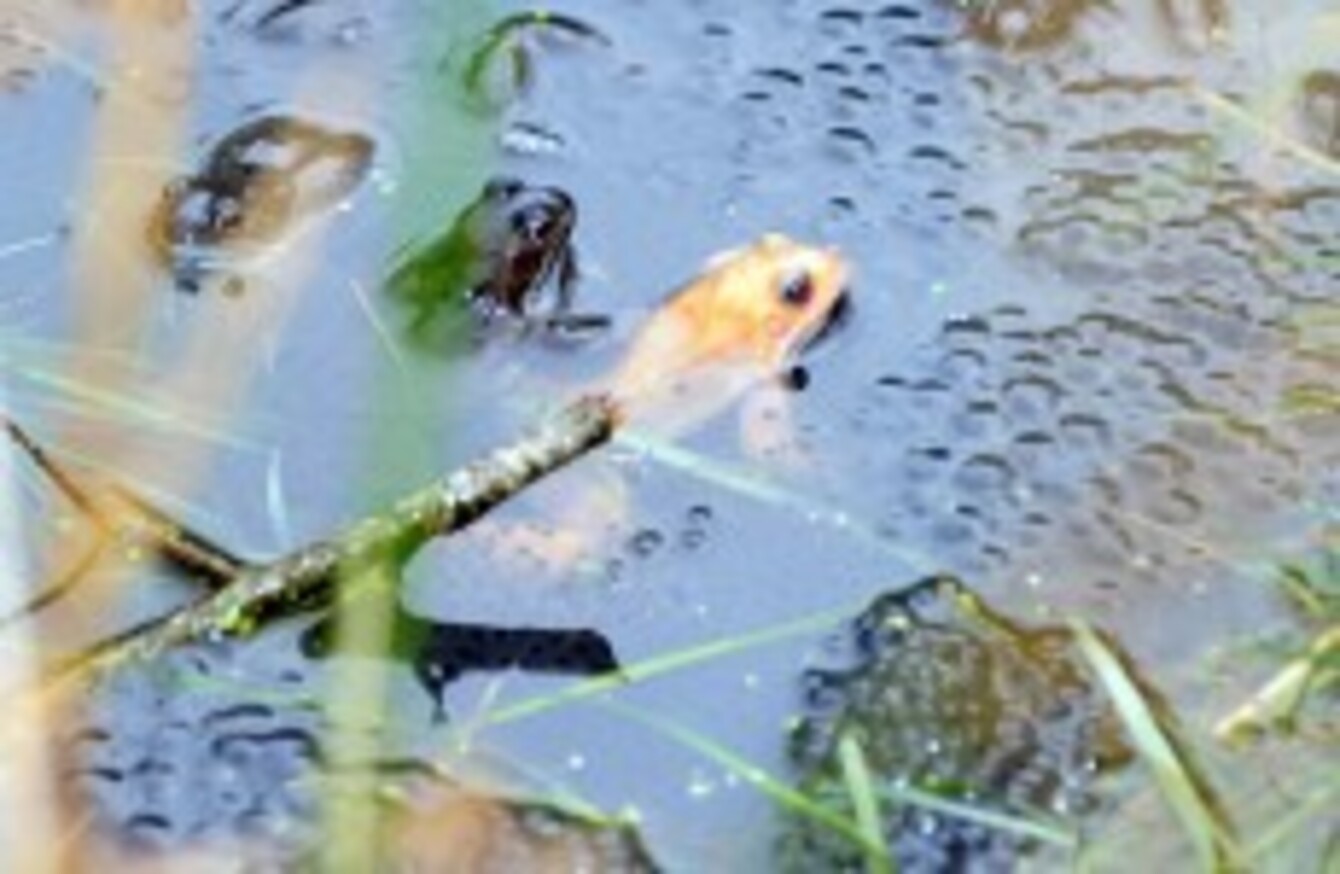 Reader Colum Lawlor sent in this snap from a little pond in Co Meath - we think it's an albino frog...
Image: Colum Lawlor
Reader Colum Lawlor sent in this snap from a little pond in Co Meath - we think it's an albino frog...
Image: Colum Lawlor
EVERY EVENING, TheJournal.ie brings you a round-up of the day's biggest news stories, as well as the bits and pieces you may have missed.
Zane Lace, living in Enfield, Co Meath, poses outside the Latvian embassy on St Stephen's Green in Dublin. The embassy is open until midnight tonight as Latvian citizens vote on a constitutional referendum which would make Russian the country's official second language. Embassy officials expect 2,000 Irish-based Latvians to vote in the referendum, which is set to be defeated. Photo: Nigel McArdle
Diplomats have told the Associated Press that Iran is preparing a major new underground site to expand its nuclear programme. The secret site is ready for "thousands of new-generation centrifuges".
The news came after the US and EU expressed some cautious optimism that Iran was willing to return to talks over ending its programme.
Ever wondered how countries, terrorists and other organisations manage to carry out a covert killing? Wonder no more: Susan Ryan has spoken to an intelligence expert to figure out how it's done.
Barack Obama's election campaign team have been changing direction a bit – looking at new ways to attack Rick Santorum, as the former Senator shoots up the opinion polls.
Just over two months after they were launched, there are already 57,000 Leap cards being used to make 35,000 journeys each day on Dublin's public transport systems.
Is Arsene Wenger's time at Arsenal about to come to an end? His charges have lost 2-0 in the FA Cup at Sunderland – and Miguel Delaney's been explaining why he's gone without a trophy for seven years. Chelsea counterpart Andre Villas-Boas is under the kosh too: his side only drew 1-1 at home against Birmingham.
Travel agency Go4Less has acknowledged a data breach on its website which allowed the passport numbers of a small number of customers to be publicly visible through Google.
How much did Gay Mitchell spend on cable ties? How many copies might The Irish Sun on Sunday expect to sell? And how much is the average domestic mortgage in arrears by? Answers to all of those, and more, in this week's Prime Numbers – the week in statistics.
What's that, we hear you say? You'd love to hear someone play that White Stripes song on a load of laboratory equipment? Well, you're in luck. Presenting: Science Nation Army.