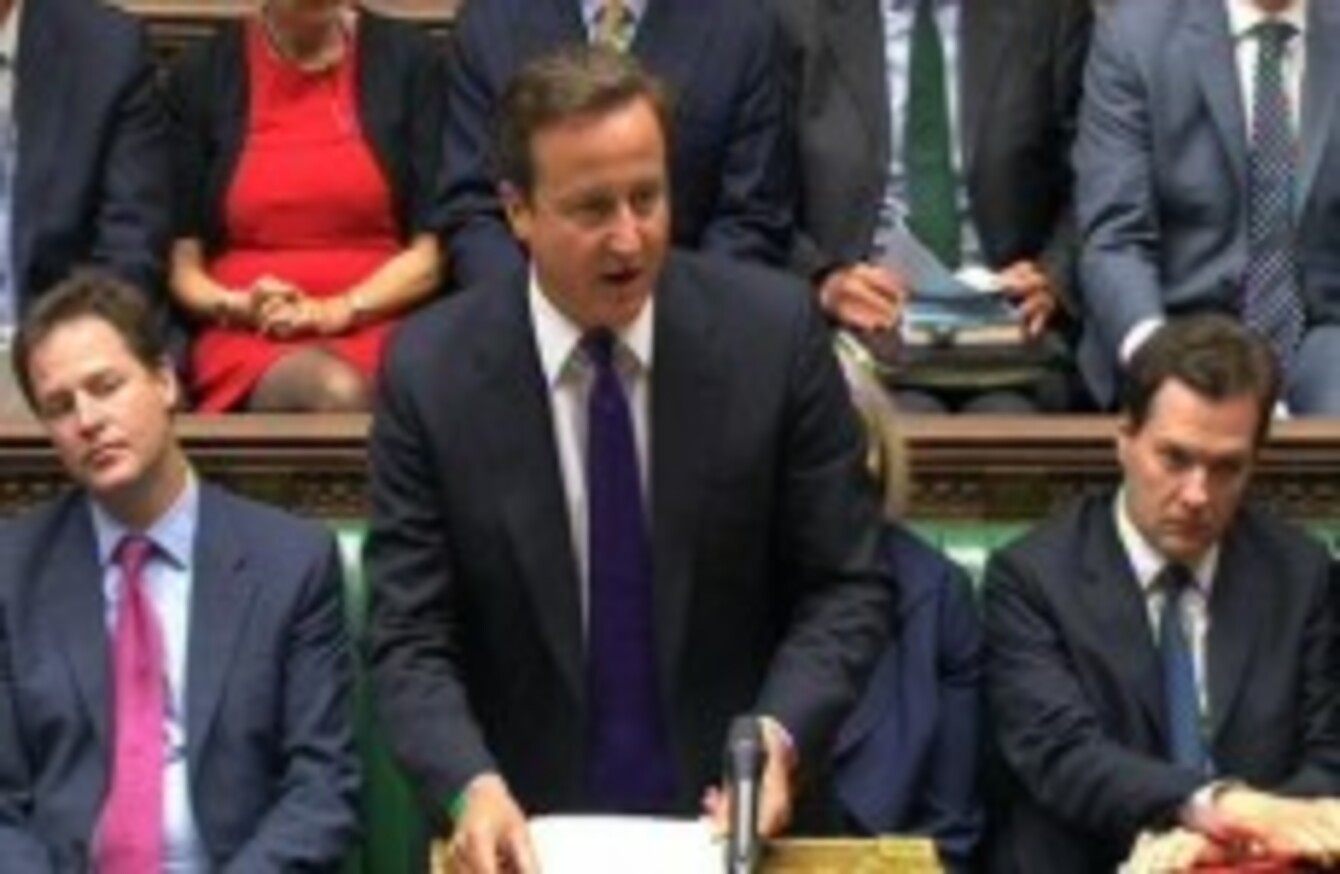 Image: PA Wire
Image: PA Wire
BRITISH PRIME Minister David Cameron has addressed the House of Commons today on the government's response to several days of serious civil unrest in English cities.
Cameron said the unrest was not down to "politics or protest", but theft.
He said there would be a full investigation into the death of Mark Duggan, which sparked the unrest after a peaceful protest in Tottenham on Saturday, but distanced Duggan's death from the subsequent chaos:
[I]t is completely wrong to say there is any justifiable causal link. It is simply preposterous for anyone to suggest that people looting in Tottenham at the weekend – still less, three days later in Salford – were in any way doing so because of the death of Mark Duggan.
"Keeping people safe is the first duty of government," Cameron told the Commons, before saying that was clear that too few police had initially been deployed to tackle the unrest. "The tactics they were using weren't working," he added. He said police treated it as a public order issue rather than crime, but said police have been facing a new "unique" challenge: people looting in different places at the same time.
The 16,000 police officers deployed to the streets of London earlier this week will remain in place over the weekend, and all police leave planned for this week and weekend remains cancelled.
Cameron blamed a street gang culture for the unrest, but also pointed the finger at parents who don't know or care what their children have been doing. Crime has a context, he said, and children are growing up not knowing right from wrong. Cameron said that local authorities and landlords have the power to evict the perpetrators from social housing, but said the government would consider whether this ability should be strengthened.
He said that people who saw smashed shop windows as an opportunity to loot would also have to face the law.
Social media
Cameron said CCTV images were being used to ensure that people would not escape justice; courts will continue to sit through the night to deal with the high numbers facing charges over the unrest.
Speaking of how social media has apparently helped looters organise, he said that the "free flow of information can be used for good, but it can also be used for ill". The government was working with police, intelligence services and "industry" to check if it would be "right" to block communication via certain services being used for criminality.
The prime minister announced that police would be granted extra powers allowing them to ask people to remove face masks if they suspect that person is involved in criminal activity.
He also said that the introduction a curfew was under consideration.
Meanwhile, planning restrictions on shops adding shutters to their premises will be reconsidered.
Compensation
Cameron said that the government would provide compensation to people who suffered damage to their property under the Riot Damages Act, even if they are uninsured. They have 42 days to submit claims, and businesses will also be able to apply for funding from a £20 million High Street support scheme.
The cost of the damage, he said, is expected to run to over £200 million.