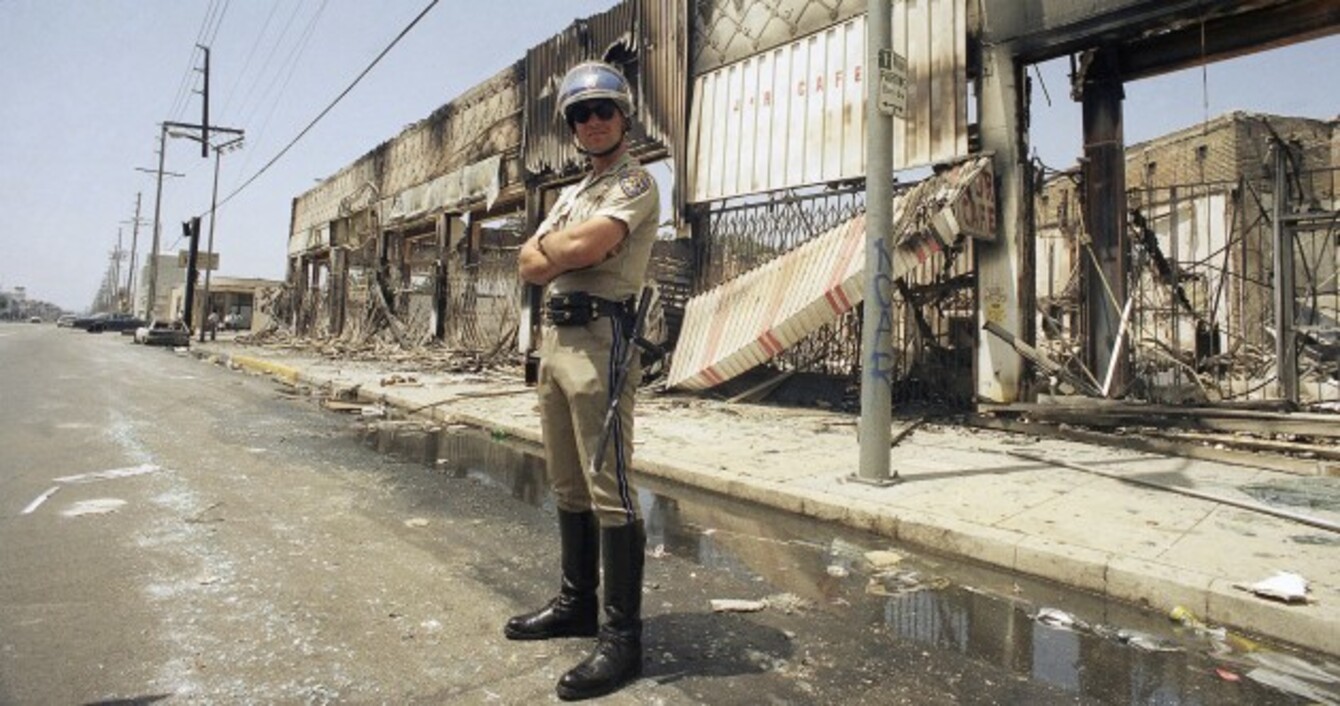 Image: AP/Press Association Images
Image: AP/Press Association Images
IF YOU'VE BEEN following events in Ferguson, Missouri over the last 10 days, you might feel you've seen this film before, as it were.
Heavily-armed police, simmering racial tensions boiling over, a mix of peaceful activists and opportunistic, destructive criminals.
And at the heart of it, an act of violent brutality by an officer of the law.
Here's the short version of America's long history of police riots.
1. Civil Rights era
A campaign for racial integration in the direly segregated southern city of Birmingham, Alabama took over international headlines in the spring of 1963, after the arrest of the Rev. Martin Luther King Jr., and brutality orchestrated by Police Chief Bull Connor.
Two years later, civil rights activists were beaten and tear-gassed by local police and troopers during the legendary march from Selma to Montgomery, Alabama.
John Lewis, who was one of the leaders on "Bloody Sunday", 7 March 1965, this week remarked that recent events in Ferguson "take [him] back to the 40s, 50s, and 60s."
2. Vietnam Era
For eight days during the August 1968 Democratic National Convention (to select a presidential candidate) counterculture/anti-Vietnam protesters at times fought pitched battles with Chicago police.
The peaceful demonstrations that had been planned escalated into clashes after the imposition of a curfew, and a major clampdown by Mayor Richard Daley.
On 4 May, 1970, members of the Ohio National Guard, armed with rifles, tanks, gas masks and tear gas, and backed by Governor Jim Rhodes, shot dead four students – two of them bystanders – during an anti-Vietnam War protest at Kent State University.
Hundreds of high schools and universities across America shut down in the following days, amid an angry nationwide backlash.
Images of what became known as the "Kent State Massacre" played an important role in swaying US public opinion even further against continued American military intervention in Vietnam and Cambodia.
3. Rodney King and the LA Riots
On the night of 3 March, 1991, 25-year-old black construction worker Rodney King and two friends were pulled over for speeding, and after trying to outrun police cars on the Foothill Freeway in LA.
King acted erratically, and officers claimed to have been worried he was drawing a gun at one point. In the end, however, King was savagely kicked, punched, Tasered, and beaten with batons.
The onslaught was filmed by local man George Holliday, whose footage was seen around the world, and formed the basis of the trial of the four white LAPD officers who were…acquitted.
The surprise verdict sparked angry protests outside the courthouse. Those escalated into riots in South Central LA, which turned into looting and spread throughout the city.
After days of violence and property destruction, 56 people were dead, including 10 shot by law enforcement officers, and up to $1 billion worth of damage was done to businesses and homes in the area.
4. The Battle of Seattle
On 30 November 1999, tens of thousands of anti-globalisation protesters converged on the World Trade Organisation (WTO) Ministerial Conference in Seattle.
While the demonstrators included largely peaceful anti-capitalist, trade unionist, debt forgiveness and student groups, a small core of anarchist "black bloc" engaged in non-violent direct action including blocking traffic and smashing shop windows and police vehicles.
The Seattle Police Department was largely unprepared for anything other than a peaceful protest, and the backlash over the following 24 hours involved the deployment of the Washington National Guard, the use of tear gas, and the arrests of hundreds of demonstrators.
5. The death of Oscar Grant
While many unarmed black men have died at the hands of US police officers in the last few decades – including high-profile victims such as Amadou Diallo and Sean Bell – the death of Oscar Grant was a turning point.
Early in the morning of New Year's Day 2009, Bay Area Rapid Transit (BART) police were called to respond to a fight on a crowded train in Oakland, California.
Among those detained at Fruitvale Station was 22-year-old Oscar Grant. With dozens watching and filming with their phones, officers restrained Grant, eventually pinning him to the floor on his stomach.
While one officer knelt on Grant's kneck, another – Johannes Mehserle – allegedly said "I'm going to Tase him", but then took out his service weapon and shot Grant in the back.
He died later on that day.
Riots and protests – both violent and non-violent – ensued across Oakland and beyond. Police in riot gear fired tear gas and rubber bullets at demonstrators, some of whom set fires and destroyed cars on the streets of the city.
The incident highlighted the new and important role of technology and the internet in recording police brutality, as well as quickly spreading both awareness (and anger) about it.
Raw, graphic footage of the shooting of Oscar Grant was sent to online news outlets and posted to YouTube almost instantaneously, and viewed by millions around the world.