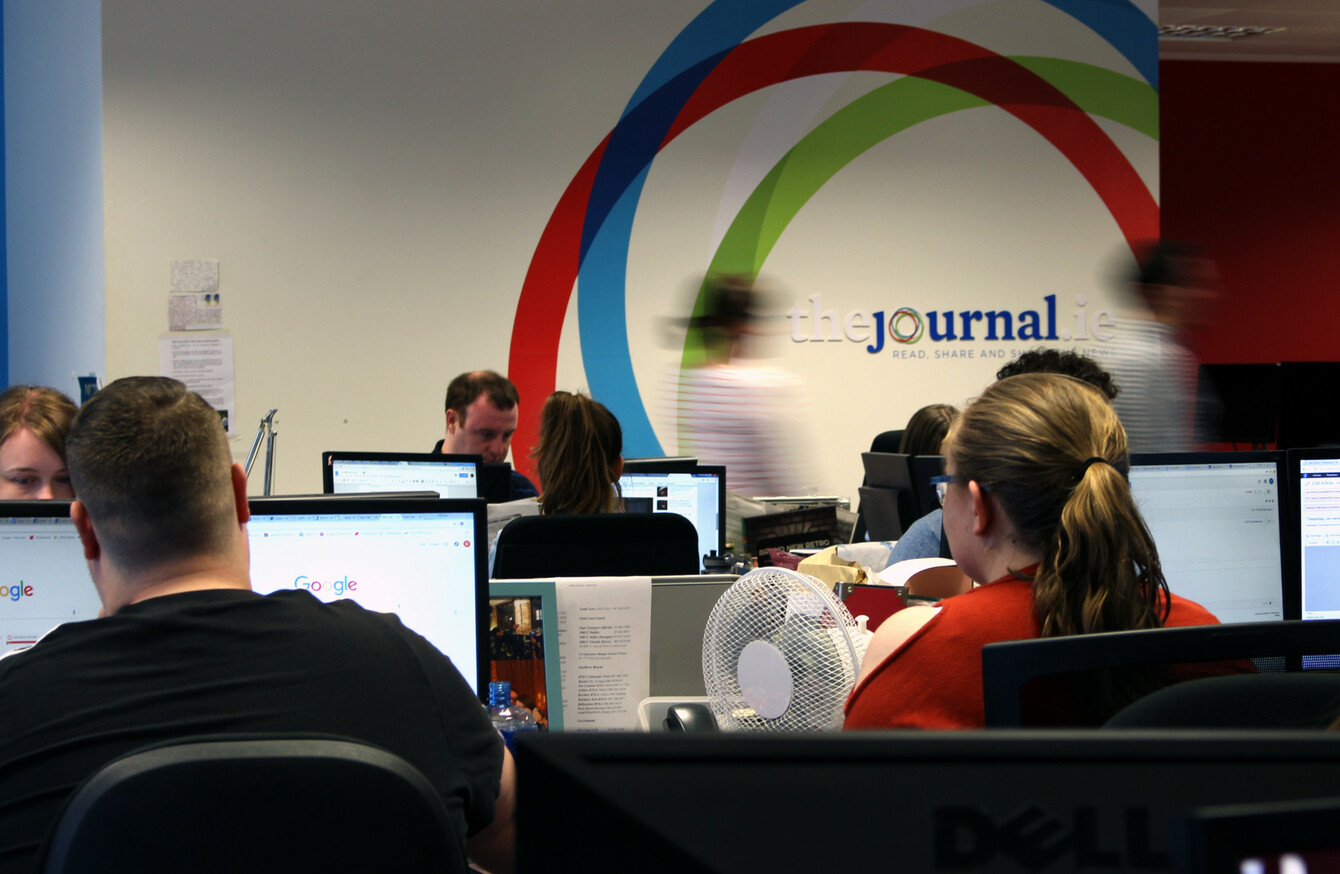 Image: Nicky Ryan/TheJournal.ie
Image: Nicky Ryan/TheJournal.ie
THEJOURNAL.IE HAS TOPPED the table of the most-read online news brands in Ireland, according to an authoritative new survey.
For the second year in a row, the Reuters Institute Digital News Report for Ireland has found that TheJournal.ie is the most popular online news source in Ireland.
Over one-third of consumers surveyed for the research by DCU's FuJo Institute – 34% of them – said that they sought out TheJournal.ie as a source of news. This represents a growth of 2 points on the site's poll-topping position last year.
RTÉ News came second to TheJournal.ie at 33% with the Irish Independent online dropping a point on last year to 30%. BreakingNews.ie was checked by 24% of those surveyed, with the Irish Times online at 21%, a drop of 2% on last year.
TheJournal.ie also topped the league as the main source of news online for those surveyed. Both this site and RTÉ News were cited by 21% of respondents as their main port of call for daily digital news. The Irish Independent online was checked first by 19%, while both BreakingNews.ie and Irish Times online both came in next at 12%.
(To view this graph in higher-res, click here)
The study, funded by the Broadcasting Authority of Ireland, shows that the audience for TheJournal.ie has a fairly even gender split with 34% of males surveyed saying they use it and 35% of females accessing the site. For a look at the age groups who are most likely to access the main digital news sites in Ireland, this graph has more information:
(To view in higher-res, click here)
Traditional news platforms
Of traditional news brands – broadcasters and newspapers – RTÉ's TV news still rules the roost, with 51% of respondents saying they use it as a source of news and 38% saying it is their main source of news on a traditional platform. Sky News is next, with 32% of Irish people surveyed saying they use it as a source, RTÉ radio news third at 31%, BBC News at 29% and TV3 news at 27%. Print newspapers make an appearance after that with the Irish Independent checked by 25% of those surveyed. After that, local radio is a source for 22% of those surveyed, Today FM is at 20%, The Irish Times at 20%, Newstalk at 19% and local or regional newspapers and the Sunday Independent both coming in at 14%.
The report says: "Breakdown by gender throws up fascinating findings. In TV, more men than women watch Sky News and BBC News. The same applies to RTÉ News and Newstalk in radio; and to the Irish Independent in print."
It continues:
Broadly, in TV, audience share increases with age. For example, the largest cohort of all, at 72%, watching RTÉ TV News, is also the oldest. Similarly, RTÉ Radio News captures the largest and oldest audience at 49 percent in the 55+ category. A similar pattern is seen at the Sunday Independent with its highest percentage readership level being in the 55+ category. A greying audience must be of some concern to media managements in each of these news organisations.
Trust in news
The average Irish news consumer is more trusting (slightly) of the news they receive here than their average EU counterpart (71% of Irish people surveyed say they trust the news they consume, versus an EU average of 62%).
However, a minority of those surveyed said they had trust in news which they found through social media channels such as Twitter, Facebook and so on (only 19% felt they could trust sources they discovered on these platforms). Saying this, over half of those surveyed access news through social media, at 53%. This is second only to those who say TV news is their main source (56%). Radio comes in at 45%, online sites at 44% and newspapers as a main source have fallen from 40% last year to 35% this year.
Director of FuJo, Dr Jane Suiter, notes that "recent studies have found that those who are older, centrist and tend towards the consumption of traditional media tend to trust both their own media and media in general more than others", which fits with the Irish market even if this is changing as the trend towards digital sources continues to grow.
Dr Suiter also points out:
But other factors also matter; in particular concerns about disinformation, perhaps particularly in referendum and election campaigns where perceived political bias is a concern.
There is a good deal of talk around the concept of 'fake news' and this research shows that there is a wide definition employed by Irish news consumers around what constitutes 'fake news' for them. This can range from "unintentional mis-information such as poor journalism (a concern for 56% of consumers) and the deliberate manipulation of content through fabricated stories (a concern for 61%), distorted facts (a concern for 59%) and advertorials (a concern for 46%)," according to DCU's Dr Eileen Culloty.
She adds:
"Fake news" means different things to different people and so the public perception of the problem is amorphous.
"In Ireland, only 28% understand the role of algorthims" in controlling how news bubbles up on a personal social media feed, according to the survey. The researchers suggest that there is a greater need for digital literacy among the population and that there should be continued support for initiatives across Europe to help news consumers better understand who is feeding them information and how they can decipher the reliability of this information.
Who's willing to pay for news?
There was more positive news for online news in this category with more Irish news consumers paying for online subscriptions in 2018 when compared to 2017 (from 10% to 12% – in 2015, that figure was just 7%).
When looking at those who will consider paying for news online this year, fewer people say they are "very unlikely" to do so – 66% agreed with that statement last year while 48% agreed with it this year.
Over one-fifth of Irish news consumers would consider making a donation towards a news project here this year (22.4%). That is above the UK (17.6%) and the EU average of 19.7%).