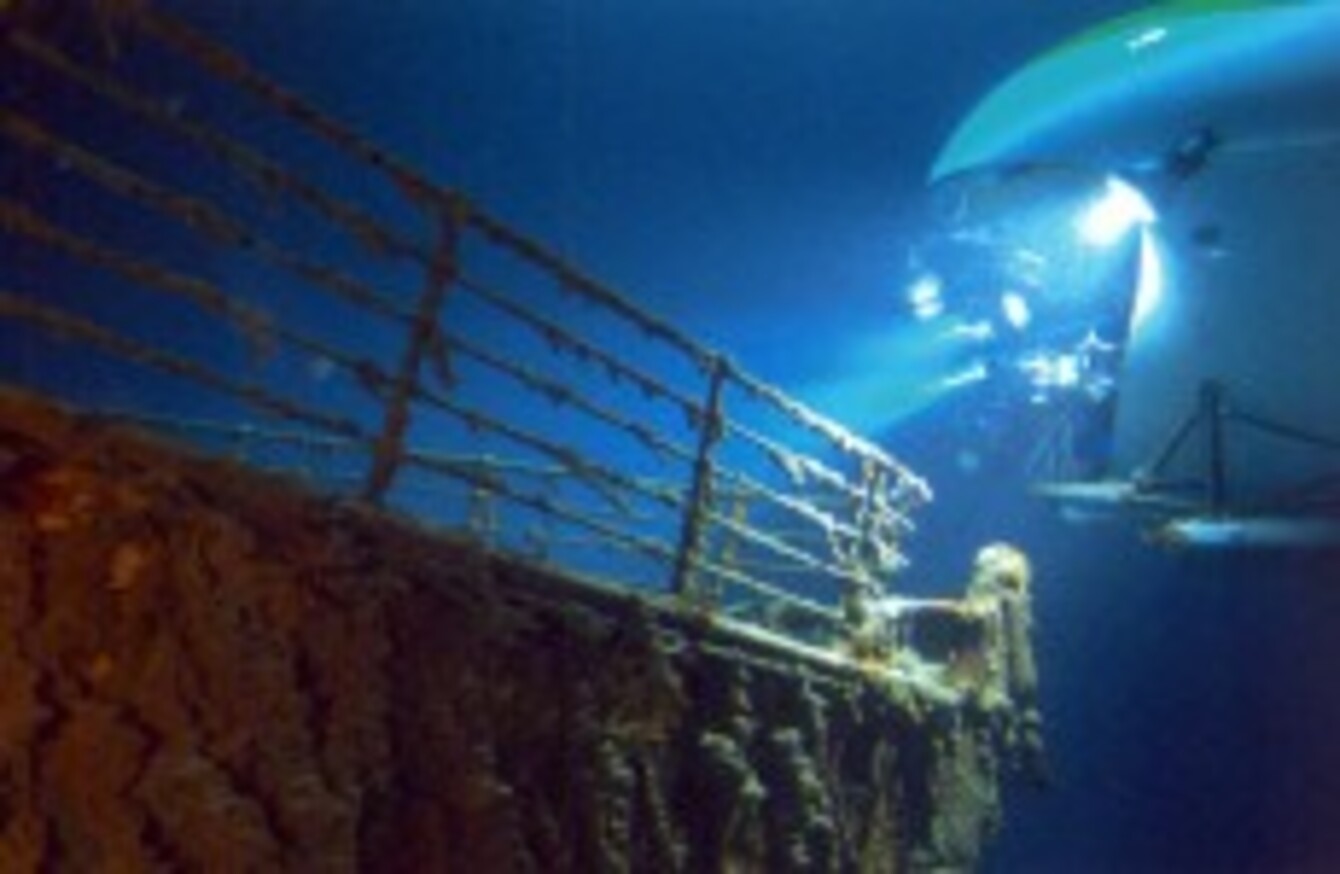 Ghosts of the Abysson travels to the wreck of the Titanic in two MIR submersibles
Image: Topham/Topham Picturepoint/Press Association Images
Ghosts of the Abysson travels to the wreck of the Titanic in two MIR submersibles
Image: Topham/Topham Picturepoint/Press Association Images
TITANIC'S LEGENDARY SINKING in 1912 has fascinated people for a century. It has rested on the ocean floor ever since it hit an iceberg in the North Atlantic and no one thought they would have ever see the ship again.
In the April 2012 edition of National Geographic Magazine, images show for the first time exactly how the wreckage looks today two miles below sea level.
(Image via National Geographic)

The amazing new photos give a better insight into what happened the tragic night the ship went down. Shot using state-of-the-art technology by independent research group Woods Hole Oceanographic Institution, the images show in sharp detail the damage that occurred to the 'unsinkable' ship and can also provide researchers with a better understanding of the sequence of events that night.
Ethereal views of Titanic's bow (modeled) offer a comprehensiveness of detail never seen before.
(COPYRIGHT© 2012 RMS TITANIC, INC; Produced by AIVL, Woods Hole Oceanographic Institute.  Modeling by Stefan Fichtel)
These photos were taken on a two-month expedition that took place from August and September 2010. The researchers used many different approaches to exploring the area so that they could capture these never-before-seen views of the sunken ship.
The expedition captured images of the Titanic's two engines (pictured below) which lie exposed in a gaping cross section of the stern. Draped in "rusticles"—orange stalactites created by iron-eating bacteria—these massive structures, four stories tall, once powered the largest moving man-made object on Earth.
(COPYRIGHT© 2012 RMS TITANIC, INC; Produced by AIVL, Woods Hole Oceanographic Institute)
Robotic vehicles were used to collect the images during programmed sweeps of the Titanic site on the Atlantic seabed.
The 3-by-5-mile Titanic site was scanned with multi-beam sonar which collected even the minute details of the ship. These vivid pictures give insight into what happened that April night. As the picture of the starboard profile shows below, the Titanic buckled as it plowed nose-first into the seabed, leaving the forward hull buried deep in mud—obscuring, possibly forever, the mortal wounds inflicted by the iceberg.
The ship's wreckage now lies in its final resting place 12,415 feet below sea level.