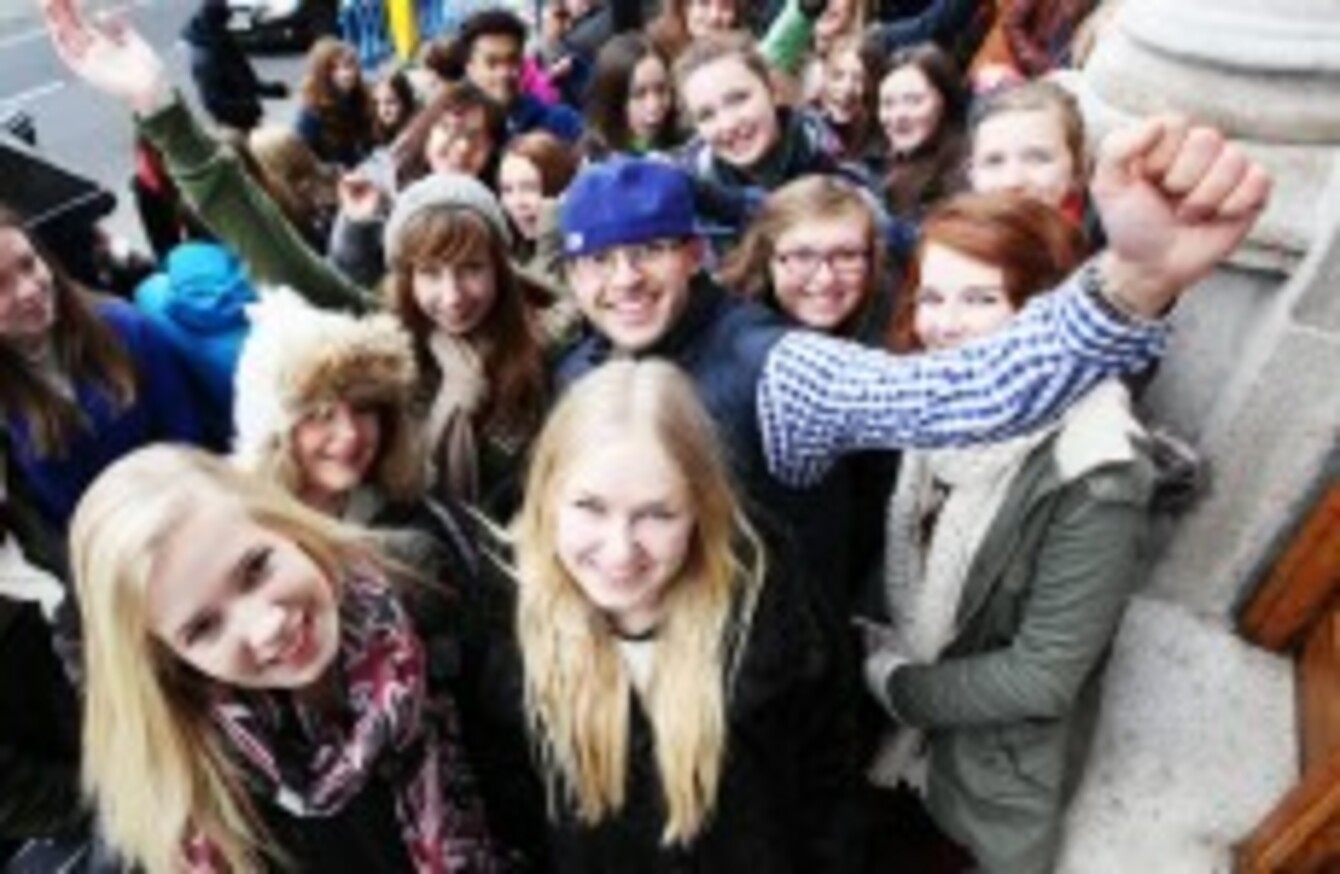 People queuing outside the Dublin Abercrombie and Fitch store earlier this week
Image: Photocall Ireland
People queuing outside the Dublin Abercrombie and Fitch store earlier this week
Image: Photocall Ireland
EVERY SATURDAY MORNING we like to take a look at all the best comments left on the site by you lot over the past week.
There was a lot of talk this week about Gardaí on Segways, religion in schools, the first snow of the year, and the new Abercrombie and Fitch store in Dublin. Then there was the Children's Referendum debate moderated by Vincent Browne, public sector increments, and er, the weird and wonderful Halloween costumes donned by readers this year.
So here, in no particular order, are the standout comments from the week that was.
It's one of the more er, unexpected television pairings of recent times, but TV3 is considering a new travel programme co-presented by Vincent Browne and Glenda Gilson. Yes, really. Sean McNally had a prediction for how Vincent would handle presenting such a show:
"Can you just answer the question?!! is it a good holiday destination or not and stop giving me all this ould guff!!?"
A lot of commenters were surprised at the large queue outside Abercrombie and Fitch which opened its doors in Dublin on Thursday. Jason Walsh was more disappointed though:
I queued there for 3hrs thinking it was for tickets for Bon Jovi at Slane, boy is there egg on my face.
Although as Matthew Fitzpatrick pointed out:
Could've been worse, you could've bought the tickets!
Would you stop to help if you saw someone collapsing on the street? Some readers spoke about the fear of being sued if they stopped to help, but lots of people shared their stories about how they had helped in the past – including Eimear Smith, who responded to a comment by saying she has helped and would again – despite what happened:
Yeah me too. Although one Christmas, I was shopping in town and stopped to help a young lad who was having a seizure outside Arnotts, waited til ambulance crew took over and when I looked around all of my bags had been stolen. Shites! Didn't stop me from helping again though….
It was National Text Your Ex Day on Tuesday, apparently. Good to see the important holidays are being observed in the US. We posted 4 cringey ways the day can go horribly wrong – and John Dobermann had his own suggestion (which got more than 1,680 thumbs up at the last count):
Wrong:
Me: Happy national text your ex day!
Her: You're breaking up with me?
A study this week found every single junk food meal can damage your arteries. Andrew Telford pointed out that it's becoming more and more difficult to buy healthy food:
Screw what other people have in their trollies let them eat themselves to death..

What annoys me is every trip to Tesco I make the actual food shelves and aisles get smaller and smaller. We're 10 years away from it all being junk…. In 1995 there was a shelf of ready meals now there's an aisle for every food ethnicity including 'healthy' which is the same crap with more bulking additives and half the size portions. Vegetables are almost gone but I am offered 2 dozen bags of salad each featuring bread, cheese, dressing and a tiny amount of shriveled lettuce. Meat now costs €20 a pack unless you buy the 3 for €10 lowest quality fatty cuts, sprayed with enzymes to hide the fact that they're old and plumped with so much water they hot the pan are in a cup of water in 10 seconds. The Crisps shelf formally potato and now corn based shite aisle…..

I could go on and on
A number of tragic stories about bullying were in the headlines this week in the wake of the suicide of Donegal teenager Erin Gallagher who was allegedly bullied by users of the Ask.fm website. The founder of the site said it was an issue for society, not the website. Oisín Ó Dubhláin said this:
Erin's death is incredibly tragic and shows how we need to be far more considerate in our dealings with people especially on the internet. The idea that the site is the problem is just wrong. You don't blame hammers when someone hits another person with one.
Figures from the Central Statistics Office this week found that 13 per cent of the population has a disability. Eric Wrafter described how having a disability affects his life (or more to the point, doesn't):
I have aspergers (mild) dyslexia (under control after years of extra help and study) and dyspraxia ( I'm all thumbs). I work hard to earna decent wage and volunteer on my time off. Having a disability does not automatically make you less able and in recent years autism is being driven by some as having a 'different' ability as opposed to being the same as everyone else.
A friend of mine has discalcula (difficulty with numbers) and works in logistics, a numbers heavy environment.
As for benefit, I don't want it. I'm not (in my opinion, although others may disagree) impaired enough to require it, and while free money sounds great, I'd feel I'm letting the side down when others who are far worse then I can hold a good job with good wages.
All in all with 23% with a learning difference (not difficulty, we just need to learn in other ways) I don't feel so alone or unique, but it means that we can gain the support for all disabilities and make ourselves mostly productive.
Remember we are people too, and when in doubt just listen to Lady Gaga Born this way for a bit of a lift.
Ulster Bank says its IT failure cost more than €100 million to fix. Unsurprisingly, readers were unsympathetic. From Tony Higgins:
Got a cheque for 41c from Ulster Bank last week to compensate for the inconvenience! Just don't know what to do with it. A holiday? A deposit on a car? Have left Ulster Bank.
There were a lot of comments on this comment piece about why both cyclists and motorists need to change how they use the road. Some comments were very much divided, but there was a lot of consensus on how Ireland's roads need to be safer for everyone. This comment from John Thompson summed up a lot of the debate:
everybody breaks the rules a bit – pedestrians not waiting for the green man or walking on cycle lanes, cabs, cars and buses speeding up when the light goes orange, everyone changing lanes and turning without indicating, cyclists acting like there are no rules at all half the time, even gardai driving and cycling while talking on mobiles. the only answer is to chill out and take care – assume that kid with the headphones will step off the pavement without looking, that at least three cars will go through the junction after the light turns red, that that cyclist is going to try to cycle straight through the crowd. after all you'll be stuck at the next red or behind another tractor/bus etc. before you know it. the only real rule is don't hurt anyone and don't get hurt. why get so stressed? as an after thought, I heard that in Oxford or Cambridge (can't remember which), local by-laws exempt cyclists from the rules of the road altogether, and it works very well apparently because other road users are not surprised when cyclists do something that cars etc can't. is anybody familiar with this?
Are zombies plausible? Should we be preparing for a zombie apocalypse? This science video we came across this week explained that that yes, there is technically a possibility that super-hungry braindead beings could be produced by a virus. Oh. Joseph Bosh shared our concerns:
So basically some mad scientist could actually create the RAGE virus from 28 days later or the t-virus in resident evil…

…on the plus side the wouldn't have to just be hit in the brain. Anywhere will do.
(Video: AsapSCIENCE/YouTube)
There were also a lot of nice comments about our wins at the Irish Web Awards and the Eircom Golden Spiders – thanks for those! If you spot any good comments over the next week, let us know – mail christine@thejournal.ie. Thanks!