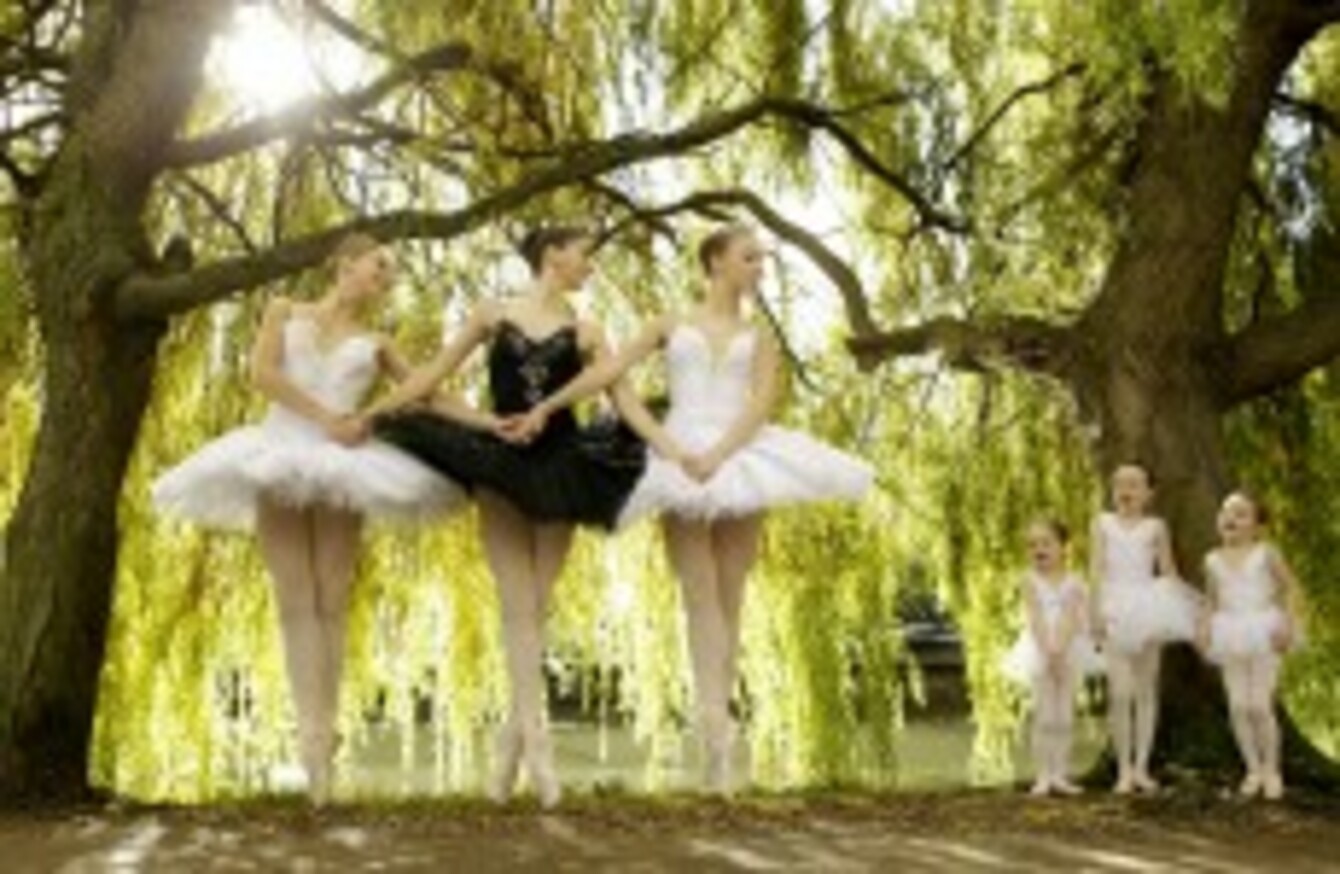 Dancers from the Moscow Ballet on the banks of the Grand Canal in Dublin on Thursday
Image: Julien Behal/PA Wire
Dancers from the Moscow Ballet on the banks of the Grand Canal in Dublin on Thursday
Image: Julien Behal/PA Wire
EVERY SATURDAY MORNING we like to take a look at all the best comments left on the site by you lot over the past week.
There was a lot of talk this week about the Marie Stopes clinic opening in Belfast, Fianna Fáil bouncing back into second place in opinion polls, and whether Irish people will sign up to video their sex lives to try and counter and myths of the porn industry. Then there was the case of the missing dog who came home, women drivers, and the Germany guy who tried to jump through ice and failed. Failed badly.
So here, in no particular order, are the standout comments from the week that was.
One of the speakers at the Dublin Web Summit encouraged Irish people to upload videos of themselves having sex in a bid to counter the myths of the porn industry – and apparently Irish people rushed to sign up. Steve Herron explained why he did:
I'll be honest. I signed up. I like the fact that they are trying to take the sleezyness and nastyness out of porn. They are trying to make it something a loving couple can enjoy together, rather than a shameful secret a man has to hide from his partner.
Creamy Hamstrings was slightly more… sceptical:
Yeah, hold on. I'll try to convince the girlfriend now! "no love its not a porn, its an amateur love video. Now, you just hold that thousand island dressing, I'll get the midget from next door who owns those 2 donkeys. Also, have you seen my leather hockey mask? Just remember though, its a love video.."
Dubliners will be voting in 2014 on whether the city should get a directly elected mayor or not. Chuck Farrelly had an important question:
Cut to the chase; will he have a batphone?
A plane had to make an emergency landing at Dublin Airport on Friday – but luckily it was able to find it, as Dermot D pointed out:
Alan Shatter must be relieved the pilot didn't try landing at Airfield in Dundrum
Is mathematical ability something you're born with? Readers had a good discussion about this under this column on Thursday. Barry O'Brien gave his story:
Up until Junior Cert I thought I was brutal at maths. Whenever I asked a question the teacher looked at me as if I had two heads and asked in amazement how come I couldn't understand it. After the first year I stopped asking questions or paying attention.

I went into Leaving Cert and had a new teacher. He was able to explain things properly and made an effort to actually teach and not embarrass, it was then realised I wasn't actually bad at maths but that a crappy teacher had made me think I was.

That was over ten years ago but now I'm doing an online course on logic and am signed up for courses on algebra, calculus, and algorithms. I'm hoping to start a degree in physics in the next couple of years.
The head of RTE Digital spoke at the Dublin Web Summit this week about how she wants to see all of RTE move to digital. Albert McEinstein had a question:
Does this mean the Rte symphony orchestra will only be allowed use keyboards and those Rolf Harris xylophones?
This is long but good. On this article about whether an iPhone or a Samsung Galaxy blends faster (important question, right?), Hakuin Murphy said this:
I got talking to this guy at a trade show by chance.
Asked him why he was there.
"Oh I do these videos on Youtube where I blend things in a blender"
"Interesting, is it popular?"
"We've got about half a billion views – its the most successful viral marketing campaign in history"
"Really? And do you make money from that?"
"Well, Nike just gave us $80,000 to blend one of their shoes."
"Wow, that's amazing!" I said, "You're the first guy I've ever met who makes his living from Youtube videos. You guys are like unicorns"
"Oh I don't make my living from the videos" he said."I own the company. Our blenders are in every single Starbucks on the planet,"
Guy is minted, but was a nice down to earth Mormon father of seven who seemed like he knew how to enjoy his wealth.
Apropos nothing in particular….
On the same article, Peter 'Nocky' Naughnane brought up some older technology:
My Nokia 5510 (circa. 873bc) would wreck that blender.
On a story about adoption, one user said kids would be bullied if they had parents who were different. Donncha Ó Coileáin had this response:
Niall, kids get picked on for having glasses, for having ginger hair, for being poor, for being rich, for being Polish, for being from another street/town/county, for not having the right runners, for not being good at hurling, for being good at their schoolwork, for being bad of their schoolwork, for having same-sex parents, for having one parent, for being adopted, for living with their grandparents, for having strict parents……. You get the idea.

Bullies look for someone who is different. That is all.
#Open journalism No news is bad news Support The Journal

Your contributions will help us continue to deliver the stories that are important to you

Support us now
A whole lot of rain hit parts of the country earlier this week. This is what Waterford train station looked like (the tracks are somewhere under all that water). There were a lot of good comments from readers but these were the best. From Alan Costello:
They're calling it platform 9 and 3/waters now.

*badum tish*
And from Martin John McGroarty:
irish ferries honouring all tickets
(Image: Irish Rail)
Spot any good comments? Let us know! Mail any suggestions to christine@thejournal.ie