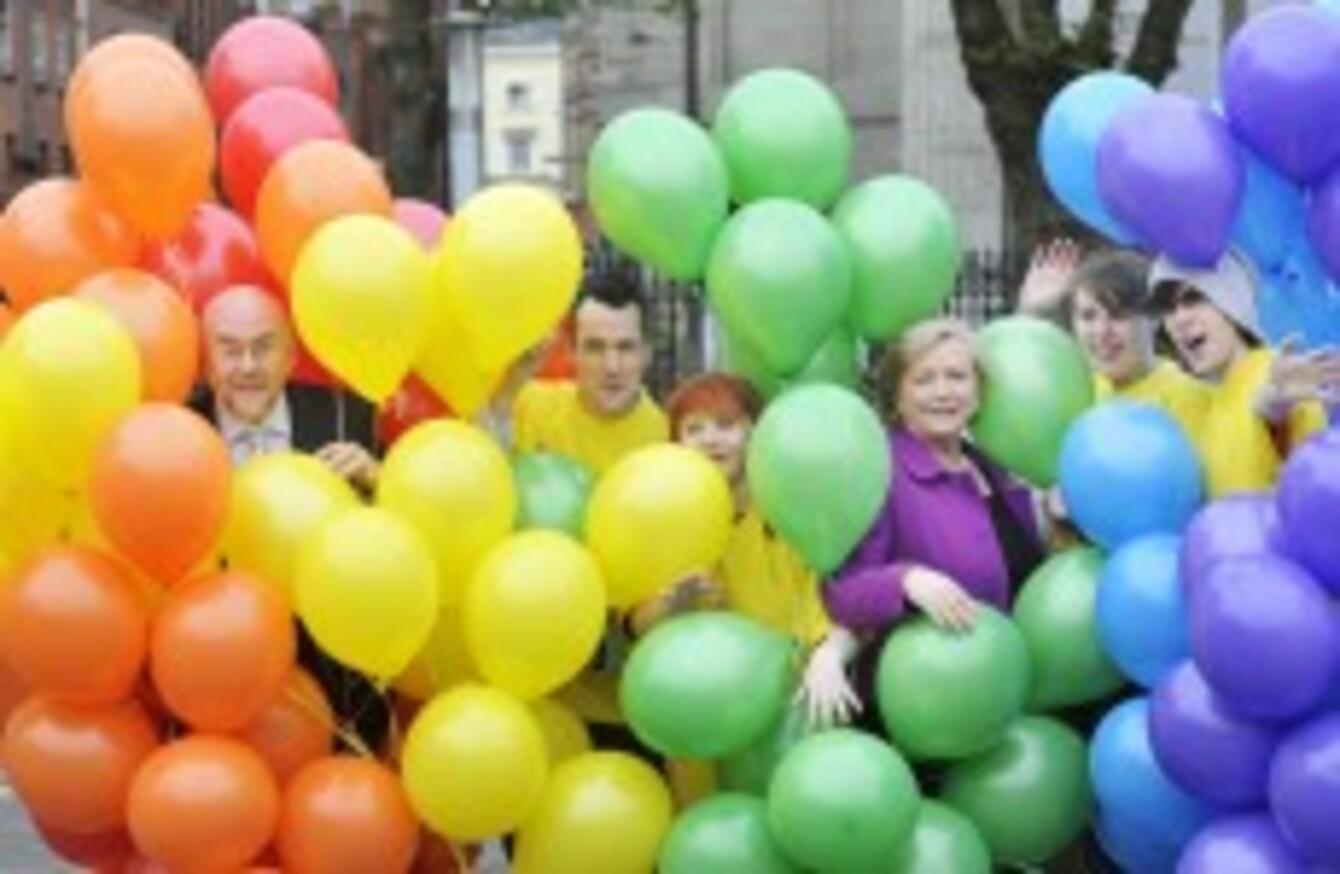 Ruairi Quinn, Minister for Balloons, during the week
Image: Sasko Lazarov/Photocall Ireland
Ruairi Quinn, Minister for Balloons, during the week
Image: Sasko Lazarov/Photocall Ireland
IT'S SATURDAY MORNING so that means one thing here at TheJournal.ie: it's time to take a look back at all the comments left on the site during the week and pick out the ones that most grabbed our attention.
It's our way of highlighting the strongest, funniest and most thought-provoking things that you lot have said over the past few days.
So in no particular order, here are the stand out comments from the week.
Warren Buffett may know something we don't. Yesterday the billionaire said he is going to buy 63 newspapers in America. Conor Conneally had another suggestion for him:
Nice Idea maybe he can buy Irish Papers like the Donegal Democrat, the Longford Leader, the Fermanagh Herald and the Kildare Nationalist. Which should be preserved for their great titles alone
Mitt Romney's path to the Republican nomination for US president became that bit smoother this week with the news that Ron Paul has effectively ended his presidential campaign. Popcorn was already looking ahead to how Ireland can capitalise on a Romney victory:
This story has been over for months. Romneys the man. We should start the search now for a distant relative before another country claims him. If we leave out the 'm' the next President is a Rooney. All we need now is a derelict cottage is Sligo and a few auld codgers for relatives.
The how-is-that-even-possible comment of the week comes from Elrat on an article about how one quarter of motorists groom themselves while driving:
Saw a girl drying her hair on the car heater!!
The head of Yahoo resigned this week after serious mistakes were found on his CV. In Monday's poll, we asked if anyone had ever lied or exaggerated on their CV. Jeffery Potbelly had this story of how someone he knew had done it – and gotten away with it:
Some one I knew years ago lied to get a post grad job. He hadnt been to Uni or had any higher Ed. He got the job, and did brilliantly. I could never understand it because all he did was get some books out of the Library and study the subject (intelligent man) Poor on the behalf of the employer and also how he lived wondering if someone might find him out, I dont know!
Not something I could live with!
Earlier this week the burning question asked a searing Paxman-esque question of readers: Do you squeeze the toothpaste tube from the bottom? Opinions were divided, but Réada Cronin had this rather authoritative response:
I'm a swot. I squeeze from the bottom, and every so often I lay the toothpaste tube on a flat surface and get a pen or something and push the paste all up to the top. Squeezing with your fingers and folding over, like your pic above, isn't as effective. I do the same with ointments. ;)
A national commemoration for the Great Famine was held during the week – which kicked off a debate among commenters about what caused the famine and whether it could be considered genocide. John Conniffe had this to say:
People starved because they did not have access to food. That is a famine. The causes of this lack of access to food do not change that it was a famine. Famine defines the result, not the cause.

Before an event can be classed as genocide, there must be documented proof that the primary intent of the British Empire was to wipe out as many of the Irish people as possible. There must be intent. If the aim was to maintain their level of production in Ireland by ignoring the needs of their cheap workforce, this is negligent and highly immoral, and they should accept the blame, but it would not be genocide. Genocide does not mean "mass killing".
There wasn't a lot of love for The Apprentice which was cancelled by TV3 this week. Diarmaid Twomey got a lot of support for this comment:
The show just turned out to be a string of plugs for Bills pals and their companies. The BBC sent contestants to do real tasks in unknown places with no brands being shoved down your throat. With Bill we were treated to a different brand over plugging themselves every week and Bill saying idiotic things like the Nike swoosh mark was their "tag line". It was pretty embarrassing stuff alot of the time and they really overdid the product placement! Good riddance!
The story by TheJournal.ie's Sinead O'Carroll earlier this week about green lights on taxis kicked off a huge debate among readers about racism. On the one hand, Gearóid Mac Gabhann got a lot of support for this comment:
There's a fine line between being proud to be Irish, and being a narrow minded nationalist bigot. By all means take pride in all things Irish, but not to the exclusion of other people.
While on the flipside, Jane Gray looked at the tough taxi situation a lot of taxi drivers find themselves in:
So Irish taxi drivers are displaying initiative and it shows they are opportunists. These are traits people need to have in that kind of overcrowded profession. I don't know what the lights truly signal, if it's that so they can be seen during the day, good thinking. Some of the yellow lights are difficult to see. If it's to signify that they are Irish, surely that says more about the punters than the taxi driver. They must have got the idea that people prefer Irish taxi drivers from somewhere otherwise it would be a detrimental thing to do. I just feel like they're taking advantage of a situation that presented itself, like anyone trying to make a living. What's to stop any taxi driver buying a green light. I don't see the problem here. If they want a green light buy, don't cry racism, step up to the game. It's a very competitive business. At the end of the day all the balls are in the customers court. They can pick any car they want, they can go any way they want, they can have the radio on or off, they can have the driver's opinions on or off. If people want an Irish driver, get one with a green light, if people don't mind just get the next one that comes along.
A lot of readers left comments about taxis during the week as part of the discussion about racism and taxi drivers. Michael Keelan had this practical advice:
If somebody gets overcharged, brought the wrong route, or have any other complaint against a taxi driver, please do the following:

1. Ask for a receipt

2. If he/ she won't give a receipt, note their SPSV drivers licence number. It should be displayed on their ID.

3. If you can't see any ID or it is not clearly visible, note the roof sign number and car reg.

When you have all or some of these details. Contact the Taxi Regulator, which is now under the control of the NTA, and lodge a complaint.

Don't go on social media sites to bitch and moan about it!  Nothing will be done about it.  Don't rehash other stories either – "a friend of mine got charged x amount by this driver", etc!!
Yesterday Sr Stanislaus Kennedy wrote a column about how extreme poverty is everywhere in Ireland. On the Facebook page, Amie Ryan had this to say:
i'm 27 an when i was 15 one of those people who lived on the streets an hostel's in this dump an i'm sorry but no matter how much money our country has if ur homeless u will never matter ur not a person ur a number thats it everyone thinksvictu all people that are homeless are junkies there not i know i just wish that our government would open its eyes an understand that they are people somebody's daughter somebody son so treat them as u would expect t b treated
And on the same article, Laura Marie Purcell had this to say:
i think this is the main problem that the celtic tiger caused, we all seem less likely to notice anyone else who is struggling, we have all lost community spirit, and expect to get something for everytjing we give…it really isnt that hard to go and check on an elderly neighbour, or to invite a family you know is struggling for a meal etc…if we all just help each other a little more, we may regain a lot of what we lost, and we will all be richer for it
Finally, disco legend Donna Summer died on Thursday. A lot of readers left comments about what her music meant to them – and this one from Jambbie (which was originally two comments) got a lot of thumbs up from other readers:
RIP , used to belt out a few of her songs in the Apartment club on fleet street, great singer, great days.
Used to neck a naggin on the way up from Tara st station.

Then have a lurch (or a wear if you were lucky) with some young wan.

Throw a few shapes to "loves about to change", and another classic " listen to your heart" by Sonia. 

happy days.
Spot any good comments which you think should be here next week? Mail christine@thejournal.ie