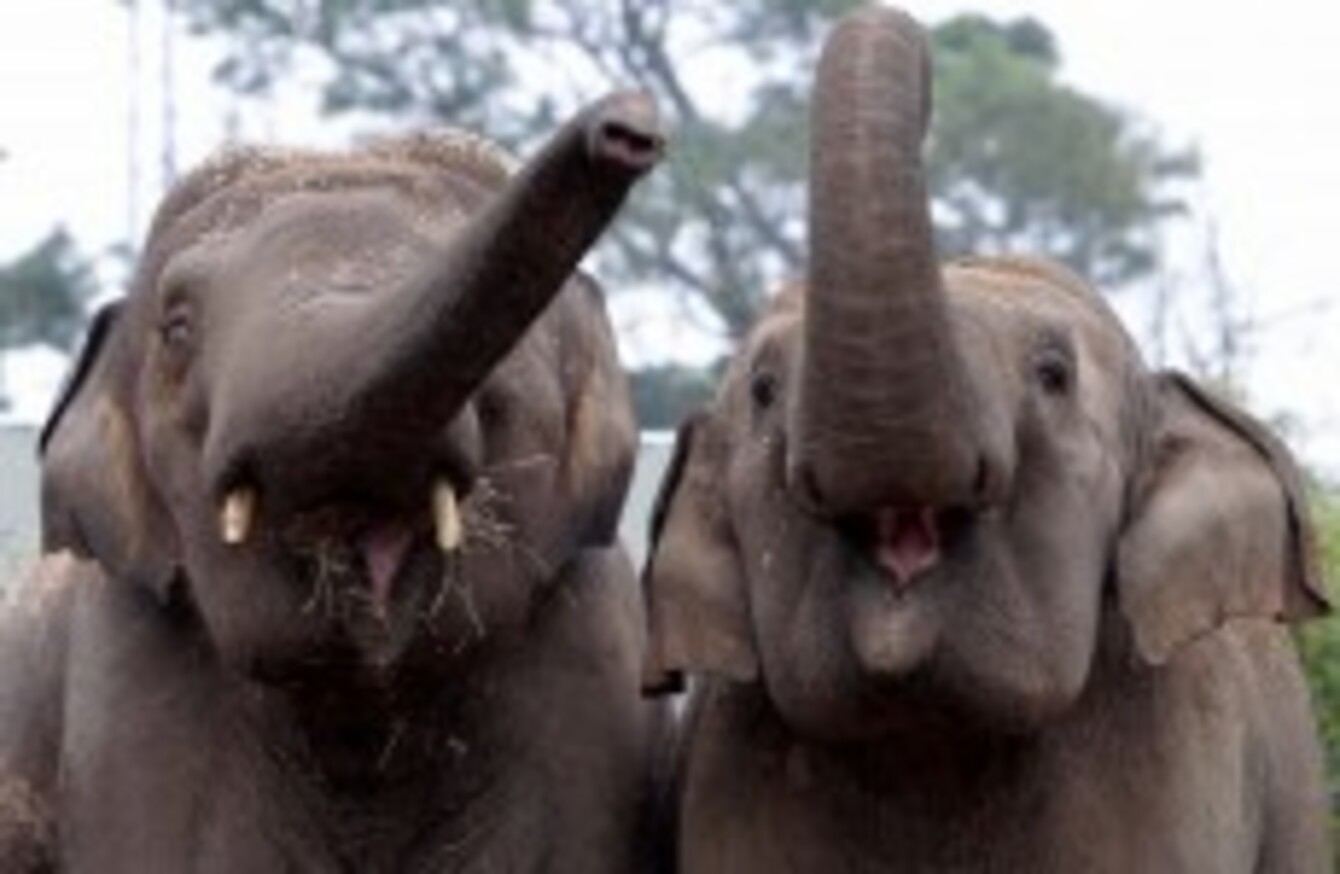 Upali, the new elephant at Dublin Zoo, who arrived during the week.
Image: Mark Stedman/Photocall Ireland
Upali, the new elephant at Dublin Zoo, who arrived during the week.
Image: Mark Stedman/Photocall Ireland
EVERY SATURDAY MORNING we like to take a look at all the best comments left on the site by you lot over the past week.
There's been a lot of discussion this week around the fallout from the Phoenix Park concerts and the verdict in the Michaela McAreavey murder trial – as well as the problems at Ulster Bank, 50 Cent's non-appearance at Dundrum, the Taoiseach on gay marriage, Dublin becoming the European City of Science – and of course, James Reilly.
So here, in no particular order, are the standout comments from the week.
With more than half of students admitting to drinking before the age of 15, Damocles had this suggestion for cutting down on teen drinking:
I blame the parents.

Kids should be introduced to alcohol by seeing their parents in various embarassing alcohol induced states while growing up to frighten them out of consumption.
Pierce2020 got more than 650 thumbs up for alternative name for rapper 50 Cent after his cancelled visit to Dublin:
I like to think of him as 39p Sterling
Do you know your neighbours? Ryan O Neill had a bad experience with his before – but that's changed:
When we moved to a new house the neighbours where a generation older so naturally looked down on us, never said hello etc etc. I swore that if ever a neighbour moved that I would not treat them in the same way. A couple of years later new neighbours, we welcomed them really warmly and have since developed a strong friendship. I know for certain I can call on them day or night if ever I need to and likewise. Not just tea, sugar,a lend of a drill, hose etc. But the helping hand, sympathetic ear and the laughs you share. We have a common goal to live in a nice tidy, happy estate where everyone feels involved (having children helps a lot) For those who don't extend a welcome shame on you, for those that do reap the benifits and it's well worth it. Neighbours are there for life not just for Christmas cards!!
Batman's cape isn't strong enough for him to leap from building to building, apparently. That kicked off a debate in the comments about the caped crusader, and Continent Simian had this to say:
What I would really like to see would the a sociologist's report on the impact Batman punching baddies has on Gotham's crime rate, compared to the impact of Bruce Wayne's charitable donations.
If it pans out as I hope, we may need to swap out Trócaire boxes for capes.
Conor Farrell said this on the article about how Ireland's suicide rate has risen by 7 per cent over the past year:
I lost two people to suicide within the last year. It wasn't because of mortgages or financial pressure or recession.

There are a million and one reasons why you might feel crap, and a lot of the time you won't be able to explain why you're feeling so down. But this is why you need to talk to someone you trust: a good friend, a doctor, anyone. I've been in a rough patch and actively getting a helping hand was the best thing I ever did. So please, just talk and look after yourself!
Is Paschal Donohoe a hipster TD? We published this photo of him on Wednesday suggesting he was, which provoked a lot of debate. Adrian de Cleir had this to say to someone who suggested it was pointless to even discuss it:
Justme, this is a comedic and relevant article of huge value in our current times , a play on the irony of how a profession like a politician of our current times can dress in a fashion that is more resemblant of a type of youth pop culture that in itself tries to be ironic for the upkeep of its own image.

It's a valuable and delightful attack on a hipsters ironic attempts by demonstrating something of even greater irony.I think this article is both contemporary and genius.

Perhaps it is you who is the one who must "get a life", by pursuing the joy of life and all its playful intricacies rather than fighting and resisting them.
Celtic Lady expressed the views of a lot of commenters about the verdict in the Michaela McAreavey murder trial on Thursday:
Very tough for both families. My heart goes out to them. If the evidence was not clear then the two men should not be convicted, though. a quick fix and rounding up the usual suspects is not the answer. Somebody knows the truth but it's not clear yet. I hope someday it will be.
Michael Healy-Rae has suggested that graveyards should have toilets in them. Commenters were dubious. Frank Enstein made this point:
Healy-Rae says that they are always on the outskirts of towns and villages, I have to totally disagree
They are always in the Dead Centre :-)
Ok, I'll get my coat ;)
#Open journalism No news is bad news Support The Journal

Your contributions will help us continue to deliver the stories that are important to you

Support us now
Ever tried hospital food? Nicolle Viljoen had this bad experience after she had just given birth to twins:
I can believe it. Being in hospital, trying to breastfeed newborn twins on what cannot have been more than 900 calories a day of clearly substandard food (mostly a cup of rice with 1/2 cup of whatever mystery-meat of the day), I was perpetually starving, and had to have my husband "smuggle in" food to me every day so I could get adequate calories and better nutrition. There was barely a vegetable in sight, the food was almost always a sickly grey colour, and portions were ultimately less than a side plate's worth for every mother on the floor.
I don't believe it's a question of cost, I regularly cook for a family of 5 on a tight budget, but manage to throw together high quality, nutritious meals from only fresh produce for less than a tenner. @Bryan – I'd have given my left arm for rashers and beans, however small, but breakfast was usually 1/2 cup's worth of stale cereal and skim milk! Overall, my experience of the hospital was wonderful, and the staff were brilliant, but the food situation in our hospitals is simply atrocious. To be honest, I'd rather have had a happy meal, if there were the option!
Really Subtle Use of a Kylie Minogue Song Of the Week goes to Hakuin Murphy, over the news that Kylie and Jason's reunion was cancelled during the week:
As if there weren't too many broken hearts in the world….
Niamh Smith liked the exhibition being held in a Dublin flat featuring photos of life in the complex:
Love those pictures. Love when an artist/photographer ties in history and life, interesting to see that although we are sixty years on the kids are still the same. I am sure not much has changed in the flat complex either.
The newest addition to Dublin Zoo is also the country's biggest teenager –  17-year-old Upali the elephant  weighs in at a massive 9,000 kgs. Getard Langslanger had a suggestion:
Only 17 years old. He'd be some lad to have midfield for the minors
Spot any comments which you think should make it in to comments of the week? Mail christine@thejournal.ie with any suggestions.