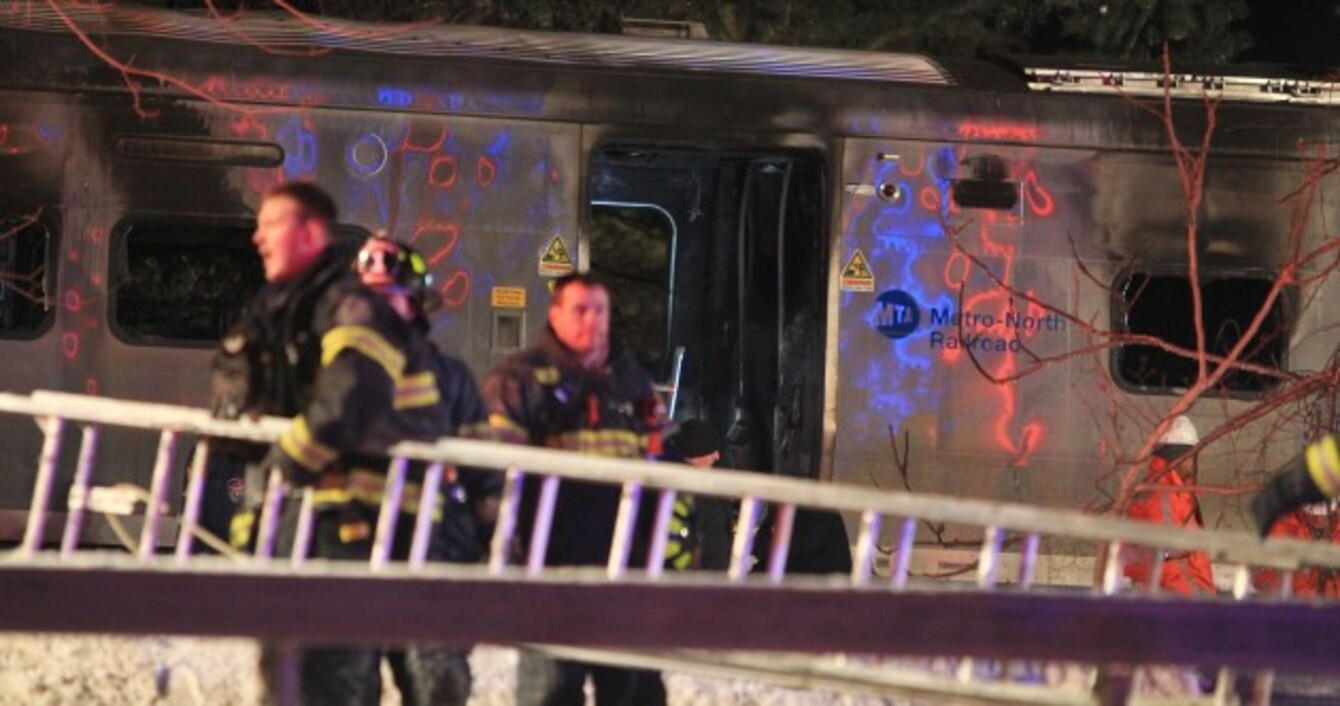 Emergency personnel work at the scene the crash.
Image: AP/Press Association Images
Emergency personnel work at the scene the crash.
Image: AP/Press Association Images
A CROWDED train slammed into a sport utility vehicle on the tracks at a suburban New York crossing and burst into flames, killing seven people and seriously injuring nearly a dozen in the railroad's deadliest crash, authorities said.
The collision involving a Metro-North Railroad train and a Jeep Cherokee on Tuesday evening in Valhalla, about 20 miles north of New York City, sent hundreds of passengers scrambling to get to safety.
Authorities said the impact was so forceful the electrified third rail came up and pierced the train.
Killed were the SUV's driver and six people aboard the train, Governor Andrew Cuomo said, making this crash the railroad's most deadly.
Westchester County Executive Rob Astorino said the front part of the train was "completely charred and burned."
I am amazed anyone got off that train alive. … It must have been pure panic, with the flames, the third rail and the smoke.
Astorino said 12 people were injured, 10 of them seriously.
Authorities said the SUV's driver had gotten out of her vehicle momentarily after the crossing's safety gates came down around her. She then got back in and was trying to drive forward when she was hit, they said.
"You have seven people who started out today to go about their business and aren't going to be making it home tonight," Cuomo said, at the crash site.
The northbound Metro-North Railroad train left Grand Central Terminal in Manhattan around 5:45 pm local time and struck the SUV about 45 minutes later.
It was unclear how fast the train was going, but the maximum would be 60 miles per hour, a railroad official said.
The train shoved the SUV about 10 train car lengths. Smoke poured out of the scorched front rail car, its windows blackened.
"This is a truly ugly and brutal site," Cuomo said.
Witnesses said they saw the flames shooting from where the crash occurred, in a wooded area near a cemetery.
Ryan Cottrell, assistant director at a nearby rock climbing gym, said he had been looking out a window because of an earlier, unrelated car accident and saw the train hit the car, pushing it along.
"The flames erupted pretty quickly," he said.
Around 650 passengers likely were on board.