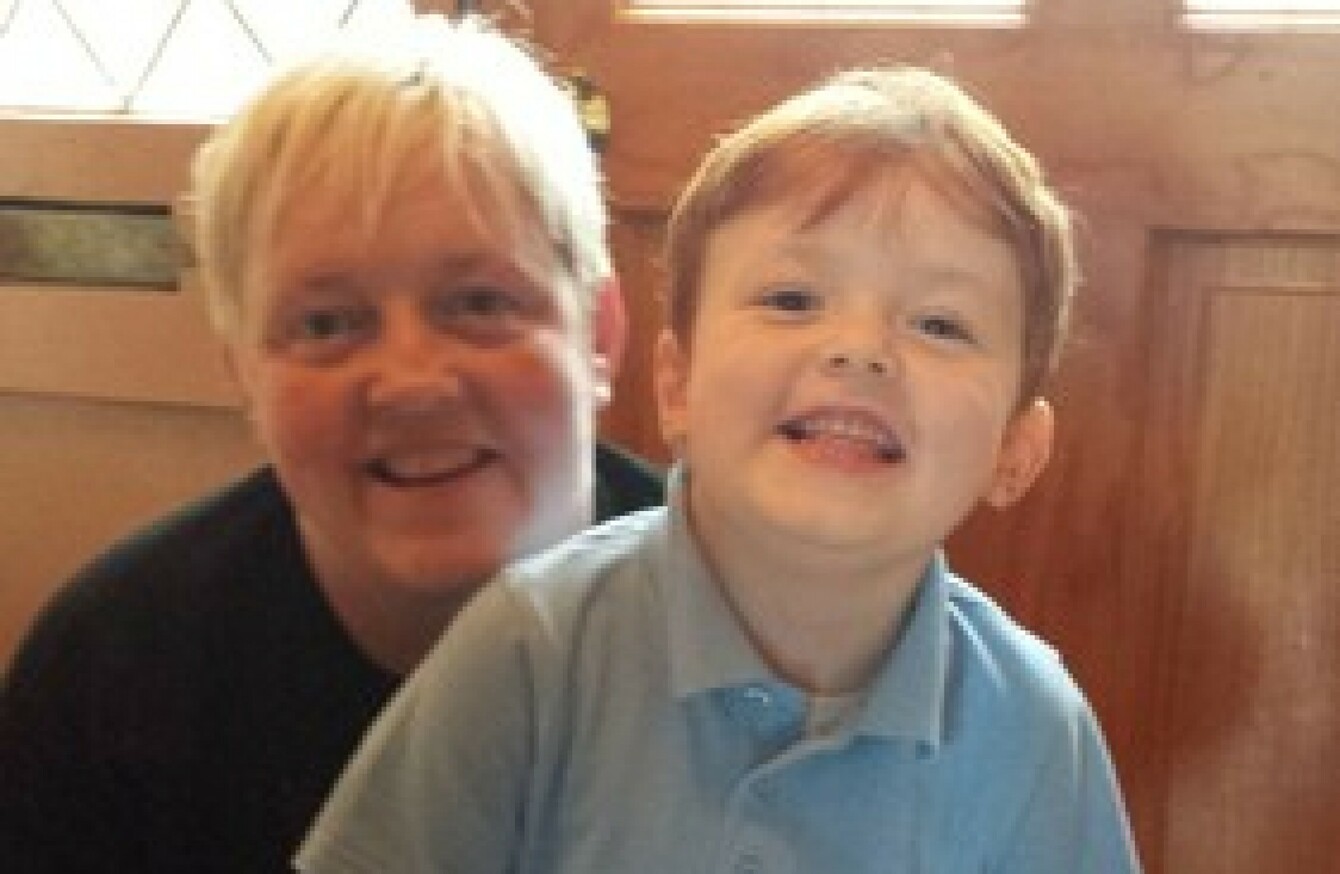 Lewis Harte and his mother Ann Marie.
Image: MDI
Lewis Harte and his mother Ann Marie.
Image: MDI
THE MEDICAL RESEARCH Charities Group (MRCG) has called on the HSE to reconsider its decision to not fund Translarna, a treatment for boys with a specific type of Duchenne muscular dystrophy (DMD).
The HSE's Drug Committee is meeting on Thursday, 18 May, and the MRCG wants the issue to be discussed there.
Muscular Dystrophy Ireland (MDI) said it's only aware of five boys in Ireland with nonsense mutation Duchenne muscular dystrophy (nmDMD). Two of these boys are over five years of age and therefore eligible for Translarna, which is also known as ataluren.
The remaining three boys may become eligible for the drug if they are still walking at the age of five. Most boys with the condition start to lose muscle power at the age of six, with the majority unable to walk by age 12.
DMD is the most common form of muscular dystrophy and it's estimated there are around 100 boys and men living with it in Ireland. The condition affects approximately one in every 3,500 male births.
It arises due to the absence of dystrophin, a protein found on the X chromosome, which is vital in holding muscles together. The condition results in a progressive loss of muscle strength and leads to other serious health issues, such as heart and lung problems.
As boys have only one X chromosome, they are more susceptible to dystrophin damage, unlike girls who have a second X chromosome to make up for the damaged gene.
Not cost-effective 
In 2016, the National Centre for Pharmacoeconomics (NCPE), which conducts the health technology assessment of pharmaceutical products for the Health Service Executive (HSE), did not to give the green light to Translarna.
It was not deemed cost-effective. The price would be over €400,000 per child per year.
Philip Watt, chair of the MRCG, told TheJournal.ie: "As well as looking after the many – people with diseases like cancer and heart conditions that are common – we also have to look after the few … It's heartbreaking how [nmDMD] affects young boys."
Watt said boys in other countries have responded well to the treatment, noting: "They're still walking long after they were predicted to be in wheelchairs."
Watt said people with more common conditions often have more options for the type of treatment they can access, but this isn't the case with many rare diseases such as DMD.
He said pharmaceutical companies "don't want to touch" rare or so-called 'orphan diseases' as "they know governments don't want to pay the high prices, there are massive costs involved but a very small patient base".
He added that some of the money spent on drugs used to treat rare diseases goes into vital research in the area, with a view to finding other treatment options.
If it was your son or daughter, you'd be out there calling for access to it, there but for the grace of God…
"People think 'Oh it's something that's going to affect someone else', but it could affect you or a member of your family further down the line," Watt said.
Ann Marie Walsh-Harte from Castlebar in Co Mayo, whose son Lewis has the condition, previously told us the wait for access to Translarna was "agonising".
#Open journalism No news is bad news Support The Journal

Your contributions will help us continue to deliver the stories that are important to you

Support us now
The only medication available 
Richard Lodge, CEO of MDI, told TheJournal.ie the organisation acknowledges Translarna is an expensive treatment, but added: "It remains the only medication available for these children and has already been made available to patients in most European countries.
For a small number of people, Translarna offers the only current option for slowing the progression of this debilitating and life-limiting condition. This will keep these children active and walking for longer and thereby give them the same life opportunities as their European counterparts.
"Not only will this enable them to participate for significantly longer as an active member of society, it also delays the requirement for other medical interventions and extremely expensive transport and social care supports.
"It is difficult to put a price on the immense value this represents to the young people and families whose quality of life and life expectancy itself is significantly impacted by this condition."
The treatment is available in over 20 countries in Europe, including the UK.
A statement from the HSE said the body has accepted the recommendation of non-reimbursement for Translarna.
However, they added that the HSE is "legally required to set out in detail a notice of any proposed decision to an applicant company and provide at least a 28-day period (from the formal written notice of proposal) to enable the pharmaceutical company to consider any such proposal not to reimburse and to make representations to the HSE if it wishes to do so".
The statement continued: "The HSE is also required to consider any such representations.
"The notice period for the applicant company representations has recently ended and the HSE is now considering the representations received from the company.
"The HSE has also met with the company to fully understand its representations. Under the 2013 Health Act, a final decision can only be made after the representations received have been carefully considered by the HSE."