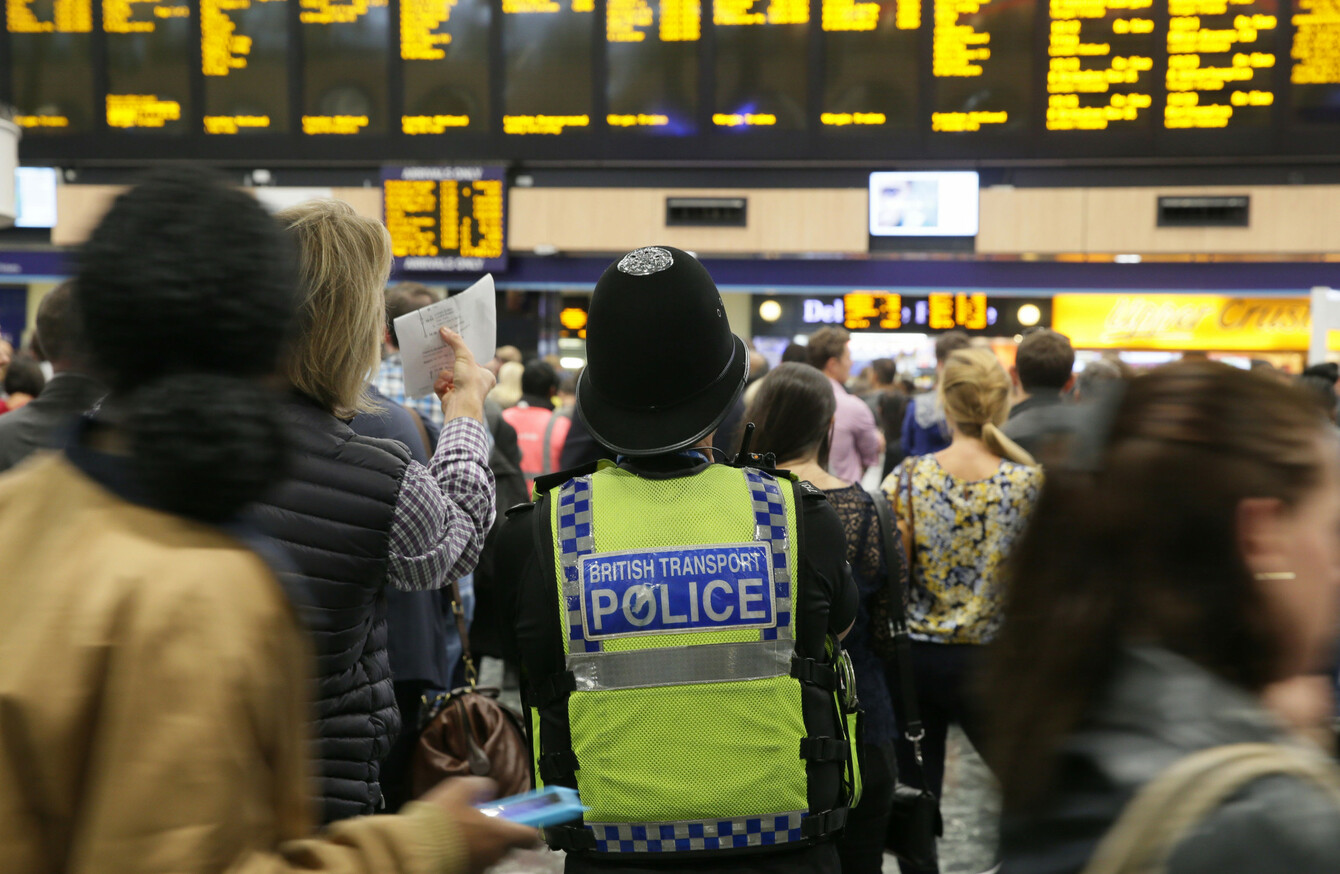 Image: PA Archive/PA Images
Image: PA Archive/PA Images
THE MINISTER FOR Transport is currently seeking opinions from stakeholders on the establishment of a dedicated transport policing service in Ireland to tackle crime in particular on the country's rail network.
For a number of years, representative for transport workers have been calling for a fulltime police service to deal with the hundreds of incidents each year of thefts, muggings, vandalism, sexual harassment, aggressive behaviour and assaults on both staff and passengers.
On 14 June this year, Dermot O'Leary, general secretary of the National Bus and Rail Union (NBRU) wrote to Transport Minister Shane Ross about the "incremental increase, year on year, of incidents some of which are serious assaults" on public transport.
He pointed out that Dublin Bus and Bus Eireann services are regularly withdrawn from certain areas because of anti-social behaviour. He said Iarnród Éireann has attempted to address problems by hiring private security firms.
He appealed to the minister to start a conversation around the creation of a dedicated transport police resources that, unlike the private security staff, would have the powers of detention and arrest, like those of the gardaí.
The minister in his response to O'Leary said he would seek the views of the heads of the various public transport providers on the current arrangements for combating anti-social behaviour. He said he would then review with the Department of Justice and An Garda Síochána, the measures in place to ensure the safety of staff and passengers on the bus and rail network.
A daily basis
Speaking to TheJournal.ie, O'Leary said transport staff are dealing with incidents of aggression "on a daily basis now".
"It has got to the stage now that people are – worryingly – not reporting some of the stuff because it's just become part of the ongoing ritual. And it's all across the board with the offenders, you'd have people in suits who are abusive on the train who walk off it and into an office block for work after."
In one incident in April a train driver in Westport had to come back into one of the carriages because a female passenger had called for assistance. When he got to her, the man who had been causing trouble attacked him and he is still currently on sick leave.
"He was badly injured enough to be taken off by ambulance so it was fairly serious," O'Leary said.
He said incidents like this are a particular problem on the rail network as many stations are unmanned and the driver is often the only person in a position to respond straight away.
"In fairness to the gardaí, they are very good when there is anti-social behaviour along the bus routes and they cooperate with ourselves and the bus companies. With the trains, depending on the nature of the incident and where it happened, it can all be done and dusted by the time they arrive."
The British model
O'Leary would like to see a model similar to that of the British Transport Police (BTP) introduced here, with dedicated officers at train stations and monitoring live CCTV feeds so they can respond quickly to incidents.
A recent independent review of the force, which has more than 3,000 officers, praised the manner in which the it tackles serious and organised crime using intelligence to take on criminals.
At present BTP is running a targeted campaign to address unwanted sexual behaviour on its rail network.
Source: British Transport Police/YouTube
The force regularly issues online appeals for information about crimes like thefts on trains or in stations using images from CCTV.
'Unacceptable'
This week the Siptu trade union echoed the NBRU's call for the establishment of a transport policing service to combat the growing number of incidences of anti-social behaviour across the public transport network.
Siptu organiser John Murphy said members have experienced "a sharp increase in anti-social behaviour" across all transport services.
"Rail, Dart and tram platforms and unmanned train stations are also increasingly becoming a lightening rod for anti-social behaviour. This is unacceptable and something must be done to address the lack of security in these areas."
It is understood the Railway Safety Advisory Council met this week and discussed the possibility of the dedicated transport policing service being structured in a similar vein to other standalone units in An Garda Síochána.
It had received a letter from the department seeking its views on the idea and is due to respond to the minister shortly.
Ensuring passenger safety 
In response to a query from TheJournal.ie, a spokesperson for the Department of Transport Tourism and Sport said:
"There were over 250 million passenger journeys in 2017 on Iarnród Éireann, Bus Éireann, Dublin Bus and the Luas, the vast majority of which occurred without incident.
"The safety and security of passengers and staff, including arrangements to deal with anti-social behaviour on trains, is a matter for the operators in conjunction with, as appropriate, An Garda Síochána, who work in close co-operation with the companies on this issue.
"The Minister for Transport, Tourism and Sport is, however, concerned to ensure that the necessary arrangements are in place to ensure the safety of all passengers and staff travelling and working on our public transport network."
The spokesperson said Ross has asked his department to engage with transport service providers and representatives from unions to explore the adequacy of current policing arrangements.
"Pending the outcome of this engagement, the minister will engage with the Minister for Justice and Equality, if necessary. Any such dedicated transport police that may be considered necessary would require additional resources."