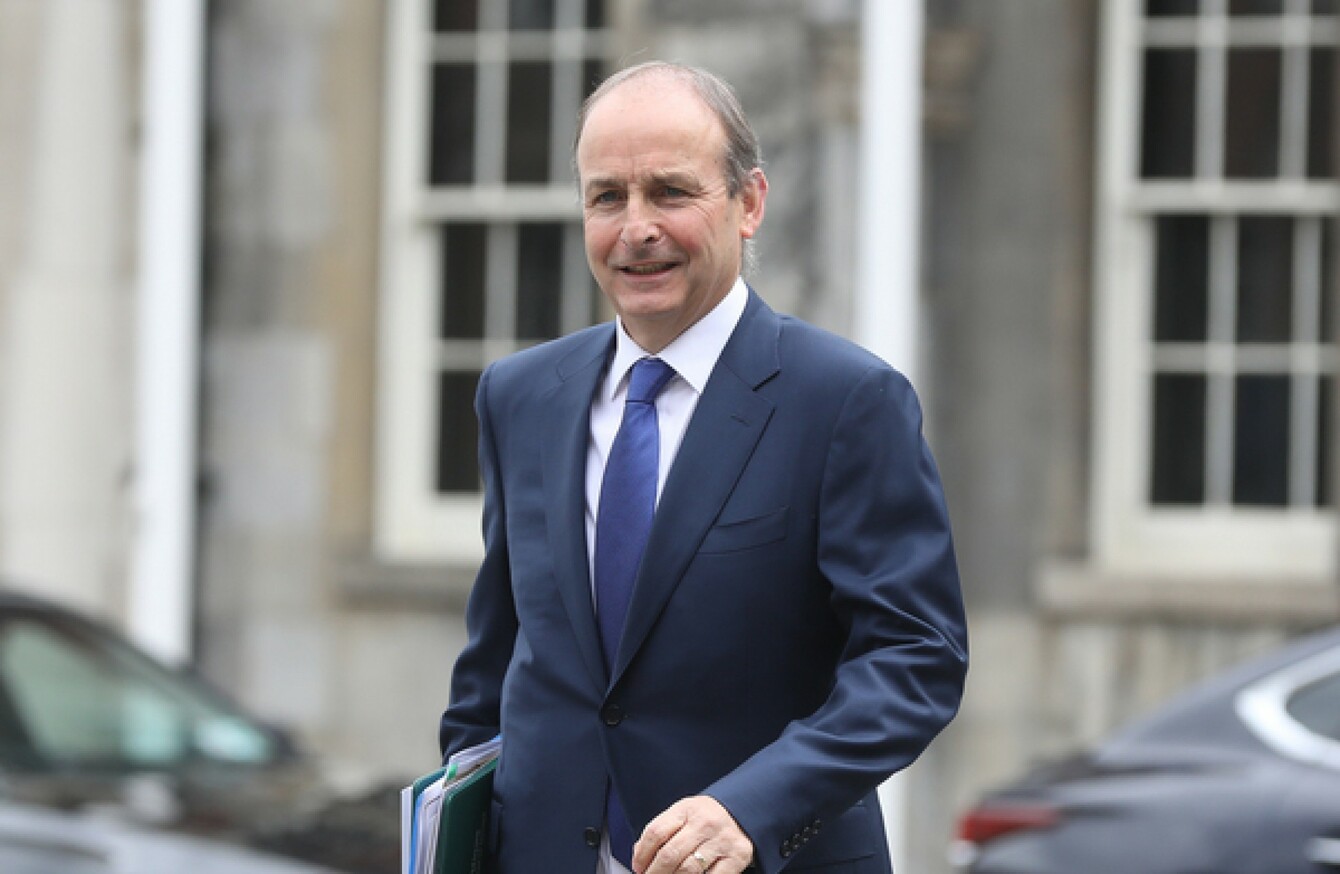 Image: RollingNews.ie
Image: RollingNews.ie
THE CABINET HAS decided not to lift travel restrictions, including the 14-day quarantine advice, for people arriving from other countries.
The revised 'green list' procedures on what countries Ireland can strike 'air bridge' deals with was also signed off on by Cabinet today.
Instead of 9 July, the list will now be published on 20 July.
Speaking to the media at Dublin Castle this evening, the Taoiseach said the decision will be reviewed every two weeks.
"Essentially what we're saying here is countries that have the same disease status as Ireland, or similar to Ireland, will be on that green list, whereby you would be advised that you can travel safely to those countries.
"We will not publish a green list until before the 20th of July and that list will be reviewed every fortnight because it's changing in relation to experiences in other countries.
"People travelling from countries not on the green list will be required to restrict their movements for 14 days," he said.
Minister for Foreign Affairs Simon Coveney said public health experts see international travel "as the number one risk of contributing to a second wave".
He said the government made a series of decisions today that need to be "operationalised" over the next two weeks in the State's airports.
This includes the digitised version of the passenger locator form.
"This is to make sure that we can deal with the increased capacity that's going to be demanded of the State in terms of checking up and communicating with people who've come to Ireland from non-green listed countries to ensure that we know where they are and that they understand their responsibilities," Coveney added.
He said the government is not happy with the level of follow up, and that is being beefed up with new call centre being established to follow up on people that have arrived into Ireland.
"If you look at the numbers in terms of those travelling now to Irish airports, a week ago there were 1,200 passengers arriving into Dublin Airport.
"Yesterday it was 4,000. So you can see the increased numbers of people who are now travelling to Ireland," said Coveney.
Earlier today, Chief Medical Officer Dr Colm Henry said anyone arriving into Ireland from a country with a high incidence of Covid-19 should be subject to mandatory quarantine.
Tánaiste Leo Varadkar said last week that mandatory quarantine is not "workable" as Ireland does not have enough hotels or security staff to roll out such a system. 
Martin told TheJournal.ie that a "pragmatic" approach is needed given the numbers and the capacity issues. 
"In our view, we are still of the view adopted by outgoing government," he said, adding that the decision today means a dedicated team is being set up to improve contact tracing and to check up on peoples' location
Currently, it is not legally mandatory for someone to be detained to ensure they are quarantined. Instead, anyone arriving in Ireland must fill out a passenger locator form with their name, contact details and where they will be self-isolating for for 14 days. 
The Taoiseach said there is a legal obligation on people to fill out that form correctly and there are sanctions if someone willfully gives the wrong information.
"If they are giving misinformation, that is breaking the law," said Coveney. 
Martin said Ireland needs to adopt a cautious approach to international travel given the "volatile" situation with Covid-19 in many countries. Martin specifically cited Spain and the UK in this regard.
"We need to keep the virus suppressed," he said. "We don't want any spike in numbers."
The Taoiseach said that the countries that people would be permitted to go to and travel back from without restrictions would be closely monitored.
He said that the situation constantly changes and that countries who may have been on a green list two weeks ago could not be now. 
Health Minister Stephen Donnelly said that "we are already seeing an upsurge" in the proportion of cases of Covid-19 coming from international travel. 
Minister for Foreign Affairs Simon Coveney said there was a "broad range of countries" that are now in a targeted way reintroducing restrictions aimed at halting the spread of the virus. 
"What we are going to do between now and the 20th of this month is put a green list together of countries we regard at a similar level of risk or less," Coveney said. 
For countries not on that green list, people who return from this places will still be asked to self-isolate for 14 days. 
When considering what countries may go on this green list, Coveney said the criteria will include new cases per 100,000 people (for Ireland, he said this figure was around four) and the reliability of tracing systems in these countries. 
#Open journalism No news is bad news Support The Journal

Your contributions will help us continue to deliver the stories that are important to you

Support us now
He added that passenger numbers through Dublin Airport has risen significantly and that it's important people understand their obligations. 
Coveney warned that there might be cases in the future where someone travels to a country on the 'green list', but while away, that country could be take off the list. In that case, that person would have to self-quarantine for 14 days when they return to Ireland.
"There is a risk to travelling abroad right now… that is why we will get to a place where we can steer people towards countries that are safer… there is no ban of international travel, but if you come here you are required to take yourself out of circulation for 14 days," he said.
In terms of testing passengers for Covid-19, Martin said the Department of Health will examine proposals of a regime of testing at the airports.
However, he warned it could create "logistical" issues whereby the focus of the government's contact tracing team could be on travel, and could dilute the resources of those carrying out contact tracing domestically.
The Taoiseach was also asked about the advertising by the likes of Ryanair and whether it is undermining the public health advice.
"I think yes – it is contrary to the advice, we are giving advice as the government, many people pay heed to that," he said, adding many are complying with the advice. 
He said the government want to work with the airlines, stating that Transport Minister Eamon Ryan will be publishing protocols for airlines and airports to ensure that any travel that does take place is safe. Martin said the airlines on their own cannot dictate public health advice, stating that is a matter for government.
Public gatherings
At the same press conference, the Taoiseach addressed the issue of pubs and people congregating in large numbers at the weekend. 
Images shared on social media of Dame Court in Dublin prompted criticism at the weekend, and Martin warned earlier today that the wider opening of pubs expected in Phase Four could be delayed if rules are flouted.
He said this evening that gardaí conducted a "comprehensive operation" over the weekend to visit pubs to ensure they were following the public health guidelines. 
Over 4,500 premises were inspected and the majority were compliant, but he referenced the selling of alcohol for takeaway purposes leading to large gatherings of people. 
"If this behaviour were to continue we'd have to address it," the Taoiseach said. "Nothing can be guaranteed if this behaviour were to continue."
With reporting from Sean Murray