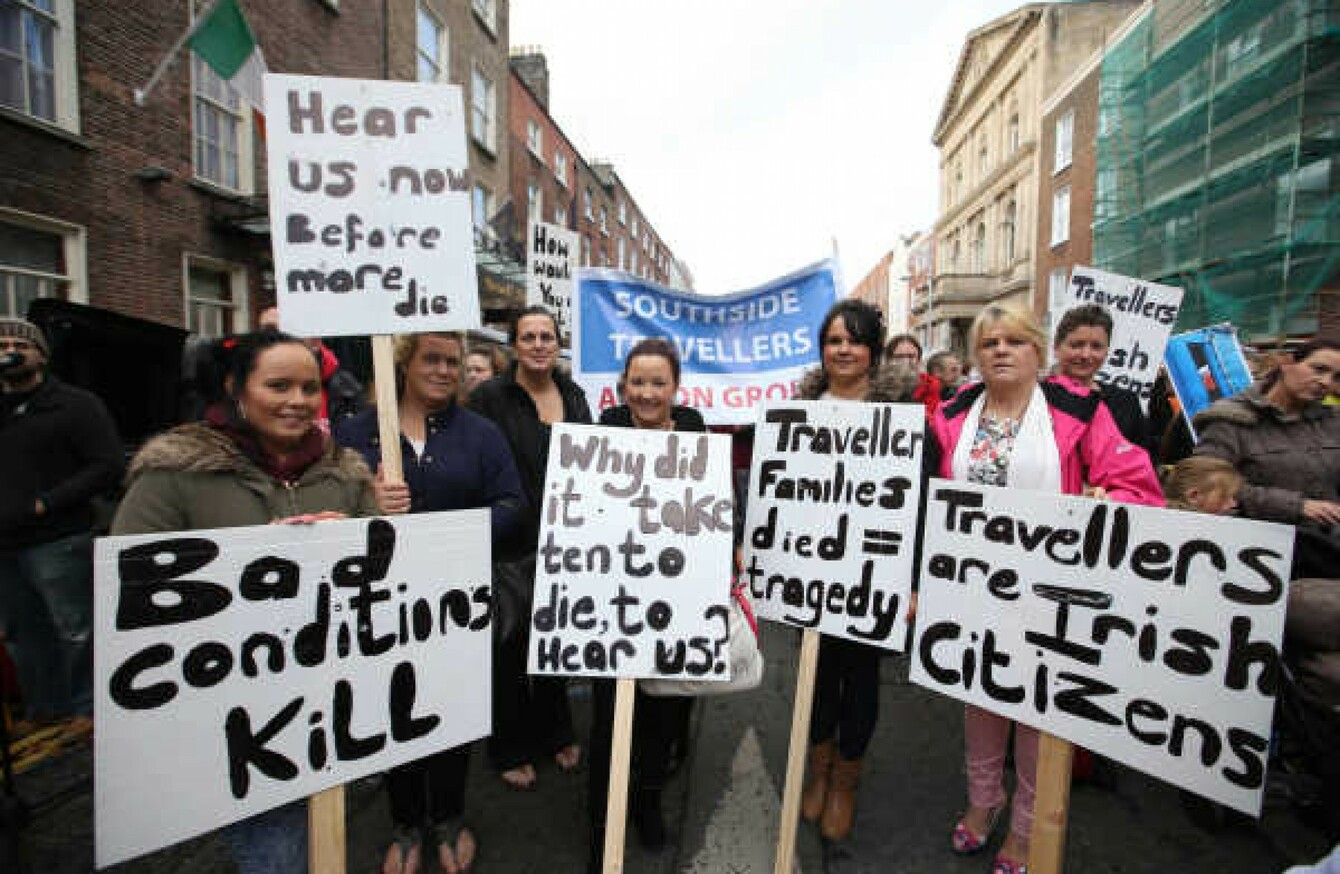 A Traveller protest outside Leinster House last October
Image: Sam Boal/RollingNews.ie
A Traveller protest outside Leinster House last October
Image: Sam Boal/RollingNews.ie
A NATIONAL CONSULTATION plan aimed at better including the Traveller and Roma communities will kick off today.
Meetings will be happening around the country over the next two weeks to allow for input from interested parties.
This feedback will then be used to develop the National Traveller and Roma Inclusion Strategy.
This comes in the wake of controversies in Galway and Louth, where communities of Travellers were evicted from their campsite over health and safety concerns.
These cases have raised biggers issues about Traveller-specific accommodation, and a protest is set to take place outside of the Dáil later today.
What will the meetings be about? 
The first meeting is taking place in Sligo today, with others set to follow in other locations around the country over the course of this week. 
While accommodation will be at the heart of these meetings, other issues set to be discussed include equality, health, employment, education, political participation, and youth and children.
To date, 38 submissions have been received by groups – and in each of these Traveller-specific accommodation has been cited as a major issue.
These submissions have been analysed by the Department of Justice and Equality in consultation with Traveller advocacy group Pavee Point.
It is hoped that the process will result in draft legislation being presented by June of this year.
Will this solve the problems?
While this process might go some way towards developing longer-term strategy, it does not address immediate concerns over Traveller-specific accommodation.
The protest outside the Dáil was not timed to coincide with the launch of the consultation process – but has a focus on the same policy areas.
Speaking to TheJournal.ie, Martin Collins from Pavee Point – who will be participating in today's protest – said:
"What the protest is about is trying to get the message across to politicians and senior civil servants that we are in a crisis. We all know that there is a crisis nationally in terms of housing.
But Travellers tend to be the forgotten ones in this.
Currently, Traveller accommodation is dealt with at local authority level, something that is considered "too political" by Collins. He expressed a hope that responsibility for this could be transferred to a national authority.
The locations of the meetings are:
Athlone – 3 February, Radisson Blu Hotel, 10am – 1pm
Dublin – 11 February, The Atrium, Dept of Justice and Equality, 51 St Stephen's Green, Dublin 2 – 10am – 1pm
Limerick – 16 February, Absolute Hotel, 10am – 1pm