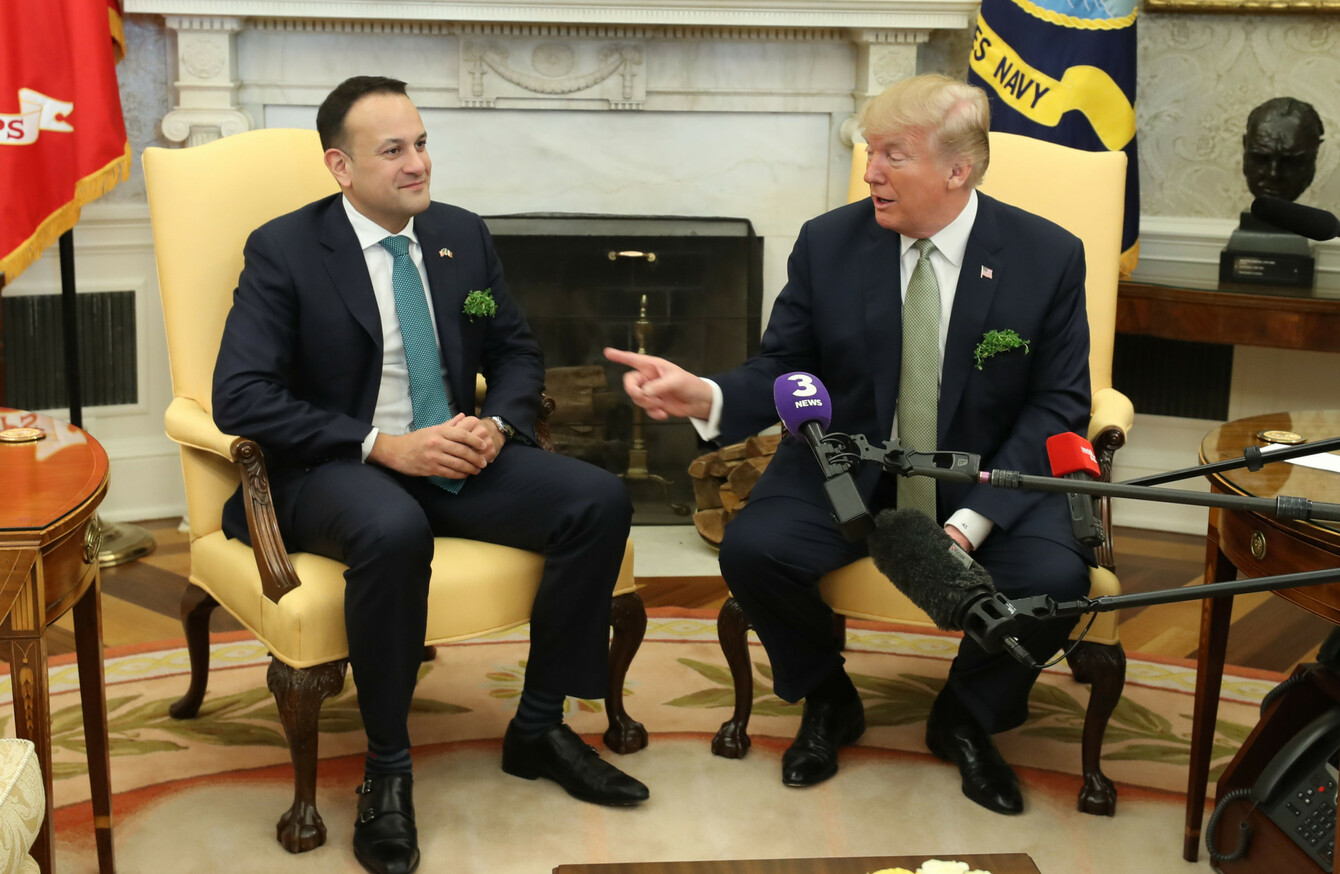 Image: PA Wire/PA Images
Image: PA Wire/PA Images
THE VISIT OF US President Donald Trump to Ireland will cost several million euro, Taoiseach Leo Varadkar has said. 
The total expense of the drop-in tour is yet to be costed by the government, as it is still unclear how long Trump will be staying in the country and what his plans while here are. 
Trump is likely to come to Ireland on 12 or 13 November, according to Tánaiste Simon Coveney, who said the US president is likely to stop off in Ireland on the way back from the Armistice Day commemorations in Paris.
It is understood the US president will visit Dublin and Clare on his trip.
Since the announcement of the visit last week, questions have been asked about how much it will cost. 
Security costs for Pope Francis's visit are expected to reach about €32 million, while visits of President Obama and Queen Elizabeth were almost double the original estimate, costing €36 million.
However, they were more formal events. 
The Taoiseach was asked at the party's annual think-in this week how much the trip will cost. 
"We don't really know how long he is going to stay in the country," said the Taoiseach, saying it may only be one night or two. 
"But there will undoubtedly be security costs… it will certainly be several million," said Varadkar who added that he expects it to cost less than the Pope's visit as the stay is expected to be shorter.
The Taoiseach would not hazard a guess at the cost, stating that he did not want to make up a figure on the spot. 
The announcement of Trump's visit took the government a "little by surprise", the Tánaiste said this week. Sine the news broke, a number of groups and political parties have called for protests to be held. 
Coveney said yesterday that it is a "crazy" idea to stop the US president from visiting, but said difficult issues will be raised with Trump. 
Members of his own Cabinet are expected to protest against the visit, with both junior ministers Finian McGrath and John Halligan stating they are against the planned trip. 
Varadkar told reporters yesterday that protests "rarely change things in my experience". He said there are a lot of governments that are unelected around the world that Ireland engages with, including China, and other administrations that the Irish government disagrees with profoundly.
"Donald Trump, whether we like it or not, is the democratically elected president," said the Taoiseach, adding that the Irish government will engage with the president and his administration the "same way as any other country". 
#Open journalism
No news is bad news
Support The Journal
Your contributions will help us continue to deliver the stories that are important to you
Support us now