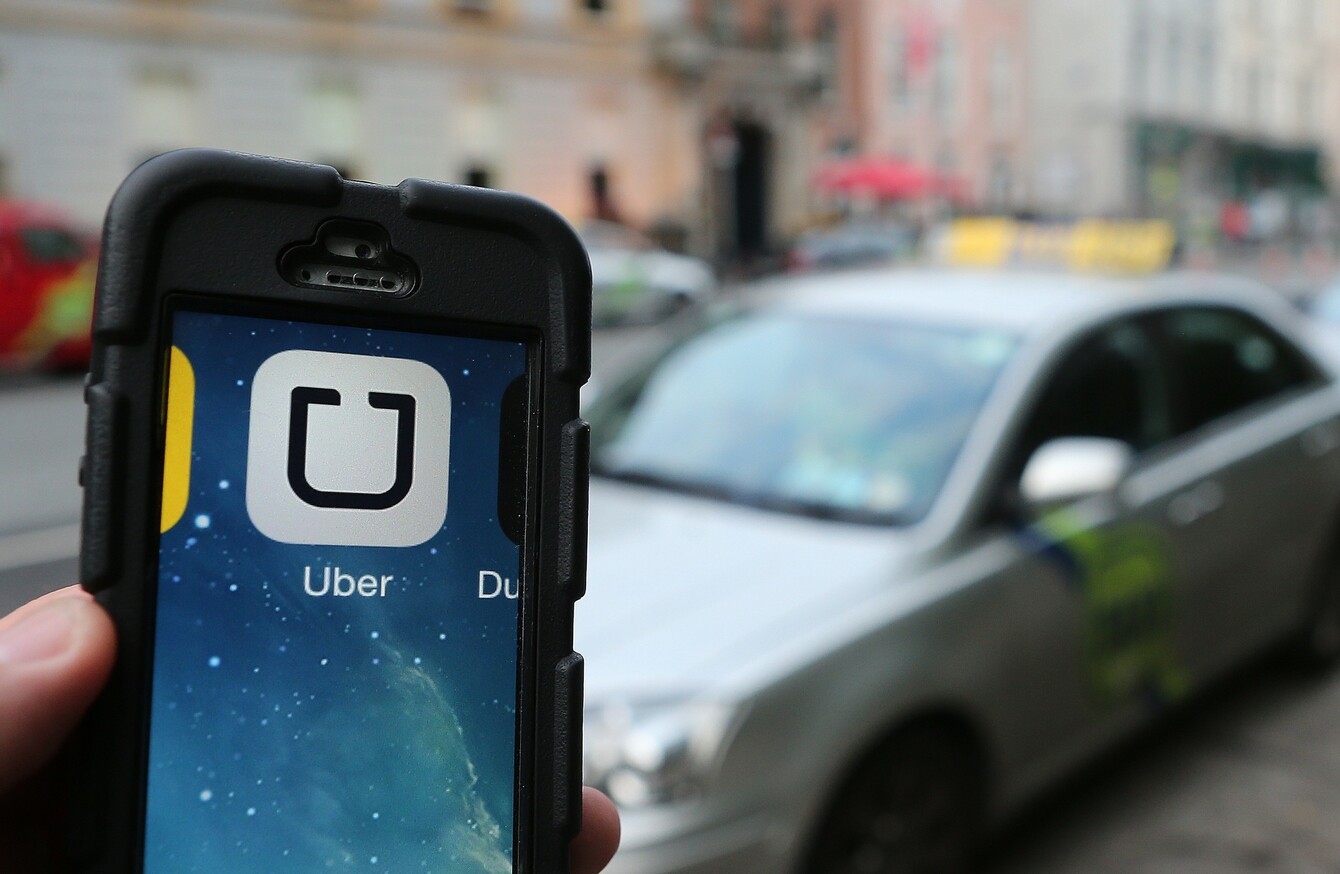 THREE YEARS AFTER surfacing in Ireland and numerous lobbying efforts, Uber is no closer to rolling out the car- and ride-sharing service that has made it the world's most valuable venture-backed company.
The San Francisco tech giant, which was valued at nearly $70 billion on its latest funding round, has been blocked from introducing its core product – facilitating paid trips in private cars – due to Ireland's tight transport regulations.
This means the company has effectively been banned from offering anything other than taxi bookings and trips in chauffeur-driven cars, putting it in competition with the better-established Hailo – now MyTaxi.
Earlier this month the company's plans hit another roadblock when a key advisor to the European Court of Justice (ECJ) said that Uber should be dealt with as a transportation company – rather than a mere intermediary.
This finding, if upheld by the court, could further derail Uber's private-car booking plans in Europe as member states will be free to keep governing the company like a taxi firm.
The company has made no secret of its big plans for Ireland and last year made a sizable investment in the country when it opened its first 'centre of excellence' outside the US in Limerick.
The company already had a presence in Ireland and has both lobbied Irish politicians and filed submissions with the National Transport Authority (NTA) to argue how it can benefit the country's transport system.
At the launch of its new Limerick office last year, the company said it would wait until after the general election to reignite "meaningful" talks with the government, but little headway has been made since.
According to Uber Ireland boss Kieran Harte, there has been "limited conversation" with the NTA and a meeting with Transport Minister Shane Ross – who referred the company back to the NTA.
Harte said the company has made four submissions to the NTA that focus on how Uber can improve transport in Ireland, however the firm is yet to receive a written response.
The NTA confirmed this was the case when contacted by Fora, however it has previously advised other ridesharing companies that their operations would be in breach of Irish laws.
"The challenges for us is we don't understand what the challenge is for the solutions we are suggesting," Harte said.
"We're not really getting a sense of why this is not moving in Ireland at all. We consider ourselves a tech country and a place for tech companies to do business, but it's a bit embarrassing for me, as head of Uber in Ireland, that a lot of international business and travellers arrive on these shores and they can't get a cheap affordable ride in an UberX."
Harte added that the firm is also yet to receive an official response from the NTA about its plans to run a ridesharing pilot in Limerick – which has been backed by the city's council – to test the service's viability in Ireland.
Despite what Harte has described as positive feedback from current and former ministers for transport, the government has taken a very different stance in the public arena.
Last year, Ireland weighed in on the a row between Uber and a Spanish taxi association that has gone to the ECJ. The Republic sided with those arguing Uber's business model should be classified as a transport service, like any regulated taxi-booking provider.
"We were certainly surprised by Ireland's involvement in that," Harte told Fora. "It's fair to say we haven't had a clear response to why that was or where it actually came from.
"We would have thought it was contrary to Enda Kenny getting behind the European single digital market."
New role
At the start of this year, Harte was given an expanded portfolio and now also overlooks large parts of Uber's operations in the UK.
He said Uber has set no deadline for the launch of its car- and ride-sharing in the Republic and is confident it will happen eventually.
"To be honest with you, it has to happen. It just doesn't make sense that this isn't something someone looking at Ireland's transportation system isn't going to see the benefits of.
"It's more a matter of when than if. Unfortunately, at the moment, we seem to be in a period of weak government. I'm not seeing many great ideas across all portfolios – not just transport.
"We're in a moment of static government and there hasn't being much policy development in many areas at all."
Justifying investment
Even though Uber's plans have hit a brick wall in Ireland, Harte said there are no plans to pull out of the country.
Limerick is still the best place for its centre of excellence – which provides customer support for Europe, Africa and the Middle East – due to its access to talent and the English-as-a-first-language factor, according to Harte.
However, he does mention that if no progress is made with the rollout of its core services in the Republic, it will make it harder to justify more investment in the country.
"The challenge for us is that we've got so much growth and so much happening now in other markets, that Ireland is becoming less of a priority for us.
"My role has changed from just covering Ireland to Wales, Scotland, midlands and the south-west of the UK, so we're kind of very much following the cities where there is interest.
"What limits our growth mostly is resources and people and talent, so more of that seems to be getting diverted away from Ireland and into where we have more progressive cities we're operating in."
Uber's Kieran Harte will be speaking at Techconnect Live at the RDS on 31 May.
Sign up to our newsletter to receive a regular digest of Fora's top articles delivered to your inbox.
Written by Killian Woods and posted on Fora.ie