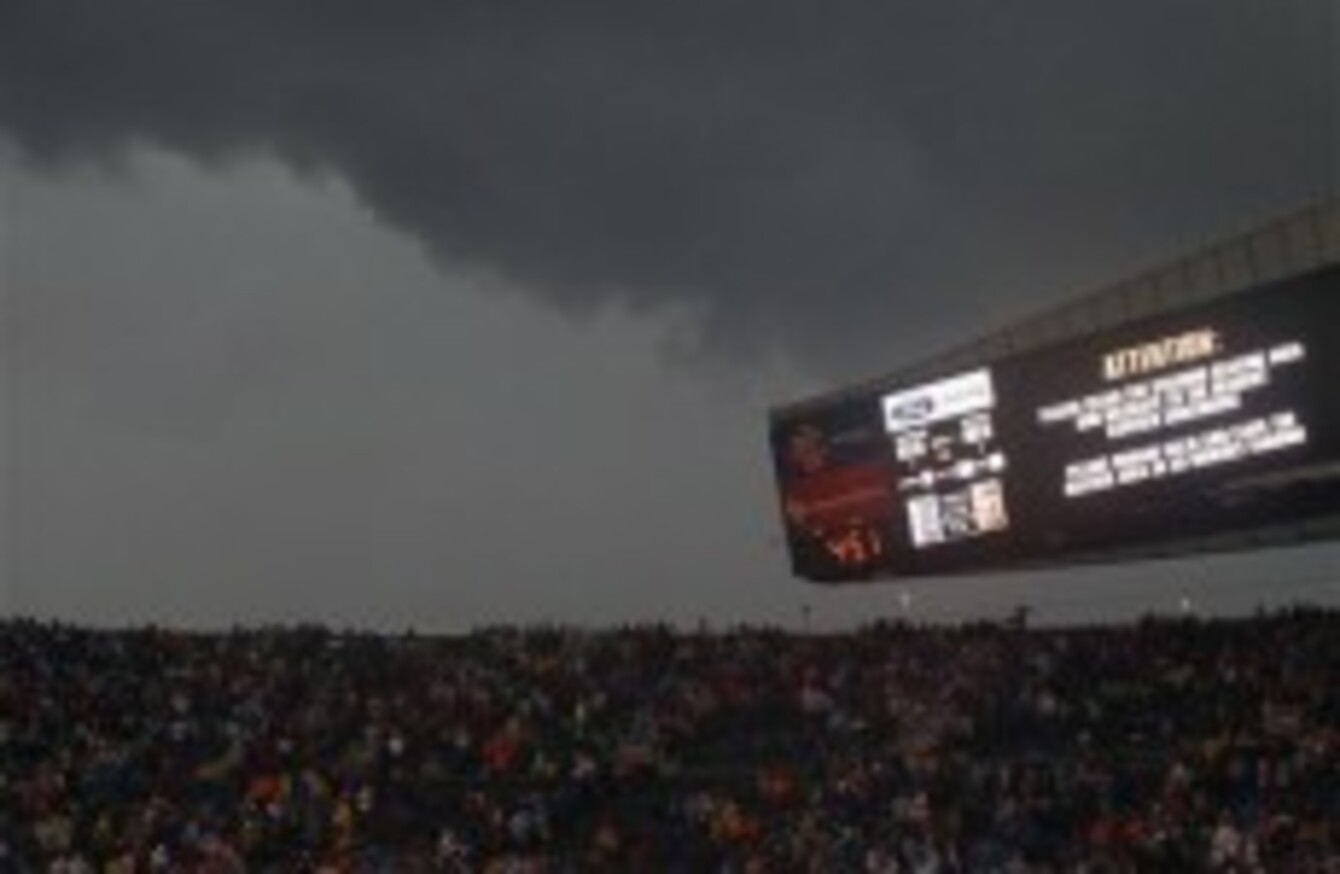 Fans are warned to take cover as a severe storm moves through Soldier Field during the first half of an NFL football game between the Chicago Bears and Baltimore Ravens.
Image: AP Photo
Fans are warned to take cover as a severe storm moves through Soldier Field during the first half of an NFL football game between the Chicago Bears and Baltimore Ravens.
Image: AP Photo
A NUMBER OF Midwestern states in the US are under threat of intense thunderstorms and even tornadoes, with officials raising concerns that people might be caught off guard by such severe weather at this time of year.
"Our primary message is this is a dangerous weathers system that has the potential to be extremely deadly and destructive," said Laura Furgione, deputy director of the National Weather Service National Oceanic and Atmospheric Administration. "Get ready now."
Weather
Weather service officials confirmed that a tornado touched down just before 11am near the central Illinois community of East Peoria, but authorities did not immediately have damage or injury reports.
A news team had to go off the air in the area due to the threat of danger.

(YouTube/newscanalful)
Weather officials said it was moving northeast about 60 mph; East Peoria is about 150 miles southwest of Chicago.
"This is a very dangerous situation," said Russell Schneider, director of the weather service's Storm Prediction Center.
Ten states
"Approximately 53 million in ten states are at significant risk for thunderstorms and tornados."
Schneider noted that the storms are moving at 60 mph, which he said will not give people enough time to seek shelter if they're relying on watching the sky alone.
The potential severity of the storm this late in the season also carries the risk of surprise.
"People can fall into complacency because they don't see severe weather and tornadoes, but we do stress that they should keep a vigilant eye on the weather and have a means to hear a tornado warning because things can change very quickly," said Matt Friedlein, a weather service meteorologist.
Tornadoes
According to agency officials, parts of Illinois, Indiana, southern Michigan and western Ohio are at the greatest risk of seeing tornadoes, large hail and damaging winds throughout the day.
Strong winds and atmospheric instability were expected to sweep across the central Plains during the day before pushing into the mid-Atlantic states and northeast by evening. Many of the storms were expected to become supercells, with the potential to produce tornadoes, large hail and destructive winds.
In Chicago, the Office of Emergency Management and Communications issued a warning to fans attending making their way to Soldier Field to watch the Chicago Bears host the Baltimore Ravens. It urged fans "to take extra precautions and … appropriate measures to ensure their personal safety."
And in McHenry County, northwest of Chicago, funnel clouds were spotted late Sunday morning, dropping out of the clouds and then retreating again, said Bob Ellsworth, the assistant director of the county's emergency management agency. Ellsworth added that none had touched the ground or caused any damage.
Warning
Around the same time, the weather service issued a tornado warning for parts of Kenosha, Racine and Walworth counties in Wisconsin.

(YouTube/US Tornadoes)
Friedlein said that such strong storms are rare this late in the year because there usually isn't enough heat from the sun to sustain the thunderstorms.
But he said temperatures today are expected to reach into the 60s and 70s, which he said is warm enough to help produce severe weather when it is coupled with winds, which are typically stronger this time of year than in the summer.
"You don't need temperatures in the 80s and 90s to produce severe weather (because) the strong winds compensate for the lack of heating," he said. "That sets the stage for what we call wind shear, which may produce tornadoes."