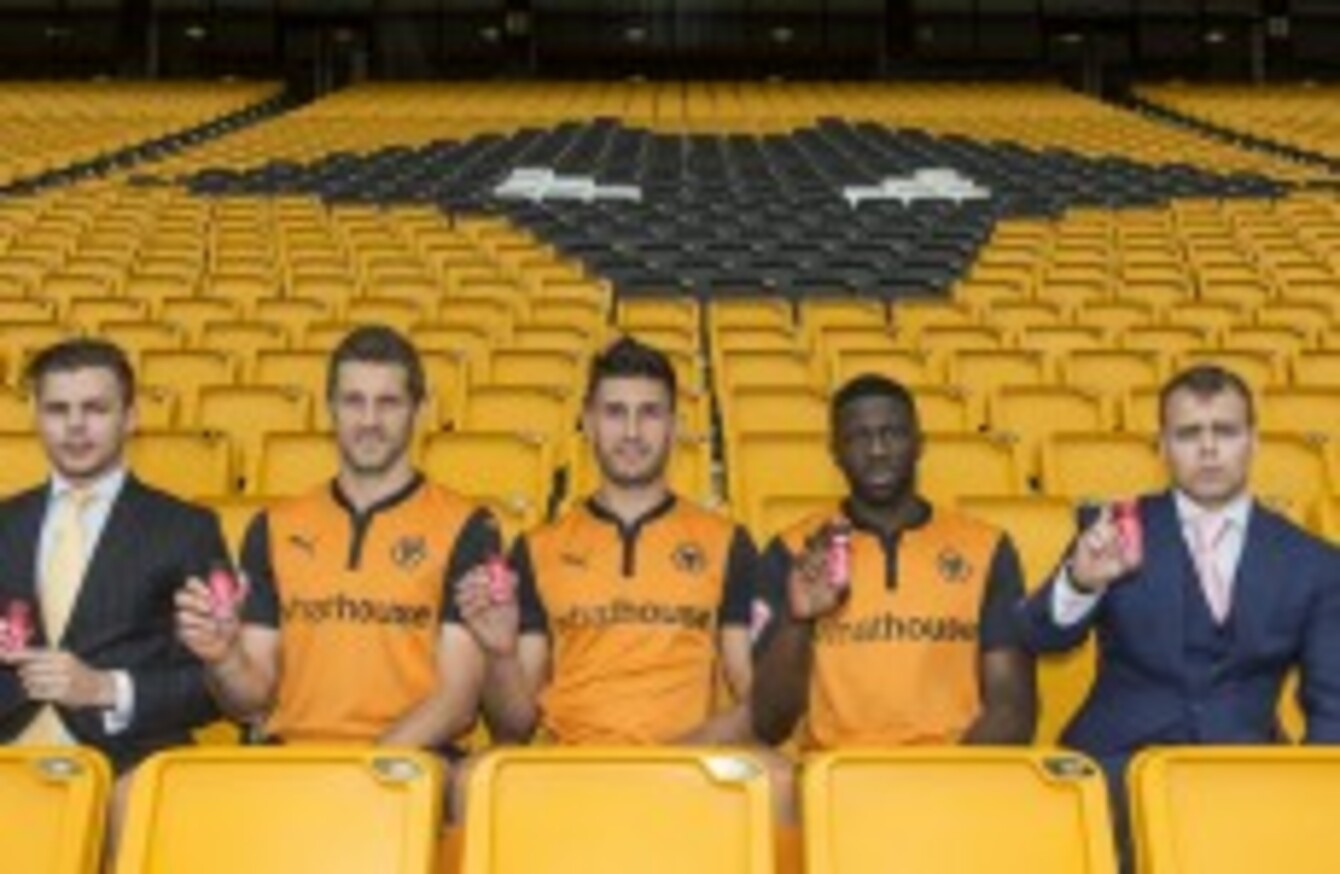 Ciaran Greenwood, far right, with players from the Wolverhampton Wanderers FC.
Ciaran Greenwood, far right, with players from the Wolverhampton Wanderers FC.
HE DROPPED OUT of school a few months before his leaving certificate to trade gold on the internet – then decided to throw his cash into little red capsules for gym fanatics.
By all measures it has been an unusual apprenticeship for self-taught entrepreneur Ciaran Greenwood, a 21-year-old upstart who is trying to shake up the burgeoning sports supplement industry with his V12 "protein shots".
"From the age of around 16 I was interest in going the gym and playing sport, rugby in particular," the Limerick-born entrepreneur told TheJournal.ie.
"I started taking protein products, using powder to mix shakes, but it wasn't very convenient; then I realised how much the market was growing over the years."
Made in Ireland, sold in the UK
He contacted manufacturers in Ireland and eventually found one that could produce what he wanted - "a little protein shot" – although the source remains a well-guarded secret.
With operations based in Shannon, Co Clare, the V12 Protein Shot - a high-protein, no-fat alternative to shakes and powders – has been on the UK market for just over a year and Greenwood is now planning a push back into his home country within the next 12 months.
"My plans are to launch in Ireland quite soon; the market is clearly growing here as well and I think the product is going to do well here," he said.
Market researcher Euromonitor has forecast 7% ongoing growth in the Irish sports nutrition industry, which is currently dominated by Maximuscle with over 30% of the local market.
Source: Andro/YouTube
Greenwood's strategy to grow the business will be to target big retailers and sign more distribution deals in the UK, where the protein shots are sold through online supermarket Ocado.
He has also struck a partnership with the Wolverhampton Wanderers FC, commonly known as the Wolves, who have been using the product as part of their post-game recovery for the past two seasons.
Back yourself, learn as you go
Greenwood, who describes himself as a self-taught businessman, said other young entrepreneurs shouldn't be afraid to "go towards what you want to do".
"I think a lot of people are in university courses because their nudged there by their parents and, as a result of it, they end up forced into a career path they don't like," he said.
And don't be afraid to teach yourself, although be prepared to make a few mistakes.
"Experience is invaluable so learning as you go is just a great way of doing things."
READ: Trying to stay fit? Don't just count calories, count proteins
READ: Player burnout no problem if you 'do all the small things right' … and eat plenty of steak