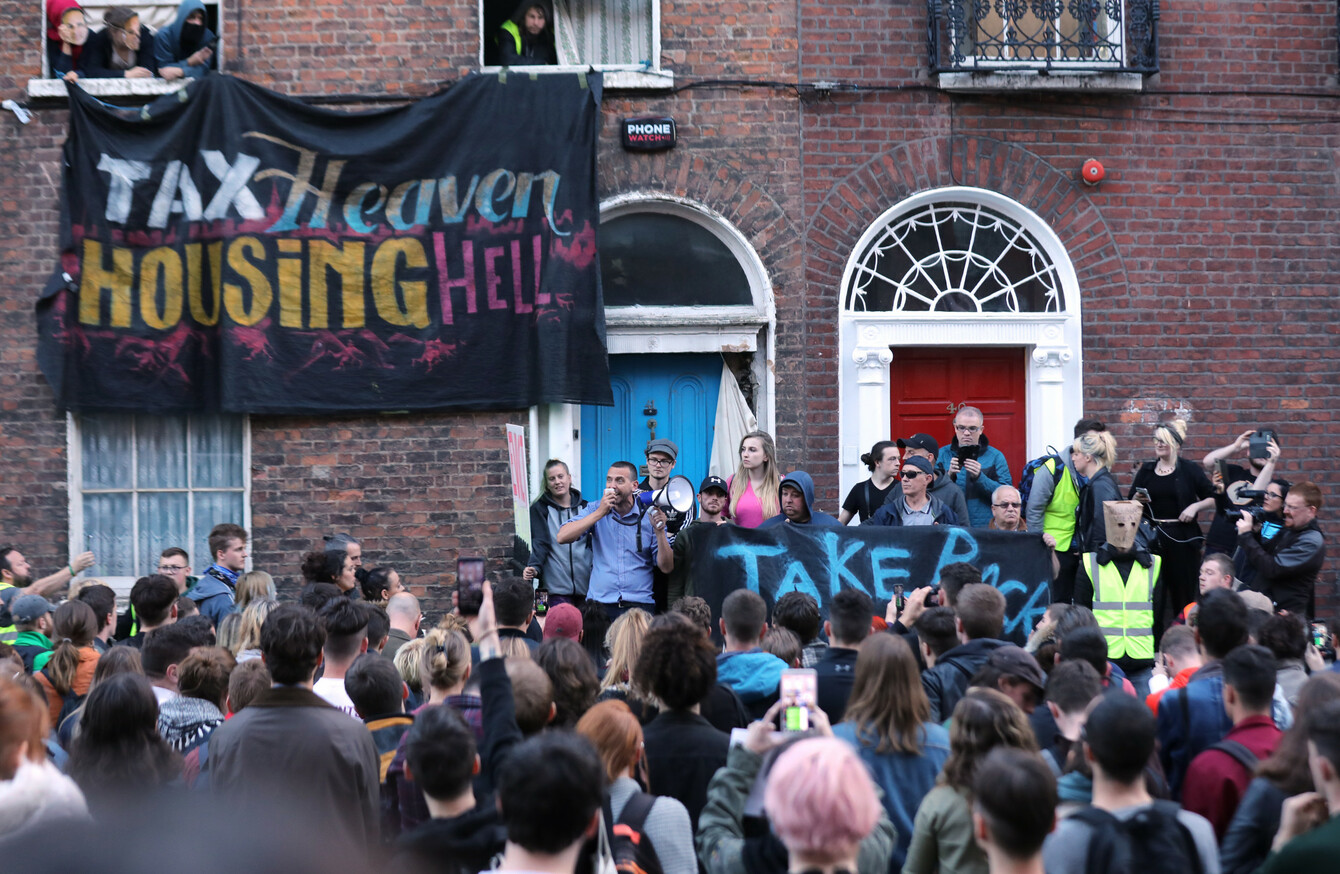 Take Back the City protests in Dublin earlier this month.
Image: Eamonn Farrell/RollingNews.ie
Take Back the City protests in Dublin earlier this month.
Image: Eamonn Farrell/RollingNews.ie
THE HOUSING CRISIS has so many different strands that it often takes something exceptional to put the focus on a particular issue.
During the summer, the case of Margaret Cash made everyone sit up and acknowledge the reality of families having nowhere to live.
Come autumn, the Take Back the City protests and the State's reaction to them has placed the glare on the issue of vacant housing.
It was timely therefore that a government-commissioned report on this very issue was delivered during the week by economic consultancy firm Indecon.
The Indecon report was looking specifically at whether a vacant property tax could and should be used as method of dislodging some of underused housing out there.
Its conclusion was that it should not be.
It argued that the rate of vacant property is already declining and that such a tax "could represent a distraction" from a number of more effective interventions.
Among them, the need for more social housing and the accelerated construction of affordable housing.
"While such a tax would be likely to generate significant media and public attention… Indecon does not believe that this would be supported by the evidence," the report stated.
In short, Indecon was not a fan of the idea.
Finance Minister Paschal Donohoe has said that he will consider the report before making his views known but, given the firm view of the report, it's unlikely he'll come to a different conclusion.
If the idea is indeed dead in the water it brings to an end one of the proposals that has been floating around for some time and from a variety of corners.
When running for the leadership of Fine Gael, Leo Varadkar said that he was in favour of such a tax and as Taoiseach he repeated the view that it was being considered.
Varadkar acknowledged that it would not be a "game changer" in making housing available but did say it could be used as part of a package of measures to stimulate the market.
Regardless of Indecon opinion, if the proposal is indeed dropped it is likely to be used by the opposition as evidence of a government that is not doing all it can to fight the housing crisis.
Sinn Féin has previously criticised the government for not introducing a vacant property tax and again this week restated its position that it is in favour of such a measure.
"Properties stuck in probate or related to the Fair Deal scheme should obviously not be taxed," Eoin Ó Broin said in response to a query.
However, where properties are left vacant for lengthy periods of time, particularly by banks, funds and professional landlords they should be subject to a tax based on a portion of their market value and increasing incrementally on an annual basis.
Fianna Fáil is said to be more unsure over the potential benefit of a vacant property tax.
A report in the Irish Examiner on Wednesday said that a number of party members at this week's parliamentary voiced their support for such a measure – but that no decision had been taken on a stance ahead of the budget.
The party's official line is that it is has no plans to support a vacant property tax but it will be "keeping it under review", as is recommended by the report.
It is believed that Fianna Fáil on the whole is more in favour of tax breaks to encourage the disposal of vacant property than additional taxes.
This measure was one of the alternative recommendations in the Indecon report and it is also the one that Donohoe has spoken favourably about.
The report suggests reducing the capital gains tax on the sale of vacant housing units from 33% to 15% but for "a restricted period", thus prodding the property owner into action.
Just over two weeks out from the budget, it would not be a surprise to see this measure included in Donohoe's speech but it is questionable if it would placate the detractors.
While Indecon may warn about measures that grab publicity, this alternative in essentially rewarding those who have been hoarding property surely won't go down well with housing activists and their supporters.
The government may be at pains to point out that "there is no single solution" to the housing crisis, but discounting even a part-measure is unlikely to solve things either.