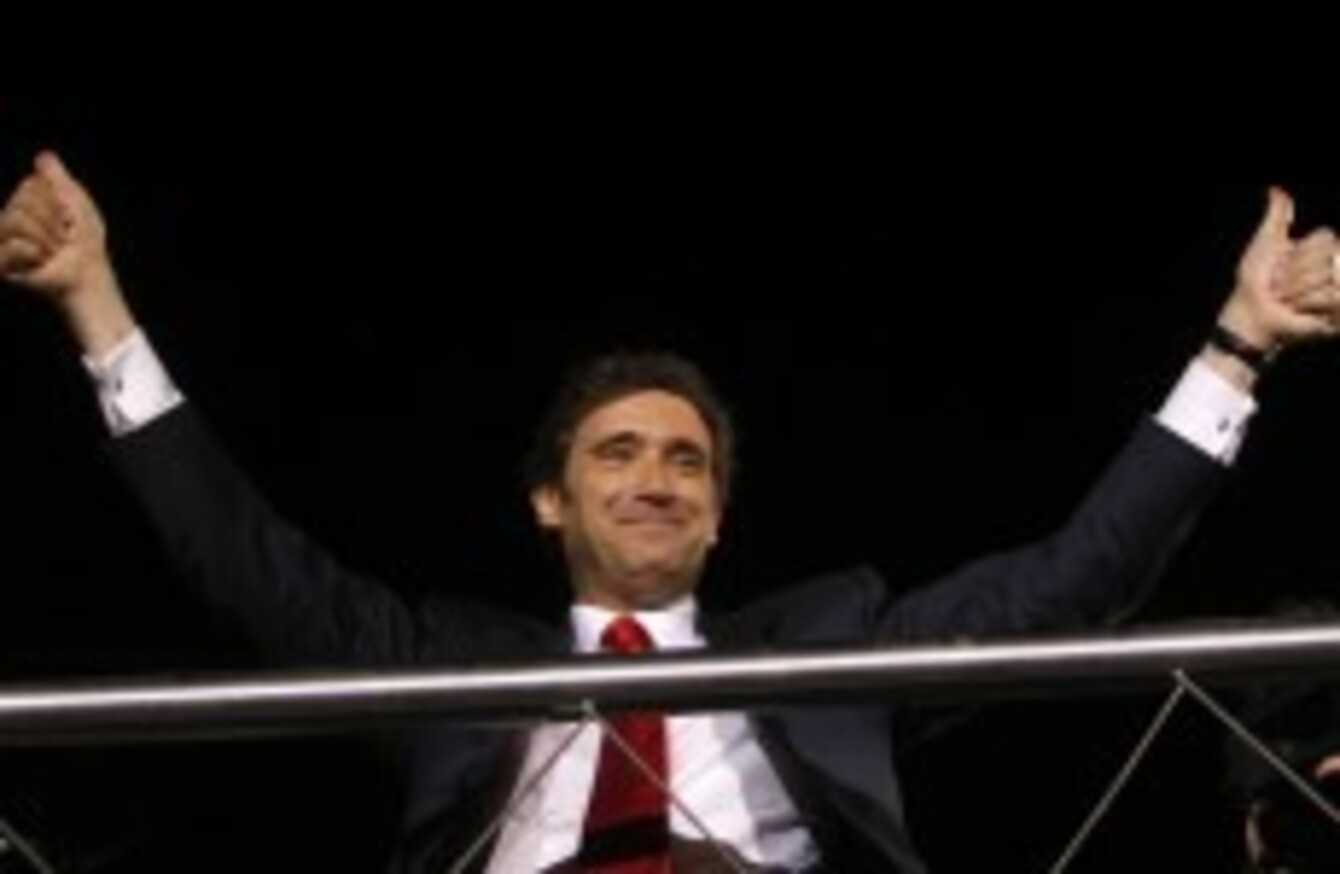 Portugal's next prime minister Pedro Passos Coelho celebrates last night.
Image: Francisco seco/AP/Press Association Images
Portugal's next prime minister Pedro Passos Coelho celebrates last night.
Image: Francisco seco/AP/Press Association Images
PORTUGAL'S SOCIAL DEMOCRATS unseated the Socialist government in an emphatic election victory yesterday, giving the centre-right party a strong mandate to enact a grinding austerity program demanded in return for a €78 billion international bailout.
Though the severe debt-reduction measures are expected to pitch the country into deep recession and bring sharply lower living standards in what already is one of western Europe's poorest countries, parties that support the effort to restore fiscal health collected around 80 per cent of the vote.
That outcome is reassuring for European leaders keen to draw a line under the continent's debt crisis which they have battled to vanquish for more than a year, especially as Greece's financial woes continue to worry investors.
The Social Democratic Party elected 105 lawmakers in the 230-seat Parliament compared with 73 for the second-placed Socialists.
The Social Democrat share represented about 39 percent of the vote. The centre-left Socialists' share was 28 percent.
Social Democrat leader Pedro Passos Coelho, who will likely become prime minister, said his government "will do everything in its power to overcome the great difficulties we face and also provide assurances that [Portugal] won't be a financial burden" on Europe.
As Social Democrat supporters waving the party's white-and-orange flags poured into Lisbon's main street, the Avenida da Liberdade, to celebrate their triumph, Passos Coelho said he aimed to restore market confidence in the country and provide "a window of hope" for the Portuguese.
Portugal is one of the 17 countries that use the shared euro currency. Its economy accounts for less than 2 percent of the bloc's gross domestic product, but its fiscal troubles have aggravated investor fears about the soundness of the eurozone in general.
Though the Social Democrats fell short of an absolute majority in Parliament, where they will need approval for their policies, they could turn for support to the smaller, conservative Popular Party, which snared 24 seats.
Together, the traditional allies have more than half the places in the new Parliament, allowing them a majority that provides a free run to introduce the laws and measures they want, though some measures may require constitutional changes that would take an extended period to adopt.
Passos Coelho, whose party begins a four-year term in government, said he intended to consult other parties about possible power-sharing to ensure a solid government, though he declined to offer details of his plans.
The Socialists, who have been in charge for the past six years of economic decline, have also given their blessing to the debt-reduction conditions for receiving the bailout from Portugal's European partners and the International Monetary Fund.
As in Ireland, where a Fianna Fáil government lost heavily in an election after taking a bailout and adopting austerity policies, paid heavily for the country's economic downturn.
The Social Democrats had asked for a clear endorsement at the ballot box that would give them a strong mandate to make tax hikes and welfare cuts and introduce longer-term economic reforms such as making it easier to hire and fire workers — a proposal parties on the left have balked at.
Passos Coelho faces the formidable task of trying to nurse the debt-wracked country of 10.6 million back to financial health after a decade of negligible growth when it borrowed more than it could afford.
The new government inherits a record jobless rate of 12.6 percent and an anticipated economic contraction of 4 percent over the next two years. Necessary welfare and pay cuts, tax hikes and promises from trade unions not to strike will also present tough challenges.
Given its continuing difficulties, Portugal still hasn't escaped the possibility of a financial catastrophe.
The new government must move quickly to enact more than 200 measures over the next two years, cutting expenditure and reforming social and economic sectors in accordance with the bailout terms. At the same time, it has to find a way to engineer the fresh growth that will allow it to free itself from debt in the long term.
Any sign that Portugal s not abiding by the terms of its bailout agreement with its eurozone partners and the International Monetary Fund will likely add fuel to Europe's debt crisis.
There are already signs of bailout fatigue among the continent's wealthier nations, with Greece's financial future remaining uncertain as its original bailout appears too small.
With reforms billed as vast changes in Portuguese expectations and way of life, keeping the political peace in Portugal won't be easy.
- AP