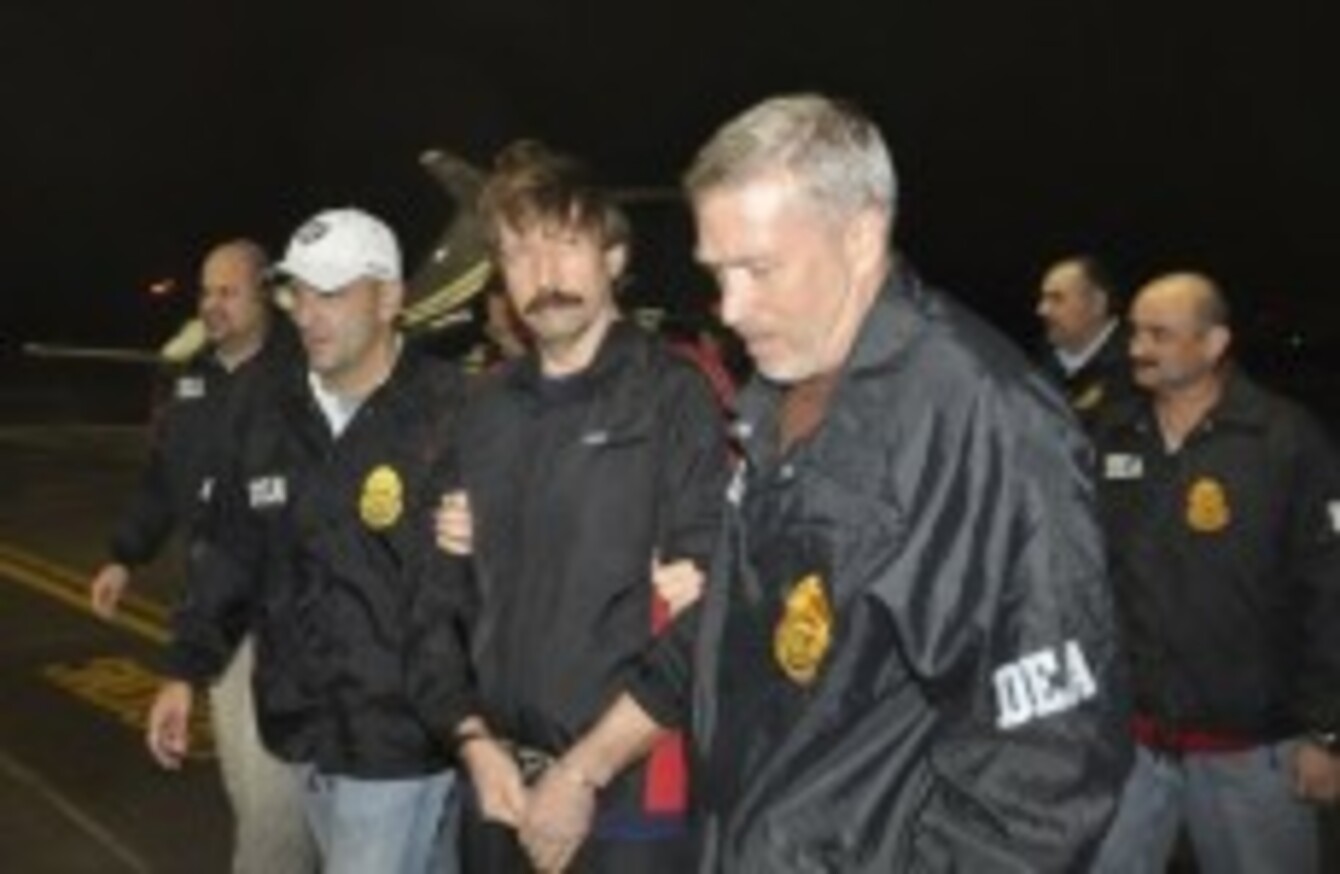 Viktor Bout, centre, flanked by DEA officials during his extradition last year.
Image: AP Photo/Drug Enforcement Administration/PA Images
Viktor Bout, centre, flanked by DEA officials during his extradition last year.
Image: AP Photo/Drug Enforcement Administration/PA Images
A NOTORIOUS RUSSIAN arms dealer accused of evading authorities for years while fueling violence in war zones around the globe was convicted yesterday in a US courtroom on charges he conspired to sell weapons to South American terrorists.
Viktor Bout, known as the Merchant of Death, got guilty verdicts on each of four conspiracy counts — a conviction that could result in a life sentence. Jurors had deliberated only six hours over two days.
Bout was caught in an elaborate Drug Enforcement Administration sting in Thailand in 2008 and — over the objections of Russia — extradited last year to the United States.
"The guy was without a doubt one of the most dangerous of his kind on the face of the earth, and it's reassuring to know he'll be locked up behind bars where he belongs," said Michael Braun a former DEA official involved in the investigation. "If he had been allowed to carry on, he would have gone right back doing his dirty business."
"Resolute"
The evidence proved that Bout, 44, was someone "ready to sell a weapons arsenal that would be the envy of some small countries," US Attorney Preet Bharara said in a statement.
Before Bout left court, he hugged one of his attorneys. The defence team said there would be an appeal.
"He's resolute," defence lawyer Kenneth Kaplan said of his client. "He's a strong man. He accepts the verdict and is hopeful."
For nearly two decades, the former Soviet military officer built a worldwide air cargo operation, amassing a fleet of more than 60 transport planes, hundreds of companies and a fortune reportedly in excess of $6 billion — exploits that were the main inspiration for the Nicholas Cage film "Lord of War."
(Video via robotuku on YouTube)
His aircraft flew from Afghanistan to Angola, carrying everything from raw minerals to gladiolas, drilling equipment to frozen fish. But the network's specialty, according to authorities, was black market arms — assault rifles, ammunition, anti-aircraft missiles, helicopter gunships and a full range of sophisticated weapons systems, almost always sourced from Russian stocks or from Eastern European factories.
Undercover operation
In the months before the September 11, 2001, attacks, US, British and United Nations authorities heard growing reports that Bout's planes and maintenance operations, then headquartered in the United Arab Emirates, were aiding the Taliban while it sheltered al-Qaida militants in Afghanistan. Bout later denied that he worked with the Taliban or al-Qaida — and denied ever participating in black market arms deals.
In 2008, while under economic sanctions and a UN travel ban, Bout was approached in Moscow by a close associate about supplying weapons on the black market to the Revolutionary Armed Forces of Colombia, or FARC.
Bout was told that the group wanted to use drug-trafficking proceeds to pay for surface-to-air missiles and other weapons, making it clear it wanted to attack helicopter pilots and other Americans in Colombia, prosecutors said.
Neither man knew at the time that the two FARC officials they were dealing with were undercover informants working for the DEA, said the associate, South African businessman Andrew Smulian, who took the witness stand for the government as part of a plea deal.
At first, Bout dismissed the idea of a deal, Smulian testified.
"He said he didn't deal with drug dealers," Smulian said.
Smulian testified that Bout overcame his doubts and agreed that for a down payment of $20 million he would arrange for cargo planes to air-drop 100 tons of weapons into Colombia. Bout finalised the phoney deal with the two DEA informants in a bugged hotel room in Bangkok in March 2008.
Jurors heard an informant on one tape saying: "We want to knock down those American sons of bitches."
"Kill them, and kick them out of my country," the informant says. "They don't care where they go anymore. They go here, they go there. They go wherever they want. Why?"
Bout is quoted as saying on the tapes: "Yes, yes, yes. They act as if … as if it was their home."
One of the informants, Guatemala-born Carlos Sagastume, testified at trial that during the conversation Bout was writing on a sheet of paper a list of weapons he could provide and remarked, "And we have the same enemy."
Asked on the witness stand what that meant, the informant responded, "He was referring to the Americans."
Lawyers for Bout had offered what the government dismissively referred to as the "planes defence," claiming their client had no intention of selling any weapons but acted as though he would so he could unload two old cargo planes for $5 million.
In closing arguments, the defence sought to convince the jury the DEA had framed a legitimate businessman by building its case on recorded conversations that were open to interpretation and never resulted in the exchange of any arms or money.
US authorities "don't have anything," defence attorney Albert Dayan said. "All they have is speculation, innuendo and conjecture."
Prosecutor Brendan McGuire countered there was ample proof that Bout "did everything he could to show he could be the one-stop shop for FARC."
Sentencing was set for 8 February.
#Open journalism No news is bad news Support The Journal

Your contributions will help us continue to deliver the stories that are important to you

Support us now