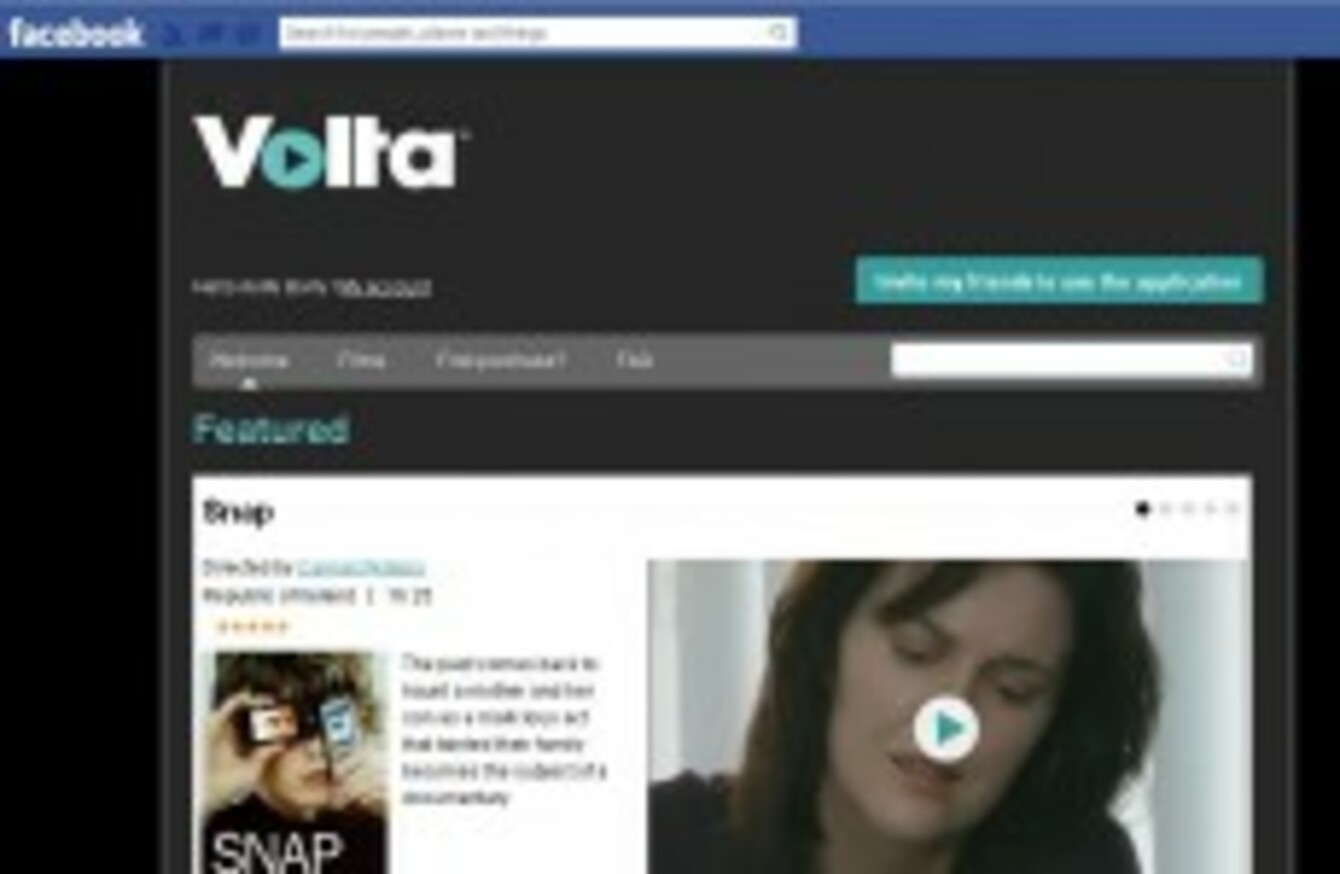 How the app looks on a desktop computer
How the app looks on a desktop computer
WATCHING MOVIES IS now easier than ever thanks to online streaming, and Irish website Volta.ie stepped in last January to provide Irish and indie films on demand.
Today, it launched its next phase: a Facebook app that allows you to choose films and comment on them. Plus, if you're feeling in a giving mood, you can even surprise a friend by buying them a film to watch too.
It's not a subscription service – instead, it's pay-per-view, so you can choose to watch a film whenever suits you.
Technology Project Manager Maria Heffernan told TheJournal.ie:
It's the next step in our technological evolution. We launched back in January this year and have films available to watch on PC or Mac.
A lot of people use the internet now literally for social media and this is a way for us to present Volta to people.
The idea was inspired by conversations in the Volta office, said Heffernan:
We've seen similar services made available in the UK and the US and we realised there wasn't really anyone in Ireland doing that.
With over a million Irish people on Facebook, the time was right to launch the app.
Features
There are a lots of different features, including film recommendations, which will be chosen by the app based on Facebook likes.
The app will present you with a series of films and it will do that based on Facebook likes and likes of your friends. It is more tailored and more customised if you're going to use it through Facebook. You can use the inbuilt Facebook tools to leave comments and like, share and recommend.
Plus, there is also the ability to 'gift' a film to a friend – you can choose the film, buy it for a friend, and they're notified of your kind deed when they log in.
Heffernan said that watching films using the app "becomes a more social activity rather than watching a movie by yourself and not having anyone to talk to". Having seen people tweet about and comment on Facebook about films in real time, this app is following that trend by allowing users to comment on their choices on Facebook.
What has the reaction been to Volta.ie since its launch? "We're a very specialised service," said Heffernan.
We're not Netflix; we don't have large blockbusters, we have a very specific audience who are interested in international and Irish arthouse film. We've definitely seen a real interest in the site.
Volta.ie is owned by Element Pictures, the same company which recently re-opened the independent Light House cinema in Smithfield.