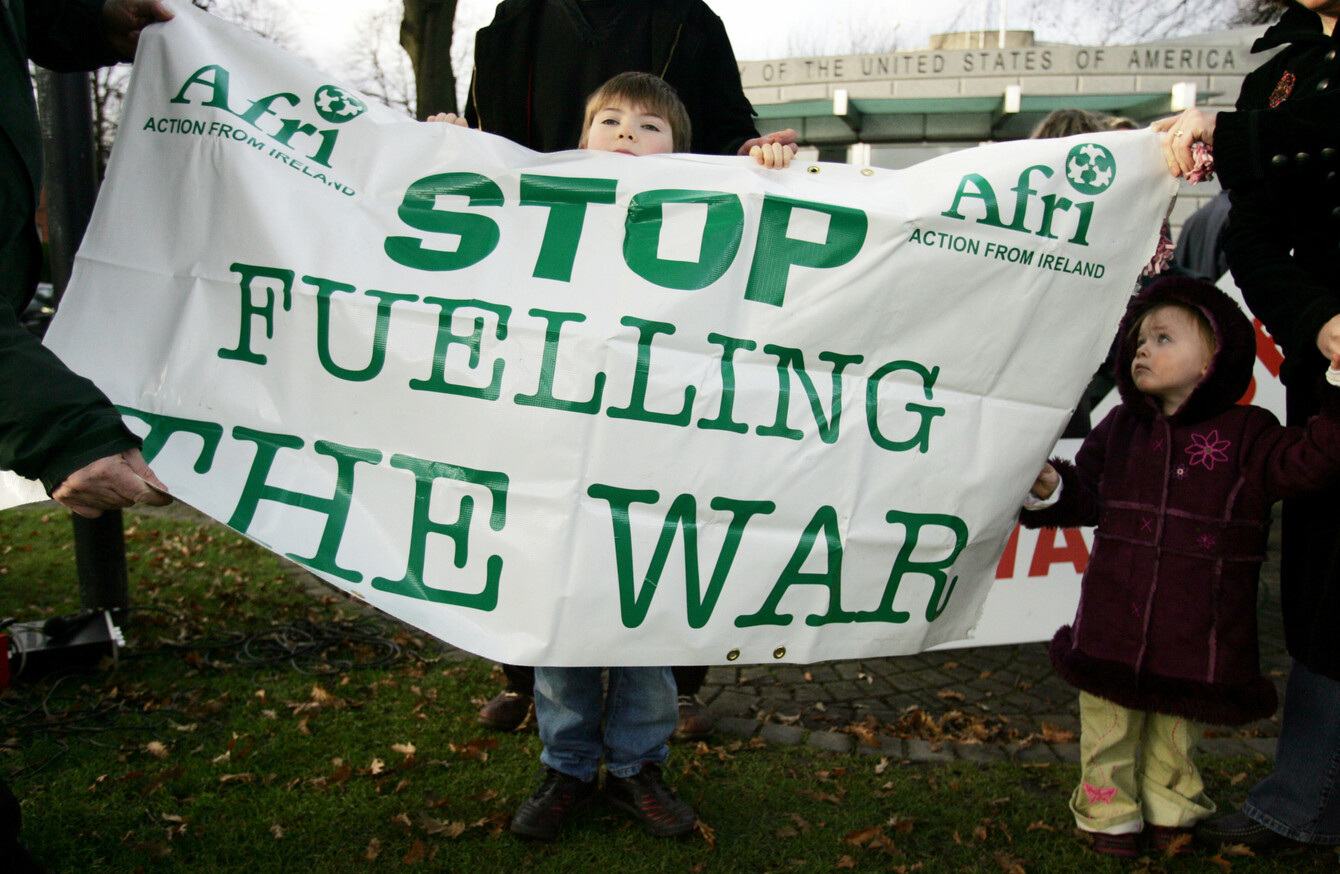 A 2003 demo against the use of Shannon by US troops.
Image: Leon Farrell/RollingNews.ie
A 2003 demo against the use of Shannon by US troops.
Image: Leon Farrell/RollingNews.ie
427 APPLICATIONS TO carry weapons through Ireland and Irish airspace have been approved this year.
While 149 of those applications are personal weapons of US troops, some have been approved for flights between Spain and Norway, Canada and Greece and Belfast and London.
Transport Minister Shane Ross said yesterday in the Seanad that the applications are passed under civil aviation law and the 1973 Air Navigation (Carriage of Munitions of War, Weapons and Dangerous Goods) order.
"In accordance with the provisions of the 1973 order, my Department operates a procedure under which airlines wishing to carry weapons or munitions through Irish airspace or airports must apply for each individual flight, at least 48 hours in advance."
He says that consultation is made with the Irish Aviation Authority and Department of Foreign Affairs.
If any of these bodies objects, an exemption will generally not be granted. A copy of the application is also sent to the Department of Defence for information. The majority of exemptions under the 1973 order are issued to US airlines chartered by the US Department of Defence, transporting US troops to various destinations around the globe. As a result of the unloaded weapons on board, these flights required an exemption under the 1973 order to enter Irish airspace.
"In response to recent parliamentary questions, I have outlined that my Department is to conduct an internal review of the 1973 order.
"Questions relating to Irish foreign policy, Irish neutrality, the role of An Garda Síochána and so on are not matters on which I can comment in detail. Similarly, I have no role in relation to flights by military or State aircraft through Irish airspace or landing at Irish airports."
Sinn Féin senator Paul Gavan, who Ross was responding to, says that 55 of these flights were to countries which make up the Saudi led coalition that has "brought death and destruction to the people of Yemen".
"In the last five months, Minister Ross has approved 427 permits for Military Munitions of War applications for flights going through Ireland. 149 of the flights were carrying troops' weapons, while 270 were carrying munitions.
"These were all US military contracted planes, and they were on their way to places such Kuwait, Bahrain, Saudi Arabia, Jordan, UAE and Israel.
Minister Ross said in a debate on neutrality in the previous term that Ireland was 'no longer a neutral nation', instead Ireland was a 'neutered nation', going on to say that our government was bowing to American pressure and that the Irish government should admit this.
#Open journalism No news is bad news Support The Journal

Your contributions will help us continue to deliver the stories that are important to you

Support us now
"It would appear Minister Ross has also bowed to the pressure of America, or perhaps traded principles for the trappings of high office."

Refusals
In a parliamentary question earlier this month, Ross told Indepdents4Change TD Clare Daly that 19 applications have been refused this year.
I have refused 19 applications on the advice of the Department of Foreign Affairs and Trade highlighting the fact that the consultation process is not merely a rubber stamping exercise.
"Each application is considered with regard to foreign policy concerns by the Department of Foreign Affairs and Trade and where it considers appropriate that Department will advise against the issuing of a permit."
The Shannonwatch group has contended that the approvals are in breach of Irish government restrictions and customary law on neutrality.